A 'right plonker' has been caught reversing and crashing through barriers onto a level crossing in extraordinary CCTV footage.
The motorist, driving a bright yellow Reliant Robin - as favoured by Only Fools and Horses character Del Boy Trotter - can be seen struggling to move off the railway line moments away from an oncoming train.
The British Transport Police released the footage of the shocking incident, which occurred in Derbyshire, on the 30th July.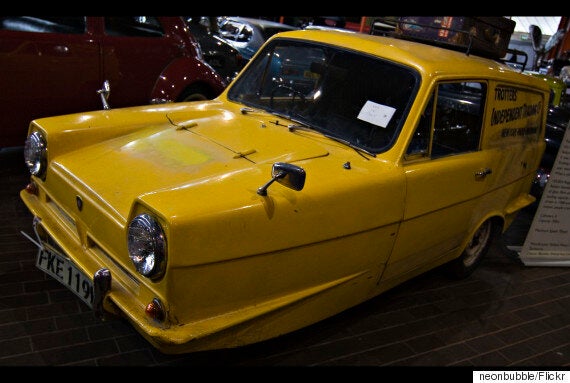 The car used, a Reliant Robin, is the same type of car used in the TV show 'Only Fools And Horses' (file photo)
At one point a passenger can be seen exiting the car and running to lift up the broken barrier, before the vehicle manages to escape.
Insp Anton Menzies from the British Transport Police hopes that the released footage will lead them to find the culprits.
He told the BBC: "This was extremely dangerous behaviour that put the driver and the passengers' lives at risk,
"They were very lucky that a train was not coming through at the time or the consequences would be unthinkable."
There are currently around 8,000 level crossings in Great Britain, and the junctions account for nearly half of the catastrophic train accident risk on Britain's railways.
Earlier this month a man was arrested after a train crashed into his parked car on a crossing in in Burton Upon Trent.