MH370 Live Updates: Wreckage Found Off Reunion Island Could Be Missing Malaysia Airlines Plane
The debris found on the Indian Ocean island of Reunion is "very likely" to have come from missing flight MH370, an Australian official believes.
Scientists at the island's volcanic observatory warned that an eruption was "imminent and probable" after unusual seismic activity was recorded at Le Piton de la Fournaise.
The part, which is believed to be from a Boeing 777 – the same make as MH370, is expected to be flown to France for analysis on Saturday.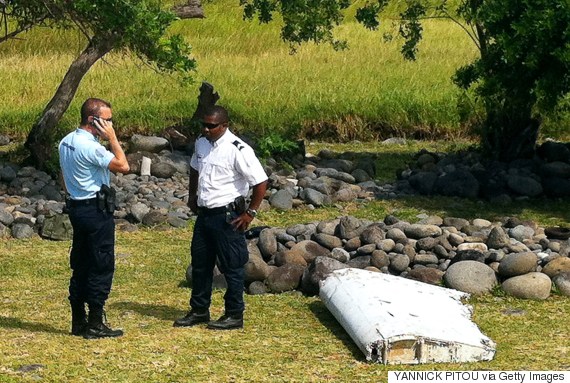 Debris from an unidentified aircraft found in the coastal area of Saint-Andre de la Reunion
A suitcase was discovered at the same location as the plane debris washed ashore.
Now, a Chinese water bottle and an Indonesian cleaning product have washed up on Reunion Island, South Morning China Post reports.
Ça crie déjà au complot parce que les étiquettes sont pas décollées au bout de 14 mois. Internet est fabuleux. #MH370 pic.twitter.com/NLHT3yM7fr

— Pat Wheeler (@PatWheel) July 31, 2015
BREAKING #MH370 An Indonesian cleaning product have washed ashore on the island of La Reunion http://t.co/MlhHe6Px4F pic.twitter.com/4qWsR6bgDQ

— AirLive.net (@airlivenet) July 31, 2015
Martin Dolan, who heads Australian Transport Safety Bureau, told the BBC that the plane debris is "very likely" from the missing flight.
He also said that the operation was continuing "in the right place" in the southern part of the ocean.
Mr Dolan, leading Australia's search efforts, said that he was "increasingly confident that the wreckage... is associated with a 777 aircraft".
Mr Dolan said that there is no other recorded case of a flaperon being lost from a Boeing 777, adding: "We are confident we have the quality of the search to cover that area and find the missing aircraft."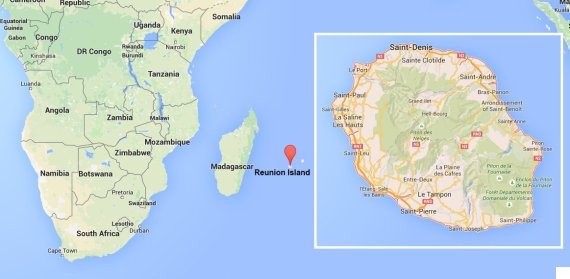 The debris washed up off Reunion Island, which is off the coast of Madagascar
Due to the imminent volcano eruption, some news outlets say that Malaysian aviation experts who arrived on the island on Thursday had to be evacuated from the site almost immediately, news.com.au reports.
However, Australian officials have denied rumours a volcanic eruption could scupper the MH370 investigation, The Telegraph reports.
It is not yet clear how the impending eruption could affect the investigation.
MH370 plane wreckage investigators EVACUATED as volcano set to blow on Reunion Island http://t.co/heEmu3MArp pic.twitter.com/enov8lbV9L

— Volcanology (@VolcanologyRR) July 31, 2015
Article continues below slideshow:
Full analysis of the debris could take longer than originally expected.
The Associated Press reports that the part could arrived in France on Saturday morning, according to the Paris prosecutor's office - meaning that families of those on flight MH370 could have to wait until next week for confirmation.
Xavier Tytleman, a former military pilot, told the Telegraph that: "Police in Reunion examining the wreckage say that it looks like it's been in the water for about a year, which again would fit with MH370.
"We can't say for certainty, but we do think there is a chance that this is it."
The part of the aircraft in question is believed to be a flaperon – the part of the wing that controls the roll and bank of an aircraft.
The Beijing-bound Boeing 777 disappeared from radar with all 239 souls on board on 8 March last year, an hour into its departure from Kuala Lumpur.
If the debris is not connected to the disappearance of MH370 it will raise questions as to where it is from.
Piece of wing found on west coast of La Reunion island. Could it be a piece of #MH370? https://t.co/8uZWo6nwuR pic.twitter.com/jn7kFE1LYu

— Emmanuelle Saliba (@_esaliba) July 29, 2015
Police investigating aircraft parts on the coast of island of Reunion, which could belong to Malaysian Boeing #MH370. pic.twitter.com/18dApOW5yT

— Onlinemagazin (@OnlineMagazin) July 29, 2015
In the 16 months since the Boeing 777 disappeared, a vast number of theories have been put forward in an attempt to explain just what happened.
They range from the bizarre to the credible and include the calculations of senior British pilot Simon Hardy who pinpointed where in the Indian Ocean he believes the doomed aircraft is, following a six month analysis of existing flight data.
SEE ALSO: