Police clashed with nationalist counter demonstrators in Folkestone on Saturday as pro-migrant protesters rallied to support people trying to cross into England through the channel tunnel.
French police said some 300 migrants in Calais attempted to reach Britain via the cross-Channel tunnel overnight, a significant drop from previous nights as the security presence is beefed up.
Members of the far right groups the English Defence League and Britain First gathered in Folkestone along with around 30 people from the pro-migrant Folkestone United group.
Although a heavy police presence kept the three groups apart, officers came to blows with nationalist demonstrators near an entrance to the Eurotunnel terminal on the A20 as they attempted to confront the Folkestone United protest.
Folkestone United spokeswoman Bridget Chapman told Kent Online: "We want to send a message to the migrants that there are lots of people who support them and we stand with them as fellow human beings. We need to show them some respect.
"We want to send a message to the press – some of the reporting has been very irresponsible. They have been described as a swarm which is disgusting".
Britain First wrote on its website that it was standing up against "sponging Calais migrants who want to come here and milk the benefits system" and was staging a counter demonstration "unwashed traitors" supporting the migrants.
Britain First also claimed it "a small group of five EDL members who turned up with hooligan masks and embarrassed our cause".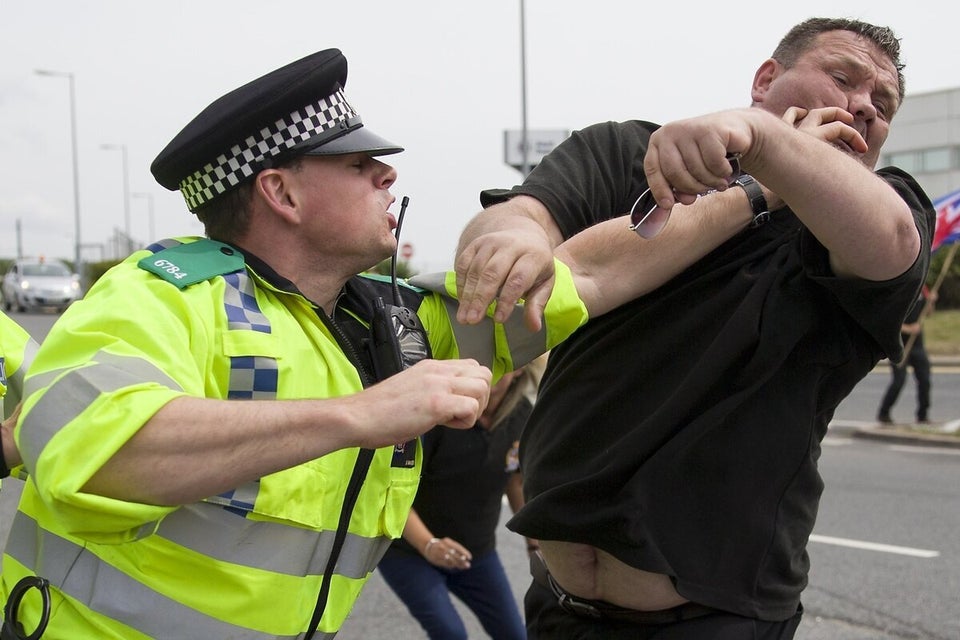 Folkstone Protests