Lingerie tycoon Michelle Mone is reportedly to be made a Conservative peer.

The Ultimo underwear founder was told she will take a seat in the House of Lords in a call from Prime Minister David Cameron, according to the Sun newspaper.
The appointment of Mone, who left Scotland earlier this year claiming she was attacked by a "social media hate campaign" for opposing Scottish independence, was called "obscene" by a Scottish National Party MP.
SNP MP Stewart McDonald, who represents Glasgow South, said on Twitter:  "Yes, Michelle Mone is a successful entrepreneur, but to become a national legislator overnight without the fuss of an election is obscene."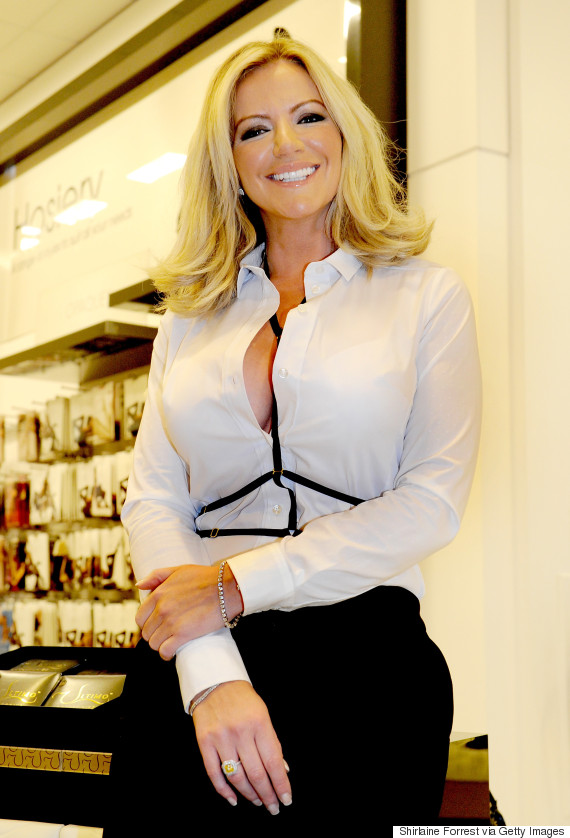 Mone is thought to be worth 20 million
Glasgow-born Mone announced in June that
she felt forced to leave Scotland after becoming caught up in an "extremely vitriolic social media hate campaign"
due to her vocal support of the Union during the independence debate.
The 43-year-old, said to be worth £20 million, was awarded an OBE for her contribution to business in 2010.
The Sun revealed her reported peership on its front page on Saturday, calling Mone 'Lady Bra Bra'.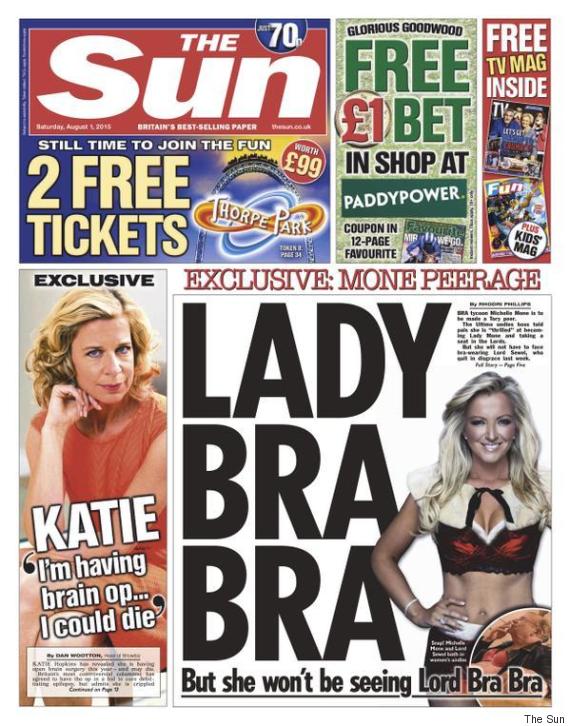 The Sun's front page on Saturday
Mone blamed the SNP for her decision to leave Scotland, saying earlier this year: "The mood has got consistently worse and I now believe that the Scottish National Party's Scotland is becoming a place consumed by hatred and ill will, a place where free speech is gradually being crushed and enterprise is despised."
"The SNP have turned my country into an angry, divided nation and it's really sad to see."
@MichelleMone East end of Glasgow girl ? Away you to wherever you hing aboot now and annoy ur rich buddy's #glesgalassiemyarse

— Wallace Heaney (@wallaceheaney) May 26, 2015
Oh I'm SO SO sorry for working hard,taking risks,employing people&giving back.I forgot success in SNP land is EVIL https://t.co/HQwvcxxhZ2

— Michelle Mone OBE (@MichelleMone) May 26, 2015
Her name trended on Twitter as observers, including many supporters of Scottish nationalism, criticised her appointment:
Michelle Mone to be appointed peer for publicly backing #indyref no vote.

Democracy is NOT about rewarding favours.

August 1, 2015
So this morning we find #Michelle Mone has overnight become a member of uk parliament .. this never happened in USSR but welcome to UK 2015

— ABMN MP (@AngusMacNeilSNP) August 1, 2015
Tried to think of an argument defending putting Michelle Mone into the legislature. Tried and failed utterly.

— alexmassie (@alexmassie) August 1, 2015
So, a Lord walks into a bra...boom, boom. At this moment in time, a peerage being given to Michelle Mone is surely beyond parody.

— mandy rhodes (@holyroodmandy) August 1, 2015
Michelle Mone to be made a Tory peer for supporting the Union.

That about sums up how completely corrupt our democracy is. Absolute joke.

— Kaiser Desmond (@Or_is_He) August 1, 2015
The reaction when Michelle Mone said her seat in House of Scroungers had nothing to do with her pro Union stance..... pic.twitter.com/4UV79LmZRD

— Stand Free (@ScottyC1314) August 1, 2015
Just told my cat about Michelle Mone being made a Tory peer. pic.twitter.com/XRh89ZMfmX

— RAB FLORENCE (@robertflorence) August 1, 2015
I assumed the rumours last night re Michelle Mone & Lords was just Unionist trolling

It wasn't

#Abolishthelords #SNP pic.twitter.com/5PxabYu739

— Gavin Newlands MP (@GavinNewlandsMP) August 1, 2015
And one tweeter pointed out that she had tweeted about being at the House of Lords in 2011, when she felt sleepy and joked about considering napping in the toilets:
In fairness to Michelle Mone. She does appear to have put the practice in for this gig... pic.twitter.com/S5EqnFiuSx

— Mark McDonald (@markmcdsnp) August 1, 2015
Ms Mone, who has made appearances on TV's The Apprentice and Celebrity Masterchef, said nothing on the reports.
Her spokesman declined to comment and a Downing Street spokesman also declined to comment on the report.
Hello #Kerry Never thought life could be this amazing.U can turn ur life around if u work hard.Massive future ahead pic.twitter.com/y3ah6Zd1Vk

— Michelle Mone OBE (@MichelleMone) July 31, 2015
Some commenters read into a tweet from Mone last night which said "Never thought life could be this amazing", although the the entrepreneur made no reference to the proposed peerage.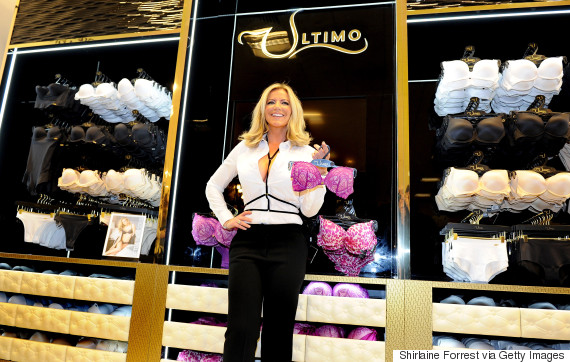 Mone in an Ultimo shop
Mone's experience with Cybernats isn't isolated. In May, Harry Potter author JK Rowling was urged to emigrate from Scotland after suffering persistent online abuse in the wake of the referendum.
In a Guardian interview last month Mone was asked about her proudest moment so far.
She told the newspaper: "Probably all the inventions I've created. I helped the Prime Minister with the referendum and in keeping the Union together. That was tough, but it had the most rewarding results.
"Also, receiving my OBE from the Queen. I never, ever thought I would get anything like that."
SEE ALSO:
Last year, Mone recruited her daughter Rebecca to model a new lingerie range for women with a fuller bust, saying: "Of course, I had my doubts about involving Rebecca in a campaign given that she's my daughter, but she's a young woman now and has been so involved in the development of the new collection it made complete sense."