The Hillary Clinton email scandal, which has proved a damaging sideshow to the Democratic candidate's 2016 presidential campaign, crossed the Atlantic on Monday, with recently released missives decrying British Prime Minister David Cameron as "aristocratic, unsure, inexperienced, oblique and largely uncommitted" while calling London Mayor Boris Johnson the "Tory clown Prince."
The assessments, penned by Clinton's aide Sidney Blumenthal, a former White House aid to Bill Clinton, were part of the latest tranche of emails released to the state department following a complaint that the former secretary of state used a private email account to conduct official state department business.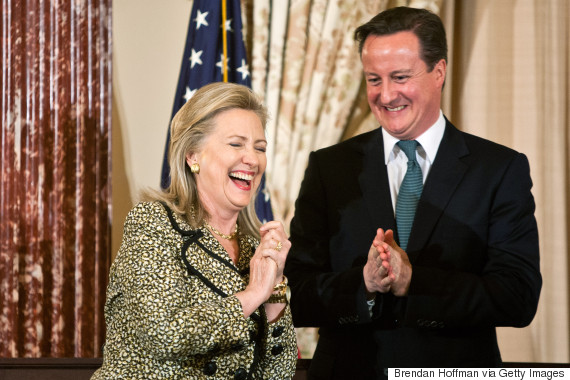 Secretary of State Hillary Clinton and British Prime Minister David Cameron share a laugh during a lunch hosted at the State Department on March 14, 2012 in Washington, DC
Within the release are emails in which Blumenthal gives his impression of a likely Cameron government ahead of the 2010 general election, noting how it would be "more aristocratic and even narrowly Etonian… Sharply contrasting especially with striving and classless perspective of the grocer's daughter, Margaret Thatcher."
The aide also noted how that Cameron's attitude to British foreign policy was a product of his need to "keep his party behind him." He wrote: "His political imperatives have pressured him to lean right. His future problem is that he does not want to be the leader who takes Britain out of Europe but he is putting himself in a position where he may not be able to prevent his party doing so."
The revelations come at a time in which Washington has been accused of interfering in domestic UK policy; twice in recent months Obama has urged Britain to remain part of the European Union ahead of the EU referendum scheduled for 2017.
In response, a Downing Street spokesperson said on Monday: "The special relationship between the UK and the United States is as strong as ever and the president recently acknowledged the importance of the alliance to the US."
SEE ALSO: