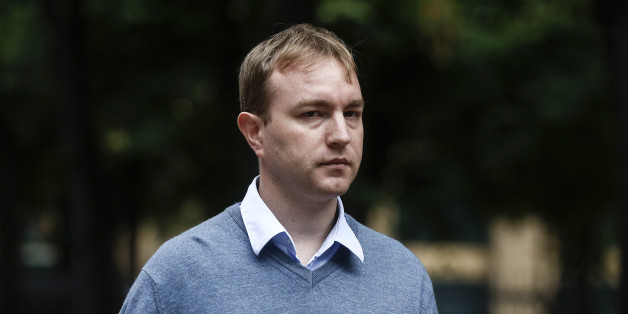 Bloomberg via Getty Images
Debates are raging on social media over the 14-year-sentence handed down to convicted Libor-rate rigger Tom Hayes earlier this week.
Passing the former city trader's verdict at Southwark crown court on Monday, Mr Justice Cooke said Hayes had "succumbed to temptation" and that his activities had an "absence of that integrity which ought to characterise banking".
But the length of Hayes' sentence, awarded for eight charges of conspiracy to defraud, has proven divisive - many people split on the fairness of the 35-year-old's fate.
14 years in jail for Tom Hayes for his part in rigging Libor seems ridiculous when compared with sentences for other crimes.

— Rupert Myers (@RupertMyers) August 3, 2015
14 years for Tom Hayes = a good start. Now let's have the managers who turned a blind eye to it all in the dock as well

— Ivor Harper (@ivor_park_fin) August 4, 2015
Yes, the system's rigged against people less privileged than #TomHayes, but still can't see 14 years in prison for non-violent crime as good

— Abi Wilkinson (@AbiWilks) August 3, 2015
Tom Hayes gets 14-yr sentence for LIBOR rigging conviction. Excellent punish for this horror crime that permeated world for years @BBCNews

— Gary D Chance (@garydchance) August 3, 2015
Tom Hayes' 14 year stretch for Libor rigging is longer than that given to all but one of the Rochdale trafficking gang.

— Andy Silvester (@silvesterldn) August 3, 2015
There is contention over his sentence compared to those convicted of other, more "brutal", crimes.
Perpetrators can face up to 14 years in jail for burglary with intent to commit rape, abduction of a woman by force, sexual assault of child under 13, and aggravated vehicle taking resulting in death, among other crimes.
Convicted lawbreakers who faced the same jail stint as Hayes include a sex trafficker dubbed 'The Snake' who ran a brothel empire involving more than 100 women; a youth worker who sexually abused two schoolboys; and a 24-year-old man who attacked his victim with a machete, leaving him permanently disabled.
Tom Hayes sentenced to 14 years #Libor > another example of a scapegoat to the banking scenario...how many bank directors have been jailed ?

— CdeL - THE BIG PUSH (@Coeurdelion87) August 3, 2015

14 years jail is harsh for Tom Hayes. He may be guilty, but there's no way it wasn't a known & standard practice in the City #scapegoat

— Seán Robertson (@SeanLXIV) August 3, 2015
Hayes worked at UBS for three years and Citigroup for nine months, where he was paid £1.3m and £3.5m respectively. It was at the latter company in September 2010 where he was fired over allegations of manipulating the Libor rate.
After initially pleading guilty to the charges brought to him by the Serious Fraud Office (SFO), Hayes later reversed his plea claiming to have been "frozen with fear" at the prospect of extradition to the US and potential jail time and so wanted to cooperate with the authorities.
He instead opted to challenge the legal proceedings brought against him and presented himself as someone who admitted wrongdoing but within the wider context of systemic Libor manipulation. Offering a "Mars bar" would have been enough to have it "set wherever you want," he said during the trial.
The banker also claimed his recently diagnosed and "mild" form of Asperger's syndrome hindered his ability to make the correct ethical decision.
Eleven others have been charged by the SFO.