Released footage shows the moment an angry Uber passenger brawled with the driver of another taxi in broad daylight - all over a clipped wing mirror.
Seb Bench, a passenger of one of the cars, filmed the fight, which broke out in a busy London road on Wednesday.
Mr Bench said that the brawl erupted when the other minicab, a Toyota Prius, attempted to cut in front of his driver's BMW, resulting in the vehicle sustaining a damaged wing mirror.
Both drivers reportedly got out of their vehicles and had a fight before the Uber passenger in the vehicle in front joined in.
Shot in Angel, Islington, the film shows a man wearing a pink shirt throwing his driver to the ground and punching him.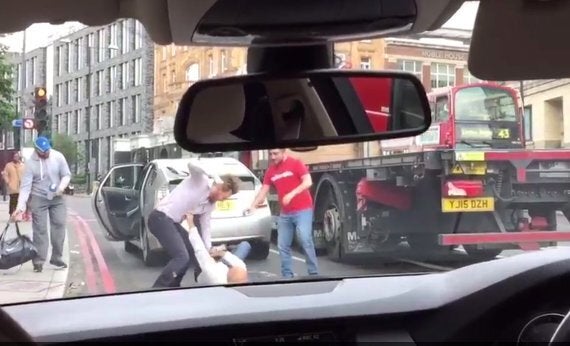 The driver of Mr Bench's car tries to intervene. A bystander then tries to stop the brawl.
Mr Bench told the Evening Standard: "My guy was obviously angry and there had been pushing and shoving in the first round. But the [other passenger] was full-on aggressive.
"I didn't think it was going to get as feisty as it did. I was in an 'Exec' Uber, a deluxe one. I did not expect this to happen."
The 43-year-old PR boss said those involved in the fracas calmed down after he stopped filming and he took alternative transportation.
Uber are investigating the incident.
Popular in the Community