NEW YORK -- After 16 years fronting Comedy Central's "The Daily Show," Jon Stewart ended his run on Thursday, leaving the show that established him as America's foremost satirist of politicians and the media. The 52-year-old announced last year that it was time to move on, with Trevor Noah set to replace him as host in September.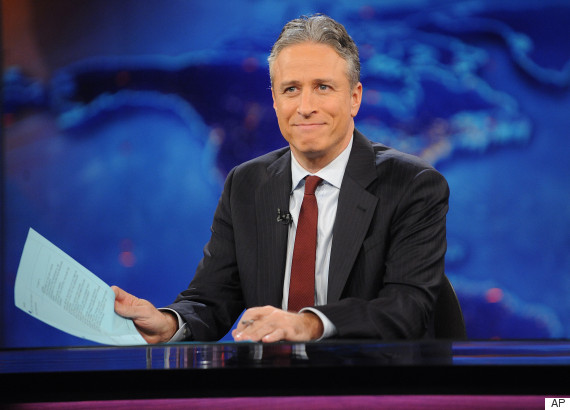 Jon Stewart during a taping of "The Daily Show with Jon Stewart" in New York in 2011
Many of the people who worked on the show returned to pay tribute to the man behind the desk, including Stephen Colbert, John Oliver, Ed Helms, Steve Carell and Olivia Munn. Bruce Springsteen and the E Street Band gave a send-off performance with "Land of Hopes and Dreams." There were also farewells from politicians and commentators, including Hillary Clinton, John McCain and Bill O'Reilly.
Armed with a razor-sharp wit and research team adept at finding video evidence of hypocrisy or unintentional comedy among the nation's establishment, Stewart turned a sleepy basic-cable entertainment show into a powerful cultural platform. Though guests for Thursday's show weren't announced, Bruce Springsteen, who has appeared on "The Daily Show" multiple times, and members of The E Street Band were seen entering the studio before the taping for the final show began.
All the correspondents, past and present, who stopped by to say #JonVoyage. pic.twitter.com/2C7gncfgPo

— Vox (@voxdotcom) August 7, 2015
He turned the spotlight on himself during his penultimate show Wednesday, noting how institutions he had supposedly eviscerated were stronger than ever. "The world is demonstrably worse than when I started," Stewart wailed. "Have I caused this?" His only solace was that his beloved New York Mets were in first place on the day of his last show.
.@iamjohnoliver has found himself spoiled at @HBO: "What the f*** is a commercial?!" #DailyShow #JonVoyage pic.twitter.com/1xWblPaRst

— Access Hollywood (@accesshollywood) August 7, 2015
Fellow comic Louis C.K., his guest Wednesday, noted that Stewart was able to keep his show fresh and funny for a long time, keeping up with the world's changes. "It really is one of the great comedy accomplishments of all time," he said.
Stewart's fans will be forced to navigate the first presidential election since 1996 without his commentary, a loss that felt particularly acute with the first Republican candidates' debate taking place less than three hours after the taping of his final show.
Crying. #JonVoyage https://t.co/BuVN9VZtL8

— Kelly Lawler (@klawls) August 7, 2015
It's the third major farewell for a late-night television personality in eight months. Stewart's Comedy Central colleague, Stephen Colbert, ended "The Colbert Report" in December. David Letterman signed off from CBS in May, to be replaced this fall by Colbert.
To my old interrogator Jon Stewart: So long, jackass! #JonVoyage pic.twitter.com/t3Eg83oWq3

— John McCain (@SenJohnMcCain) August 7, 2015
Fox News Channel chairman Roger Ailes, whose network remained intact despite Stewart's "pulverizing" blows, said that Stewart was a brilliant comedian and nice guy who has a bitter view of the world. "He's been after us for years," Ailes told The Hollywood Reporter. "Occasionally we pay attention. We think he's funny. We never took it seriously and he never made a dent in us."
"We worked awfully hard and not every show has been up to snuff," Stewart said on Wednesday. "But we've given it our all every single time."
SEE ALSO: