Poor old Sarah Harding can't seem to do anything right at the moment.
READ MORE:
Just a week after she made her 'Coronation Street' acting debut and subsequently saw Twitter tear her apart (to be fair, she was pretty bloody awful), la Harding is now weathering another Twitter storm following her appearance on Friday's 'Lorraine'.
The former Girls Aloud star was on the show to plug her debut solo single 'Threads', which included a performance of the tune (we use that word in the loosest possible way).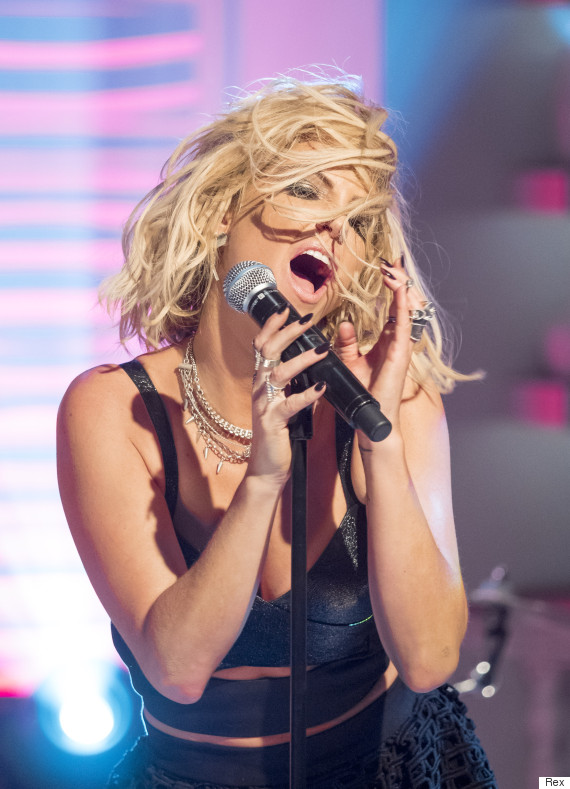 Sarah Harding on 'Lorraine'
As we know from that legendary bum note Sarah squawked during Girls Aloud's performance of 'The Loving Kind' on GMTV back in 2008, early mornings obviously aren't her strong point, so she wisely (or so she thought at the time) chose to mime.
Except her lip-syncing wasn't up to much either, as Twitter was only too keen to highlight…
#sarahharding miming is as bad as her acting! #lorraine#itv

— mark johncock (@thedevilmumbles) August 7, 2015
Could #SarahHarding mime any harder? #Lorraine

— Sarah Jane (@SarahJanePUK) August 7, 2015
I think @RuPaul girls should show #SarahHarding how to #LipSyncForHerLife as she was AWFUL on @ITVLorraine this morning...

— Danie Sutherland (@daniesutherland) August 7, 2015
I've seen better lip syncing on Ru Paul #Lorraine#SarahHarding

— Katharine Neil (@katharineneil) August 7, 2015
Just did a fart that was more tuneful than #SarahHarding new song and also played live. Considering an album.

— The Twig (@Rusty_Ricker) August 7, 2015
Literally the worst miming I've ever seen in my life. Why would you even bother trying? #SarahHarding#ThisMorning

— Miche (@Miche3000) August 7, 2015
Can't watch anymore of #SarahHarding terrible miming on #Lorraine! Worst I've ever seen 😱😱

— Jade Hewitt (@ajadeward) August 7, 2015
Does she even know the words? 😂 #Lorraine#sarahharding

— Esme Rose (@esmerose_) August 7, 2015
Shame #SarahHarding performance on #Lorraine was awful. I quite like her but lip syncing was so obvious. Always sing live or don't perform.

— Libby Holden (@libby_holden) August 7, 2015
Just watched #SarahHarding performance on #Lorraine - hilarious! I don't think she even knows the words to her own song!! #worstmimeever

— Lily Kenny (@swpips) August 7, 2015
Glad that's over I need a very strong coffee now 😤 #SarahHarding#Lorraine

— Loraine ♡ (@loraineyzz) August 7, 2015
#SarahHarding is closely followed by her backing band, all equally wank at miming to the backing track.

— The Twig (@Rusty_Ricker) August 7, 2015
This 'performance' is a complicated prank, right? #lorraine#SarahHarding

— Steve (@Disappointedltd) August 7, 2015
Oh well, at least Sarah's former bandmate Nadine Coyle is a fan…
Just getting time to sit down & buy @SarahNHarding new music! I am so happy for you doll! 👍✌🏼️🙌😚🎉💋

— Nadine Coyle (@NadineCoyleNow) August 7, 2015
Watch Sarah attempt to remember the words to her own song in the video above.
Chin up Sarah, you're not the first pop star to suck at miming - even Cheryl had her moment...
LIKE US ON FACEBOOK | FOLLOW US ON TWITTER