A back-to-school advertising campaign for a children's shoe company has featured a four-year-old girl with Down's syndrome in a bid to challenge what "beauty" means.
Cora Slocum, four, from California, was picked to model Livie & Luca shoes after working with the not-for-profit organisation Changing The Face Of Beauty.
More than simply promoting school shoes, the advert also aims to launch an "international movement", behind the hashtag #ImGoingBackToSchoolToo, as a call for a broader range of models to be featured in children's advertising.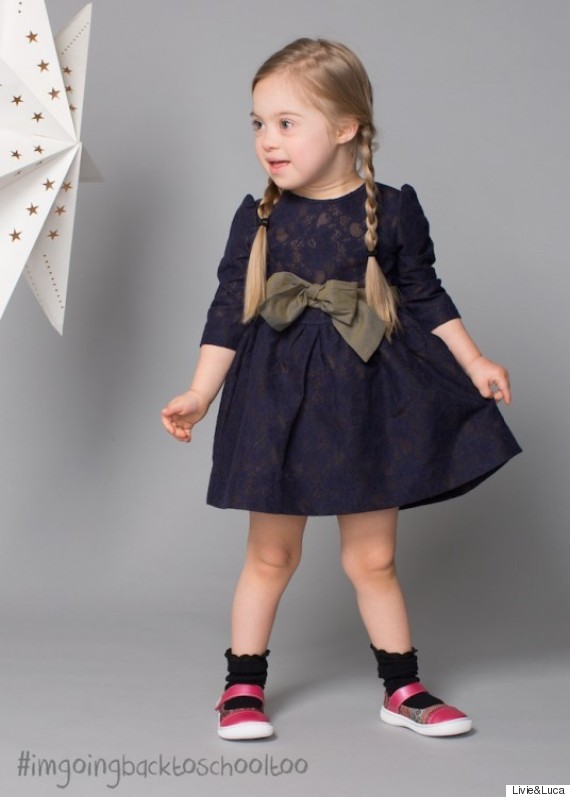 Cora Slocum
Shoe company Livie & Luca worked with Changing The Face Of Beauty founded by Katie Driscoll to encourage companies, other organisations and the media to include people of all abilities in their advertising.
To support the cause, Livie & Luca have said they will match all donations made to the organisation, "dollar for dollar" in order to help fund Changing The Fsce Of Beauty's next educational campaign letting kids know differences should be celebrated.
Driscoll, a photographer and mother of six, said she wanted to take action after realising few adverts featured children with disabilities.
Driscoll told HuffPost UK Parents: "I believe there is a strong correlation between being seen in the media and the ability for people with disabilities to successfully obtain quality employment which provides the opportunity to live independently.
"Whent a minority of people are absent from the media it makes it difficult for them to be successful in other areas of society. We want to change that.
"We will change that. I am sure of it."
Since the campaign launched, people have used the hashtag #ImGoingBackToSchoolToo to show their support.
We love this new ad campaign and #imgoingbacktoschooltoo #downsyndrome http://t.co/J2aWWTDn63

— WW Therapy Services (@WebWiseTS) August 14, 2015
.@LandsEnd Pls #include kids w/#disabilities in ur next back to school catalog. #imgoingbacktoschooltoo RT @debraruh pic.twitter.com/ozMhnqwRau

— Ted Coiné (@tedcoine) August 4, 2015
This is so wonderful. So beautiful.

#ImGoingBackToSchoolToo... http://t.co/MnrRYZpVy4

— BBBS Charleston, WV (@biglittlewv) July 29, 2015
RT @Carters it's time for #disability #inclusion #imgoingbacktoschooltoo #changingthefaceofbeauty pic.twitter.com/OWsct0rifa

— JM Gerhart-Rothholz (@jmgerhart) July 21, 2015
Livie & Luca co-founder Mitzi Rivas told ABC News: "It's such a beautiful thing to be able to collaborate with an organisation that holds many of the same values as we do.
"It fosters a whole new direction on advertising messages and you know, the inclusion of people with differences."
Driscoll said the campaign initially began at the beginning of the year when 100 companies committed to influencing a change in their advertising.
She told HuffPost UK Parents: "It was scary putting that challenge out there asking for companies to commit, because what if they didn't? But they did and they are the reason we are here today. I can not wait to see what 2016 will bring our way.
"We are very excited to have Amanda Booth and her son Micah as our first ambassadors for Changing the Face of Beauty."
See below for a selection of images from Livie & Luca's campaign.
SEE ALSO:

This London Dance Studio Proves Children With Disabilities Can Do Ballet

Mum's Pride As Son With Down's Syndrome Hits Catwalk: 'Children With Disabilities Can Surpass Expectations'