British police may not have the time to investigate a house burglary, but they do have the resources to send two officers to Magaluf for two weeks to pose for selfies with scantily-clad tourists and get "sozzled".
The government has put aside £14,000 for the scheme, which was arranged so the British police officers could offer support to Spanish police in helping Britons who have been victims of crime.
While on the Spanish island - dubbed "shagaluf" by holidaymakers - PC Martina Anderson and Sgt Brett Williams appeared to be joining in the party as they posed for selfies, swam in the sea and had a few drinks.
On Tuesday, PC Anderson, 44, posted on Facebook that she was "sozzled" after spending a day manning the party strips in Majorca.
When a friend said: "I thought you were to stop people drinking too much, not join them", the off-duty police officer responded: "If you can't beat them...", the Sun reported.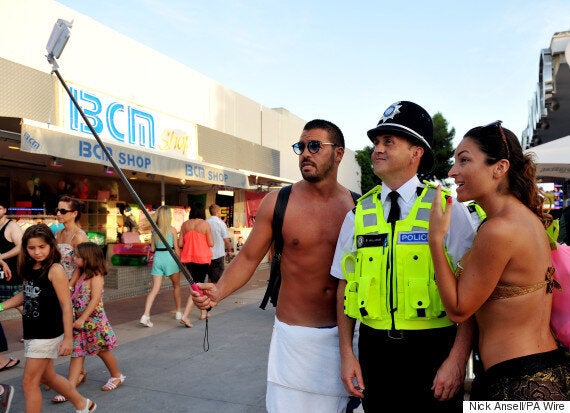 Sgt Brett Williams posing for a selfie with tourists in Magaluf
West Midlands Police has defended the scheme, saying it was asked by the NPCC to provide two officers to support the Spanish initiative to keep British nationals safe abroad.
The operation is funded by and planned in conjunction with the NPCC and Foreign and Commonwealth Office.
Dep Chief Constable Dave Thompson said: "I am aware some people feel we are busy in force and cannot afford to spare staff to do this.
"I understand this, however if you are in partnership with European policing you have to give as well as take. We are the second largest Force in the country and we play our part nationally.
"The contribution is two officers for two weeks with around 3 million visitors each year to Spain.
"Sergeant Williams and PC Anderson have been performing a variety of supportive roles, including assisting Spanish officers with investigations with UK nationals involved as well as taking part in patrols − all of which has been a policing success."
He added: "I am totally happy the decision to send them was the right thing to do and I stand by this decision. I also hope they enjoy this unique opportunity and am proud to see them representing our Force on behalf of British Policing."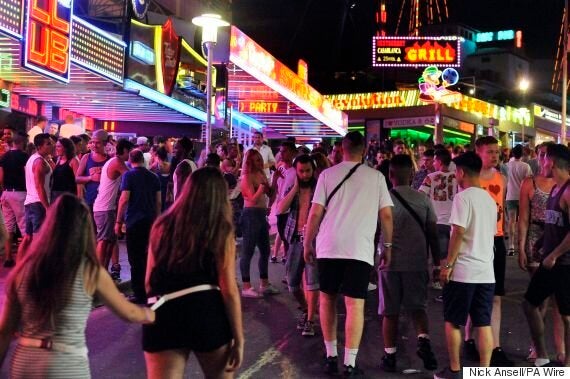 The popular Magaluf strip
Addressing PC Anderson's Facebook post, the police boss said: "Whether policing at home or abroad, all of our officers are well aware of the standards of professional behaviour the police service - and those we serve - expect."
The Foreign Office said that last year in Ibiza and Mallorca, British consular staff dealt with about 1,800 British nationals who had been detained, hospitalised or needed emergency travel documents to get home.
A FCO spokesman added: "Too many of these were as a result of Brits becoming victims of crime or committing crime themselves, and it is right that we explore ways to reduce these incidents."
Sara Thornton, NPCC head, said last month that crime was "changing in this country" and that forces needed to focus on areas such as sexual offences, concerns about terrorism and cybercrime.
She added: "If we are really serious about putting a lot of effort and resource into protecting children, for example, that might mean that if you've had a burglary and the burglar has fled, that we won't get there as quickly as we've got there in the past.
"Of course we will still want to gather evidence, but we might do it in different ways."
The comments caused a backlash, with many people concerned their burglaries would not be investigated.
The chief officer on international policing at the NPCC defended the scheme, saying the officers' presence will "reassure" locals and British citizens.
Chief Constable Andy Marsh, said: "We routinely work with foreign forces to help tackle crime, gather and share intelligence and develop our officers' skills and knowledge.
"This trial deployment of officers to work alongside the Guardia Civil is a further step in developing these strong links and builds on the success that Spanish colleagues have seen when working with colleagues from other countries in a similar way.
"Their presence will offer reassurance to both locals and UK citizens in areas that significantly increase in population during the busy summer holiday season and provide support to victims of crime during what can be a traumatic experience, especially when away from home."
There have been accusations that the police officers have been working at the wrong time of day, with shifts finishing at 10pm - long before the nightlife gets going.
Related