Scottish Labour's Kezia Dugdale has been elected to lead the party out of despair after its near wipeout in the general election.
The 33-year-old, who has only been an MSP for four years, beat Holyrood veteran Ken Macintosh in a leadership election sparked by the resignation of former MP Jim Murphy shortly after the SNP took 56 of the country's 59 seats in the general election, costing Labour 40 seats and leaving it with just one north of the border.
The result of the ballot was announced in Stirling, following an election campaign in which Ms Dugdale pledged to be a "fresh start" for Scottish Labour.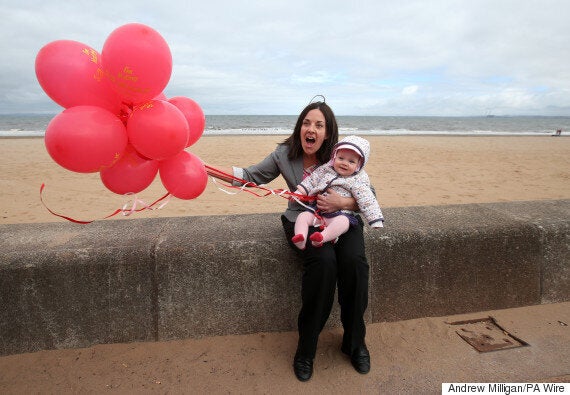 Channel 4 News host Jon Snow said she had won "the most challenging job in UK politics".
Ms Dugdale is the third Scottish Labour leader in less than a year. The party has been thrown into disarray since its election wipeout, with many accusing it of being complacent in the years Scotland was a Labour stronghold.
In her victory speech, she said: "We are down, but we are not out."
She added: "Take another look at the Scottish Labour party. I am not so presumptuous to ask instantly for your vote. But at the recent election 700,000 of you stuck with us but many chose someone else.
"All I ask is that you take a fresh look at the Scottish Labour party under my leadership."
Ms Dugdale's election means three of the four main Scottish parties are led by women.
BBC Scotland political reporter Andrew Black said her victory would be "short-lived".
He wrote: "Her party is now in a fight for its very existence.
"Ms Dugdale's first big challenge will be the Scottish Parliament election - less than nine months away. But right now, it's simply not possible to see how the party can win it."
MSP Alex Rowley, who used to be an aide to Gordon Brown, was elected as the party's new deputy leader.
Acting Labour leader Harriet Harman told LabourList the pair would "be leading the historic task of rebuilding our Party in Scotland, reconnecting Labour with the people of Scotland and re-energising the links between our party in Scotland, Wales and England."
Popular in the Community