A British teenager was among 22 victims killed in the Bangkok bombing, Foreign Secretary Philip Hammond has confirmed.
Vivian Chan, 19, a law student at the University of London, was reportedly travelling with a friend who was also killed in the blast.
Mr Hammond said: "The loss of life and injury in Bangkok is horrific and I condemn this callous act of violence against completely innocent and unsuspecting members of the public.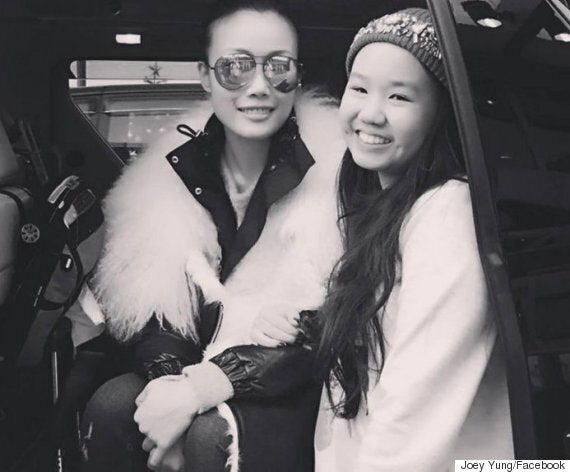 Briton Vivian Chan, 19, right, pictured with pop star Joey Yung, has been named as a victim of the Bangkok bombing
"I can confirm that one British national, a resident of Hong Kong, lost her life in the attack. British Embassy staff in Thailand are assisting her family at this very difficult time.
Sky News reported that Ms Chan's friends from the Thai Society at the School of Oriental and African Studies had said they were "deeply saddened" by her death.
They said in a statement: "We... are deeply saddened to hear the news of Miss Chan "Vivian" Wing-Yan, a Law Student at SOAS, who passed away yesterday after a bomb blast in central Bangkok.
"We understand that Miss chan, and her friend, was (sic) travelling in Thailand. According to sources, she recently posted a picture on an Instagram account of her food blog, @kittealuvfood, appreciating local delicacies.
"We would like to send our heartfelt condolences to her family and friends during this difficult moment."
The news comes after police on Tuesday confirmed a man seen arriving at the Erawan Hindu Shrine with a rucksack, then leaving 15 minutes later without it, is now a suspect.
The Mail Online quoted Thailand Prime Minister Prayuth Chan-O-Cha as saying the man was believed to be from an an "anti-government group based in Thailand's north-east" - the heartland of the kingdom's anti-coup Red Shirt movement.
It went on to quote comments from Mr Prayuth, supplied by news agency AFP, saying: "Today there is a suspect who appeared on CCTV but it's not clear... we are looking for this guy." The man was wearing a yellow t-shirt and thick rimmed glasses and was seen arriving at the Erawan Hindu Shrine with a rucksack and leaving without it 15 minutes later.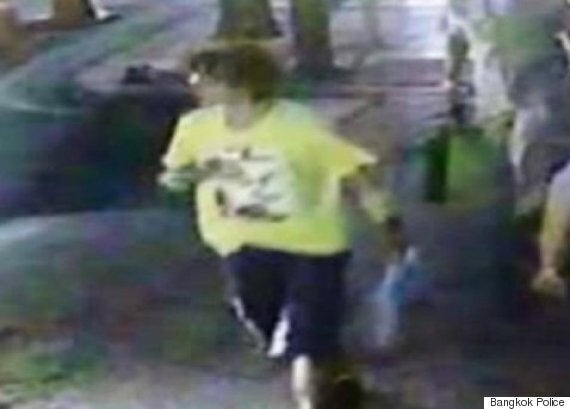 Police have said this man seen arriving at the Erawan Hindu Shrine with a rucksack and leaving without it 15 minutes later is a suspect
The breakthrough came as man on Tuesday threw an explosive from a busy pier on the city's Chao Phraya river. The explosive was said to have landed in a canal and did not result in any injuries.
The Associated Press on Tuesday said a police spokesman had confirmed the man with the yellow t-shirt and backpack was a suspect. Earlier it was suggested the man had been mistakenly identified as a suspect through a mistranslation.
The BBC quotes Mr Prayuth as saying those responsible for the attack were not yet known, but police were investigating one suspect seen on security camera near the shrine. The Associated Press earlier said police had "some suspects" and quoted Mr Prayuth as saying: "Today we have seen the closed-circuit footage, we saw some suspects, but it wasn't clear.
"We have to find them first."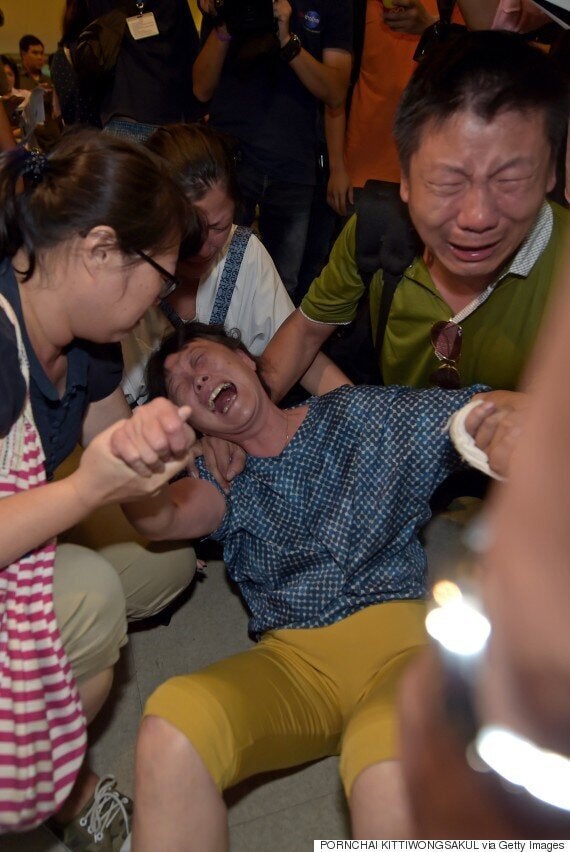 Relatives of a Chinese victim break down after identifying the body at the Institute of Forensic Medicine in Bangkok; the victims have so far been identified as coming from China, Thailand, Malaysia, Hong Kong, and Singapore
However, it went on to quote Defence Minister Prawit Wongsuwan as saying: "It is much clearer who the bombers are, but I can't reveal more right now."
He added of the bombing, which no one has yet claimed responsibility for: "We haven't ruled out terrorism."
Earlier The New York Times reported that an officer at the scene, who it did not name, had said the suspect was a woman. It said she was overheard speaking Thai and was being treated as a possible suspect. The newspaper also quoted rescue worker Winai Petploy as saying that two other unexploded bombs were found within the shrine, contained within small travel bags.
The bombing at major tourist destination happened at 19.00 local time (12.00 GMT) on Monday, and Mr Prayuth called it the "worst ever attack" on Thailand.
Meanwhile, video emerged Tuesday of the moment the bomb went off.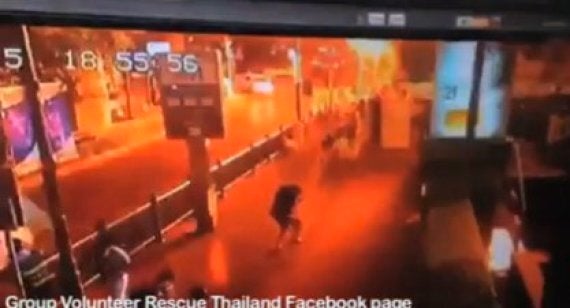 The bomb scene burns bright orange in video of the moment it was detonated
It is thought a pipe bomb containing 3kg of TNT was used in the attack. National police chief Somyot Poompummuang said: "Whoever planted this bomb is cruel and aimed to kill. Planting a bomb there means they want to see a lot of people dead."
Marko Cunningham, a New Zealand paramedic working with a Bangkok ambulance service, said the crime scene was "like a meat market".
He told Reuters: "There were bodies everywhere. Some were shredded. It was horrific."
The defence minister is reported as saying officials had no prior intelligence about the rush-hour bombing which was said to have scattered body parts, shattered windows and burned motorbikes to the metal.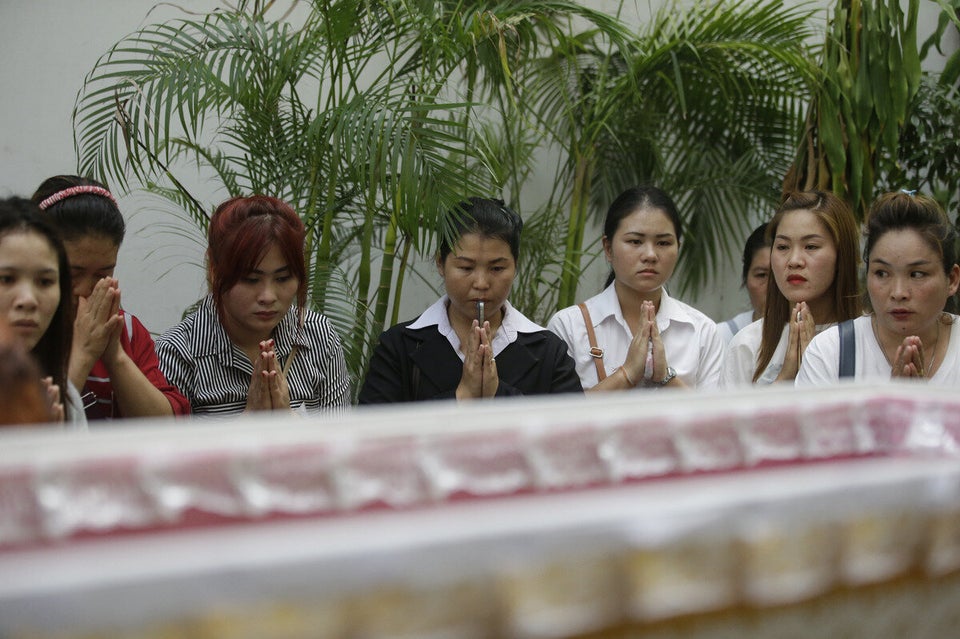 Bangkok bombing
Mr Prayuth said: "This is the worst incident that has ever happened in Thailand.
Mr Prayuth vowed to "hurry and find the bombers," though he noted there may be just one perpetrator. The leader has had a difficult relationship with the media since the former general took control of the government in a May 2014 coup and this disaster is continuing to fuel tensions.
Asked if there were leads on the suspects' identities, he bristled, "We are still investigating. The bomb has just exploded - why are you asking now? Do you understand the word investigation? It's not like they claim responsibility."
Early Tuesday morning the busy Ratchaprasong junction where the bomb went off reopened as investigators surveyed the damage. Police and soldiers continued to guard the scene which remains littered with shattered glass and other debris.
As a single, devastating blow to this Southeast Asian metropolis, the bombing has no equal in recent history, though Thailand is no stranger to violent attacks. A more-than-decade-long insurgency by southern Muslim separatists has left more than 5,000 dead far from the capital. In Bangkok, politically charged riots centered on this very intersection in 2010, resulting in 90 deaths over a two month period.
The bomb was detonated at a shrine dedicated to the Hindu god Brahma, but is extremely popular among Thailand's Buddhists as well as Chinese tourists. Although Thailand is predominantly Buddhist, it has enormous Hindu influence on its religious practices and language.
Throngs of tourists come there to pray at all hours, lighting incense and offering flowers purchased from rows of stalls set up on the sidewalk along the shrine. The site is a hubbub of activity, with quiet worshippers sometimes flanked by Thai dancers hired by those seeking good fortune, while groups of tourists shuffle in and out.
Bangkok has been relatively peaceful since a military coup ousted a civilian government in May last year after several months of sometimes violent political protests against the previous government.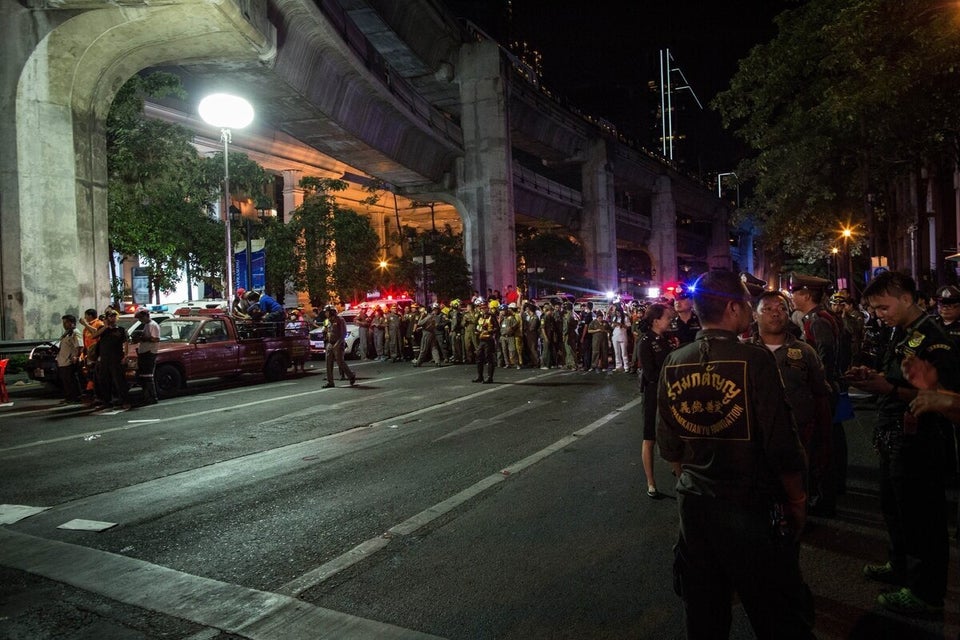 Bangkok explosion
At the same time, the military government has tightly controlled dissent, arresting hundreds of its opponents and banning protests. Tensions have risen in recent months, with the junta making clear that it may not hold elections until 2017 and wants a constitution that will allow some type of emergency rule to take the place of an elected government.
Stirring the pot has been exiled former Prime Minister Thaksin Shinawatra, who was ousted in a 2006 coup. It was his sister Yingluck Shinawatra who was ousted as prime minister last year.
Last week, Thaksin posted a message on YouTube urging his followers to reject the draft constitution because he said it was undemocratic. The draft charter is supposed to be voted on next month by a special National Reform Council. If it passes, it is supposed to go to a public referendum around January.
Another source of recent tension is the annual military promotion list, with the junta's top two leaders - Prime Minister Prayuth and Deputy Prime Minister Prawit - widely believed to be supporting different candidates. The reshuffle, which comes into effect in September, has traditionally been a source of unrest, as different cliques in the army, usually defined by their graduating class in the military academy, seek the most important posts to consolidate their power.
Popular in the Community