A 20-foot-wide sinkhole has reopened in the exact location it swallowed a sleeping man in March, 2013.
The depth of the hole, in Seffner, Florida, is still unknown to officials who responded to the scene.
It was discovered by a woman who heard a loud rumble whilst walking her dog past a fenced-off area in the sleepy residential area.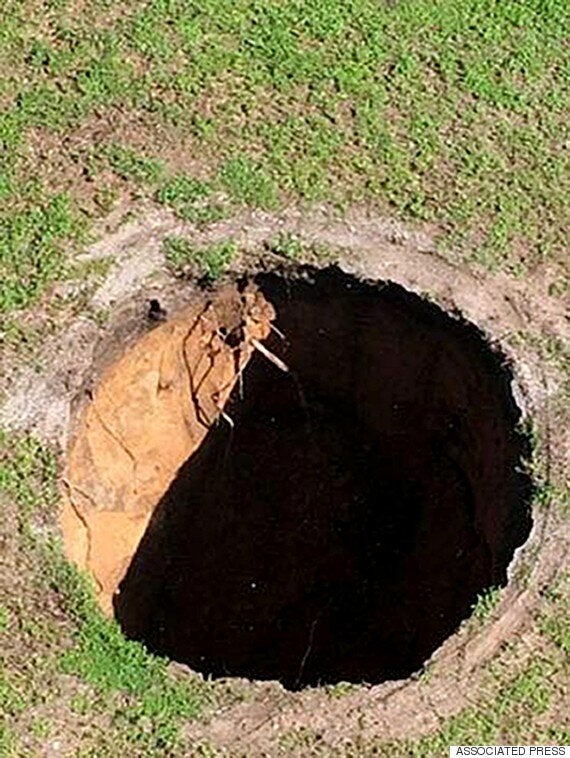 The sinkhole swallowed a man in 2013
The original hole killed Jeffrey Bush whilst he was asleep in his bedroom, as his floor caved in and plunged him into the depths of the earth.
His brother, Jeremy Bush, tried to save him by jumping into the hole, but later had to be rescued himself by authorities as the ground crumbled around him.
After the tragedy, a sinkhole remediation company filled the hole with gravel, and county officials said the company will study the reopening.
Michelle Van Dyke, a county spokeswoman, said in a statement: "It's not uncommon for this type of settlement to occur when voids like this happen."
Florida is highly prone to sinkholes because there are caverns below ground of limestone, a porous rock that easily dissolves in water.
The chasms can also be found on British shores and last week a giant sinkhole estimated to be up to 40ft deep and 30ft wide opened on a busy main road in Manchester.
Popular in the Community