Nick Robinson has compared the "bullying" protesters who called for his sacking during the Scottish referendum campaign to something out of Vladimir Putin's Russia - and been pilloried for it on Twitter.
The outgoing BBC political editor condemned at "intimidation and bullying" of journalists during the campaign, which prompted other journalists to hit out at the ferocity of campaigners for attacking journalists, particularly on social media.
Robinson's latest comments earned him flack, as he argued with left-wing commentator George Monbiot about whether he was smearing the protesters and whether the SNP had any role in the protest.
It also unleashed a torrent of abuse, including, as is inevitable in online outrage storms, someone comparing him to the Nazis, in a storm that novelist JK Rowling became involved in.
Robinson, who is joining Radio 4's Today programme, was accused of bias in the last days before September's independence referendum after getting into a confrontation with then-first minister Alex Salmond over the BBC's coverage of a story about the possible relocation of RBS.
Story continues beneath video
The spat prompted hundreds of pro-independence supporters to protest outside BBC Scotland's headquarters in Glasgow on the Sunday before the poll, calling for Robinson's sacking.
During an appearance at the Edinburgh International Book Festival to promote his latest book Election Diary, Robinson said the clash with Salmond was "a source of regret".
He added: "I don't think my offence was sufficient to justify 4,000 people marching on the BBC's headquarters, so that young men and women who are new to journalism have, like they do in Putin's Russia, to fight their way through crowds of protesters, frightened as to how they do their jobs.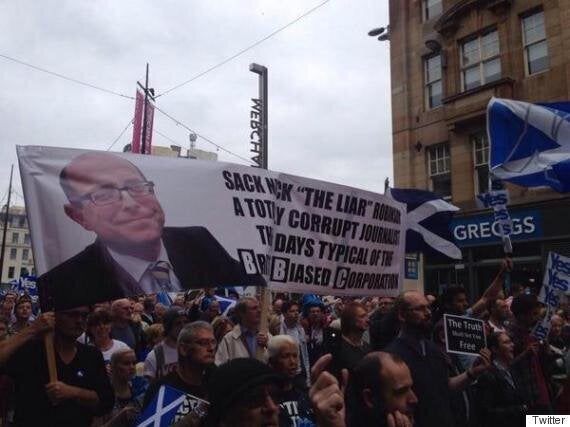 The protesters decide the best way to spend the last Sunday before the independence referendum was doing this
"That, you may agree with me or disagree with me, is not how politics should operate either in the UK or in future independent Scotland if there is to be such a thing.
"We should not live with journalists who are intimidated, or bullied, or fearful in any way".
Monbiot, who writes for The Guardian, appeared to accuse of Robinson of being part of the Establishment that was trying to "crush" popular movements.
Monbiot challenged him to provide evidence that the SNP was involved in organising the protest - but then had to make an appeal to people on Twitter that seemed to stand up Robinson's central point.
This screengrabbed tweet amused Rowling, a prominent opponent of Scottish independence.
At the book festival, Robinson said of his confrontation with Salmond: "He was using me to change the subject. Alex Salmond was using me as a symbol, a symbol of the wicked, metropolitan, Westminster classes sent from England, sent from London, in order to tell the Scots what they ought to do.
"As it happens I fell for it. I shouldn't have had the row with him, which I did and I chose a particular phrase we might explore badly in terms of my reporting and that is genuinely a sense of regret."
Robinson said he had taken several personal lessons from the episode but hit out at the antipathy towards journalists from outside Scotland covering the referendum.
He said: "There's a deeper question around, should a man from London, should an Englishman come to Scotland to cover the referendum particularly at the last minute? To which my answer is an unequivocal yes.
"This country is still a United Kingdom until and unless the Scottish people vote for it not to be.
"The idea that before Scotland becomes independent, if she is ever to become independent, that only certain journalists can cover it, who live in certain places and come from certain locations is again dangerous."
He said he was concerned about the growth of "echo chamber" politics and journalism caused by social media.
"The great danger is that people only read and hear and watch ... people they already agree with because you choose who to follow.
"And what I saw happen in the lead up to the Scottish referendum was that the vortex of anger about my reporting on that one occasion was all connected with social media.
"This is very dangerous. We've seen what happens with Fox News in the United States, people only watch media that they agree with."
He added: "The big lesson I learned from that protest is that ain't what a democratic politician should be about."
Mr Robinson, who earlier this year had a successful operation to remove a lung tumour, said he was particularly delighted to attend the festival "as it means I'm on the road to recovery".