Last-ditch talks aimed at averting strikes by London Underground workers that could cause four days of commuter chaos are underway.
Rail union leaders met LU managers, under the chairmanship of the conciliation service Acas, on Monday morning in the hope of reaching an agreement to end the latest action over plans for the all night tube. It was not known when the meeting would end.
Members of three unions are due to stage two 24-hour walkouts from Tuesday and Thursday evenings which will cause travel chaos in the capital for most of the week.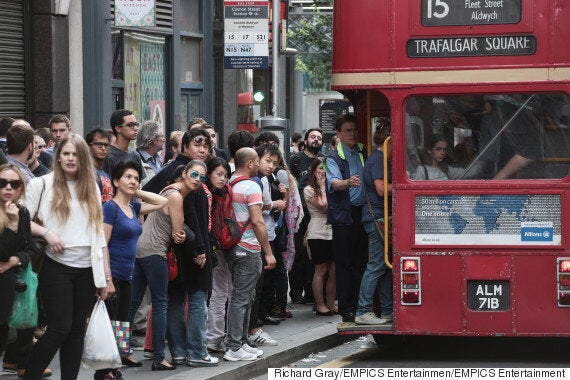 Rail union leaders were meeting with London Underground managers on Monday to try and advert tube strikes planned for later this week; similar strike action caused commuter chaos last month
Transport for London said it would run "whatever tube services we can" between Tuesday and Friday, based on the number of staff that sign in for their shifts.
It said staff on the bus network, DLR, London Overground, TfL Rail, tram, Emirates Air Line and River services will not be on strike and extra bus and river services will run to help Londoners get around. All roadworks were to be suspended "wherever possible" and additional Santander Cycle hubs will be in place at key locations.
TfL advises commuters to allow more time for their journeys as available transport services are expected to be "much busier".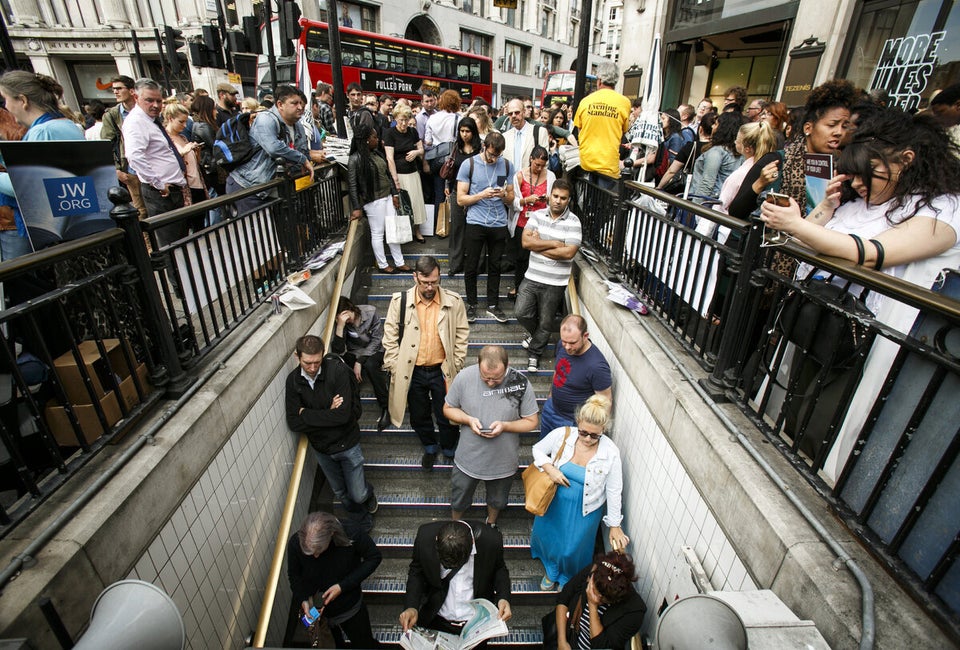 Tube Strike 2015
On Tuesday tube services will run as normal until 6.30pm with TfL advising it expects tubes to be "exceptionally busy" between 4.30pm-6.30pm.
The following day it says "most tube services are unlikely to run at all". Those that do will be less frequent, may only stop as some stations and may only run for part of the day, TfL advises.
"Other transport services will operate as normal and will be much busier than usual. You are strongly advised, if possible, to travel outside the morning and evening peaks."
On Thursday tube services are expected to begin at the usual times, however, TfL says there "may be some lasting impact" from Wednesday's strike action. Tubes are expected to stop working at 6.30pm and Tfl says they are likely to be overrun between 4.30pm-6.30pm.
Friday sees services grinding to a halt again with the TfL saying, "most tube services are unlikely to run at all and those that do will be less frequent than normal". Services that do run may only serve some stations, and may only run for part of the day, it said.
Further details about the strike and specific closures along the various lines can be found here.
The unions are in dispute over pay and shifts for the new service, which is due to start at weekends from September 12. The drivers' union Aslef is not taking part in this weeks strikes.
London Underground has said it is operationally ready for the launch but unions believe it will be delayed because of the protracted row.
RMT general secretary Mick Cash told The Huffington Post UK earlier this month: "The Night Tube plan has been botched from the off.
He added: "The basics haven't been done and those who will pay for this shambles will not only be our members but the London daily travelling public who cough up a fortune and who will find their safety and the reliability of the service compromised from 12th September onwards. Running tube services with fatigued and burnt-out staff is a recipe for disaster."
Around 20,000 members of the RMT, Unite, TSSA and Aslef launched strike action last month in a dispute over pay and staffs' work-life balance.
The Rail, Maritime and Transport union, Aslef, Transport Salaried Staffs Association and Unite are all unhappy over the current pay being offered to employees, as well as rosters.