LBC radio host James O'Brien has made an impassioned defence of striking London Underground workers, whilst criticising London Mayor Boris Johnson.
For O'Brien the right of London Underground workers to demand certain terms and conditions with the introduction of all-night tube services in December must be seen in the context of continued broken promises.
In a fervent speech, O'Brien told his audience on Monday morning that he does not accept the criticism of tube drivers leveled by well-paid newspaper columnists.
In a thinly-veiled jibe at London Mayor Boris Johnson, O'Brien said: "You get some, I don't know, newspaper columnist on £250,000 a year telling you that tube drivers don't deserve the right to defend their family life because they earn less than nurses."
Mr Johnson earns £275,000 a year in addition to his pay as an MP and as Mayor to write a column for The Telegraph newspaper.
Before welcoming calls from the public, O'Brien gave a passionate defence of the right of Underground staff to strike to achieve assurances over their concerns at the introduction of the night tube.
"And I sat here staring and staring at this story waiting for it to make sense to me in a way that isn't the most lily-livered, mealy-mouthed, mean-spirited envy imaginable.
"Here is a tube driver, he's on £50,000 a year. He doesn't want to work nights. If he's going to work nights, you're going to have to make it worth his while.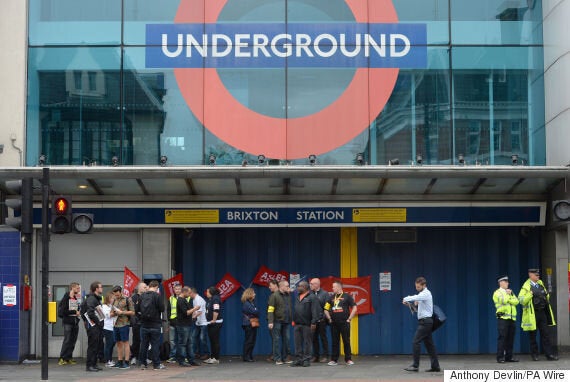 Striking Underground workers during the dispute last month
"Not financially, but with promises that he won't be shoehorned or coerced or forced into working patterns that are dangerous.
"Unfortunately the people who make these promises are the same people who promised they wouldn't shut ticket offices.
"These same people are being looked at by the tube workers and they're saying: 'We don't really trust you'.
"'We want it in writing and we want it formal, because every other promise you've made, Mr Johnson, you've broken'."
This week's tube strikes are due to take place from 6pm on Tuesday, and all-day Wednesday, and from 6pm on Thursday, and all-day Friday.
Negotiations between unions and London Underground continue.
Popular in the Community