Delivering the Alternative MacTaggart lecture in Edinburgh, Scotland's First Minister called for BBC editors in Scotland to be given far greater reach to influence news across the whole of the UK, as well as an iPlayer for Scottish programmes, Holyrood oversight for the Scottish BBC, and greater powers for the BBC commissioners based in Scotland.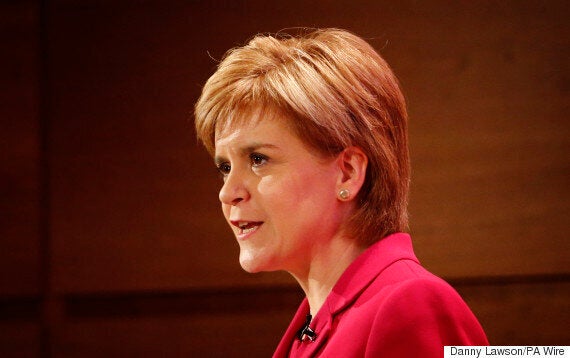 Nicola Sturgeon addresses the 40th Guardian Edinburgh International Television Festival, held in Edinburgh
"To some people, a journalist not appearing to be fully informed can sound like a journalist not being entirely impartial," she said. "I know that some people might choose to interpret what I say as me accusing broadcasters -- and, let's be frank, the BBC in particular -- of being biased in how they covered the referendum."
She continued: "I am not saying there was institutional bias in the BBC's referendum output. However, there were occasions when its coverage -- through oversight, apparent ignorance of the detail of an issue or as a result of simply following the agenda of openly partisan print media -- lapsed from the objective output the referendum deserved into what could seem partial and, at times, pejorative."
Sturgeon said the BBC needed to "reflect the nations and regions of the UK much more effectively than it does" noting in Scotland, "less than half of the audience thinks that the BBC accurately reflects their lives in terms of its news and current affairs coverage."
She continued: "Responsibility for broadcasting in Scotland should transfer from Westminster to the Scottish Parliament. To those who say this is about the SNP wanting to exert political control over the BBC, I say that is arrant nonsense."
"We will encourage the widest possible level of debate within Scotland on charter renewal," she said. "And we will work with the UK Government and the BBC to achieve the best possible outcome for viewers in Scotland and across the UK. Because by doing that, we will ensure that the work of the BBC benefits our creative economy, enriches our culture, and informs our democracy -- and that it does so as part of the strong, vibrant, diverse and independent media that should be so important to all of us."
Related