The broadcast is the first by the morning news team since the incident on Wednesday.
"We come to you this morning with very heavy hearts, two of our own were shot and killed during a live shot yesterday morning," Kimberly McBroom, the show's host, said in an emotional tribute to the pair.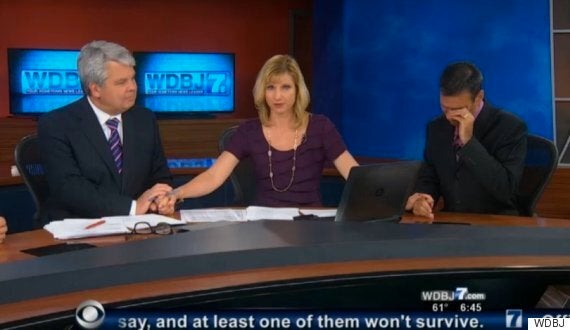 The programme held a minute's silence
"Alison Parker and Adam Ward were part of our family here at the station, and many of you have told us that they were a part of your mornings each day as well."
"As difficult as this morning is for everybody, we also realise it is our duty to report the news," her stand-in co-host Steve Grant, said later.
At the time of the shooting, around 6.44am, the show paused to hold a minute's silence. McBroom broke down in tears as she acknowledged the time of the programme and the terrible events of 24 hours earlier.
"As we approach that moment, we want to pause and reflect what made these two so special, not just to us, but to all the towns WDBJ 7 serves," she said.
The broadcast has been tinged with sadness, and the hosts have battled through their emotions to deliver the news.
Earlier, weatherman Leo Hirsbrunner struggled to deliver his forecast. "I don't even know how to do the weather today," he said.
McBroom pitched in to support him afterwards: "Good job partner, we're going to get through this together."
And Chris Hurst, another WDBJ 7 anchor, spoke of his relationship with Alison Parker and their future plans.
But there's also been a stern defence of the slain journalists after more details emerged of Bryce Williams' motivation.
Jeff Marks, the WDBJ President, told the programme: "Anything you read in that manifesto was utter nonsense.
"The fella came here looking for grievances to happen…
"There was no 'smirk' in Alison Parker, the things he cited that happened later were nonsense.
"It was he who was deluded."
The show also detailed the numerous tributes that had taken place across the Roanoke community.
View the live stream below