'Loose Women' has come under fire from rape charities and viewers alike, after running an online poll that asked: "Is it ever a woman's fault if she is raped?"
READ MORE:
The hosts of the ITV daytime show invited their audience to vote in a poll, following The Pretenders singer Chrissie Hynde's comments that she blames herself for being forced to perform sexual acts under the threat of violence.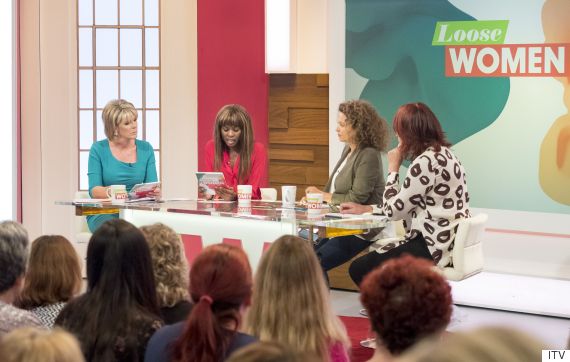 The 'Loose Women' on Tuesday's show
The show's official Twitter account posed the question to followers: "POLL: After Pretenders singer Chrissie Hynde's comments- we're asking is it ever a woman's fault if she is raped?"

The poll was slammed by charity Rape Crisis England & Wales, who branded it "ill-considered, insensitive and insulting", and called for the show to apologise.
"This poll is completely inappropriate and Rape Crisis is disappointed that 'Loose Women' thought otherwise even for a moment," Katie Russell, national spokesperson for Rape Crisis, told HuffPost UK.
"Legally, not to mention morally, rape is always 100% the responsibility of its perpetrator and no-one else.
"Through more than 40 years' experience of providing specialist support services to sexual violence survivors, we know how often and how much those who've been raped blame themselves for what has happened to them.
"This shame and self-blame prevent the vast majority of rape survivors from accessing justice and stop many from getting the emotional and practical support they want and need after such a devastating and traumatic experience.
"A programme like 'Loose Women' could choose to use its high profile to raise awareness and understanding of rape, its impacts and prevalence, and to support and encourage survivors to seek services like those Rape Crisis offers; instead, they've reinforced myths and stereotypes with this ill-considered, insensitive and insulting poll."
She added: "We do hope they'll apologise to their audience and the wider public, especially the large numbers of rape survivors among both."
Polly Neate, Chief Executive of Women's Aid, also told HuffPost UK: "Rape is never the victim's fault, but the fact that we are still having these debates in 2015 shows how far we have to go as a society.
"The poll demonstrates how deeply ingrained the victim-blaming culture is - a culture that obstructs women's access to justice and contributes to the incredibly low rape conviction rate. Women are often still inclined to blame themselves if they are raped, which means men are not held accountable for their actions."
The vote was met with overriding criticism on Twitter, with many viewers expressing their disgust that the issue even needed to be debated, accusing the show of "dangerous myth-propagation".
@loosewomen have to say what a stupid poll,i feel your poll is more disrespectful to women,of course its NEVER the womans fault #stupidpoll

— ǝıןןnʍ (@Wullie13w) September 1, 2015
@loosewomen How in hell did you consider this an acceptable poll to run?

— 『エヴェリン』╯︵ ┻uʎlǝʌƎ┻ (@ryuuevelyn) September 1, 2015
@loosewomen Have you asked any womens' rape/assault charities what they think of your poll? You should. You must.

— Two Flames (@msjenniferjames) September 1, 2015
@loosewomen Jesus Fucking Christ. What's the next poll: 'Is it ever a woman's fault that her fella beats her?'. Dangerous myth-propogation.

— Two Flames (@msjenniferjames) September 1, 2015
@loosewomen This is incredibly irresponsible and victim blaming. There must have been a better way to discuss this.

— Danielle (@DanielleSCW) September 1, 2015
THIS IS NOT THE CONTENT FOR A POLL https://t.co/rQBluW5HwZ

— Emma Kelly (@TooManyEmmas) September 1, 2015
@loosewomen Debating whether behaviour may invite rape is unbelievable. Things that cause rape? Rapists. It's really quite straightforward.

— Hannah Elizsch (@hannahelizsch) September 1, 2015
@MasonEcho@legsidelizzy@loosewomen this from a national tv programme... You know who's 100% responsible for every rape ever? Rapists.

— Liz Luff (@LizLongstonePR) September 1, 2015
Loose women managed to destroy the confidence of a lot of rape victims that would have taken years for them to get! Nice one. Good job.

— Tasha Lianne (@Tishtash95) September 1, 2015
When the poll eventually closed, the amount of viewers who disagreed with the poll was overwhelming, with 88% of voters stating it is never a woman's fault.
Hosts Ruth Langsford, June Sarpong, Nadia Sawalha and Janet Street-Porter also all aired their views on the topic during Tuesday's show.
Janet said: "If any women come along, as Judy Finnigan did on this show last year, and express an opinion that may be saying 'well hang on a minute, if a woman is drunk, and is wearing highly provocative clothes, she is placing herself at risk', you're not even allowed to say that anymore."
She then clarified her comments, adding: "The perpetrator of the sexual act is always in the wrong."
Ruth added that she believed Chrissie Hynde should not have been attacked for her comments.
"She's got every right to say what she likes about her life," the anchor said, explaining it was "a woman of a certain age reflecting on her life".
"These comments can be dangerous," June said. "Actually, the woman is never to blame."
"I feel sad for her, that she feels guilt about that attack," Nadia added.
It is not the first time 'Loose Women' has sparked controversy while addressing the topic of rape.
Last year, Judy Finnigan prompted a backlash when she appeared to defend convicted rapist Ched Evans, stating she believed he should be allowed to resume his career as a professional footballer.
The presenter was involved in a discussion with her fellow panellists, when she described the attack on a 19-year-old girl as "non-violent".
"He's served his time. The rape and I am not, please, by any means minimising any kind of rape - but the rape was not violent," Judy stated. "He didn't cause any bodily harm to the person.
"'It was unpleasant, in a hotel room, I believe, and she was – she had far too much to drink," Judy said. "And you know, that is reprehensible, but he has been convicted and he has served his time.
"Now when he comes out, what are we supposed to do? Just actually refuse to let him do his job? Again, even though he has already been punished?"
HuffPost UK has contacted a 'Loose Women' spokesperson for comment.
LIKE US ON FACEBOOK | FOLLOW US ON TWITTER