The five things you need to know on Tuesday September 1, 2015...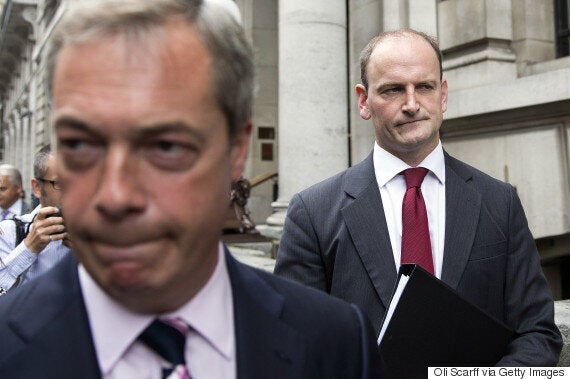 1) ONLY MAKING PLANS WITH NIGEL
For quite a chunk of the population, today is football transfer deadline day. But on planet politics (and yes it's nice to be back after the summer break), Nigel Farage is making clear that he's a one-club man. Clearly in no mood to join any other team, the UKIP leader has decided he will front his own 'No' campaign rather than be seen sharing a platform with Tory and Labour Eurosceptics.
On one level this is politically sensible, and learns the brutal lesson of Labour's problems in siding with the Tories in the Scottish independence referendum campaign. The 'official' No campaign will be relieved too that Farage is not seen as their frontman, given how 'divisive' he is (copyright Suzanne Evans). Douglas Carswell can continue links with the official campaign. But as in Scotland, Farage sees the bigger picture, believing that although he lost the battle of the general election (with just one MP to show for it), he can use his bridgehead to go on to win the bigger prize of Brexit.
Of course, all of the recent focus on the EU's migrant crisis only strengthens his simple message that quitting the EU is the best way of protecting the UK's borders and it looks like Farage will put immigration front and centre of his campaign. The danger is that he's seen as not just a one-club man but a one-club golfer, with immigration his only policy concern. Yet I suspect that's a price he's happy to pay in the run-up to 2020. Even if he loses the referendum, he's poised to feed on Tory splits and a politics of resentment that could follow a vote.
Farage was on the Today prog setting out how his themes for his Friday launch ('I'm not refusing to work with anybody'). The BBC says the Yes campaign is to get funding from former Labour minister Lord Sainsbury, cross-party personnel like Mandelson, Danny Alexander and Damian Green. And could be led by former Easyjet (and Guardian) CEO Carolyn McCall.
The FT splash looks ahead to the end of the week when the PM jets out for another charm offensive (preferably focusing on the former not the latter) in Spain and Portugal. The paper says that David Cameron has scrapped moves to get a full British opt-out of EU employment laws ahead of his renegotiation. In July, it was reported he was looking at a full opt-out but one member of his team now tells the FT 'we aren't trying to get the full opt-out back'. This could further inflame Euroscep backbench opinion but the PM seems happier to send out a message of 'pragmatic' moderate reform, while ensuring the TUC and Jeremy Corbyn don't use any anti-worker moves as an excuse to back a No campaign. At the final Labour hustings, Corbyn told me he did not rule out joining the No campaign if Cameron traded away workers' rights. Still, Cameron is determined to ensure the EU working time directive doesn't harm the UK economy - how he gets such guarantees remains unclear, however.
Yvette Cooper has a Big Speech this morning setting out her own plan to ease the EU migrant crisis. And several papers focus on Angela Merkel's warning yesterday that Schengen border arrangements could be scrapped unless serious action is taken soon. Cooper says that Britain must take more of a role in the crisis, with help for asylum processing centres in Greece, Italy, Hungary, Spain, North Africa and Syrian refugee camps. She also wants more aid for states like Jordan, Lebanon and Turkey and more action against human trafficking gangs.
Nigel Farage on Today, again attacked the 'stupidity' of a common EU asylum system and talked of 'an exodus of Biblical proportions' - but said the UK could only offer to take in 'a few thousand' refugees from Syria'. He rammed home his wider point on economic migrants: that Romanian and Bulgarian migration to the UK had rocketed as much as UKIP had predicted. That's still a problem for the Conservatives (and last week's figures were their biggest PR problem of the entire summer).
Last night, Andy Burnham repeated what many see as his main pitch: I'm as left wing as Corbyn, but I'm electable. Gordon Brown points out in the Radio Times that it was Keir Hardie who first said Labour had to 'become electable' if it was to make a difference to people's lives. Dan Jarvis blogs for HuffPost today on the outcome of his own review of why UKIP did so well on May 7 in many Labour areas.
The Times reports a Ukrainian human rights activist criticising Jeremy Corbyn for appearing to be pro-Putin. But with Corbyn seen by many as the clear favourite, Patrick Wintour has a neat analysis in the Guardian pointing out the big hurdles his team faces if he wins. It suggests he could face a legal challenge (which will probably fail) if he doesn't win a majority among 'full' members and would be 'walking wounded'. The big question is how any Shadow Cabinet could work if it included MPs who didn't feel Corbyn was upto being PM.
There's a Channel 4 News Labour leadership debate tonight. Don't tell me you're bored of it yet.
BECAUSE YOU'VE READ THIS FAR...
Watch Kanye West declare 'I've decided in 2020 to run for President'. Sounded like a joke at Trump's expense but a political action committee has already been set up by fans - and they want him to run as a Republican.
David Cameron has scented another chance to exploit what he sees as Labour vacating the political centre ground. His piece in the Times declares that bosses who fail to pay the National Living Wage could be banned from running a firm for 15 years. There will be a crackdown from a new 'Labour Market Enforcement Director'. Together with his EU announcement, it's perhaps his most TUC-friendly statement since becoming Tory leader. It's all about moving from doing the bare minimum on enforcement to taking real action. Note that this is the issue the PM wants to be seen focusing on for his first day back after the August break.
But the political punch is obvious. Using the Labour leader race to tar all of the contenders with the Corbyn brush, he talks of its 'anti-Nato, anti-American, profoundly-anti business' approach. Oh, and he reclaims One Nation for his own party again, while saying the Tories are the 'true party of working people'. Andy Burnham has already hit back, repeating that he'd extend the minimum wage to all age groups and pay £11 nationally and £12 in London.
Nicola Sturgeon has told the Beeb that she's planning a 'bold and ambitious' programme as she sets out her Holyrood plans today. Moves to tackle domestic violence will be watched closely but it's on bread and butter issues like education and health gaps between rich and poor where the SNP are most under fire from their opponents.
Labour's leader Kezia Dugdale told Today she'd scrap school inspections (not quite the Tristram Hunt approach to the issue, one suspects), seizing on teacher union worries about the Scottish Government's plans to standardise assessments. She ducked questions about whether a Corbyn-led Labour party would help it counter the SNP's anti-austerity drive. But her firm line 'The Scottish Labour Party is led by me' and the repetition of her line that she was open to the renewal of Trident made clear she wasn't exactly a Corbynite. Still, she did praise him for saying how he'd spend the nuclear savings on jobs.
The Daily Mail splashes on the appalling case of former Army Colonel Samual Rae, a dementia sufferer whose personal information was passed on by charities. The Information Commissioner's Office has vowed an immediate probe. Ministers like Chris Grayling may have more to say.
Speaking of personal data, the Guardian also highlights new emails from Hillary Clinton's private server. One email from David Miliband lays bare his heartache at losing to Ed in the 2010 leadership race, with him saying it was 'doubly' 'tough' because he'd won the backing of party members and MPs. He also added 'When it's your brother...'
Lots of papers pick up the excellent FoI from Pulse magazine revealing that £120m in personal health budgets in one area included spending on things like a summer house and pedalo rides. Liz Kendall is an evangelist for PHBs, but surely her opponents won't seize on this for political capital...will they?
As the second term of austerty begins to bite and Whitehall departments jockey ahead of the spending review, expect to see more 'cuts' stories not fewer. The Guardian splashes on private estimates circulated among police chiefs that 22,000 police jobs will be cut. the LGA also warns more cuts are really biting the bone not the fat or flesh any more.
If you're reading this on the web, sign-up HERE to get the WaughZone delivered to your inbox.
Got something you want to share? Please send any stories/tips/quotes/pix/plugs/gossip to Paul Waugh (paul.waugh@huffingtonpost.com), Ned Simons (ned.simons@huffingtonpost.com), Graeme Demianyk (graeme.demianyk@huffingtonpost.com) and Owen Bennett (owen.bennett@huffingtonpost.com)