Lying facedown on the shore of a Bodrum beach this haunting image of a drowned Syrian toddler illustrates the perilous risks, and heartbreaking consequences, of the journey tens of thousands of migrant families have undertaken, chasing a better life in countries shuffling responsibility for taking them in.
Yvette Cooper, Shadow Home Secretary, who made a desperate plea on Tuesday for towns and cities up and down the country to each take in ten migrant families, said: "When mothers are desperately trying to stop their babies from drowning when their boat has capsized, when people are being left to suffocate in the backs of lorries by evil gangs of traffickers and when children's bodies are being washed to shore, Britain needs to act.
"It is heartbreaking what is happening on our continent. We cannot keep turning our backs on this. We can - and must - do more. If every area in the UK took just ten families, we could offer sanctuary to 10,000 refugees. Let's not look back with shame at our inaction."
Liberal Democrat leader Tim Farron told The Independent "enough is enough".
He said: "These pictures are beyond horrific. They are the wake-up call David Cameron needs."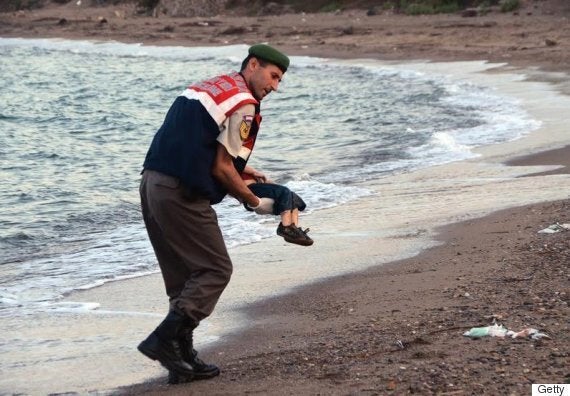 A Turkish gendarmerie soldier moves the body of the Syrian boy who was one of 11 people to die after a boat sunk while trying to reach Greece
The child was one of 11 Syrian migrants to drown when two boats travelling to the Greek island of Kos from the Turkish town of Bodrum sank early on Wednesday. Two other refugees were reported missing and the boys mother, according to Daily Sabah, was hospitalised after being told her son was among the dead. Some reports suggest the death toll is in fact 12.
The boy is thought to have been on a boat carrying 16 that sunk after leaving the Akyarlar area of the Bodrum peninsula, resulting in seven deaths.
Heartbreakingly the scene was said to have been repeated hours later when a boat undertaking the same route, and carrying six people, sank. A woman and three children were said to have died. A further two migrants, who were wearing lifejackets, reportedly stumbled on to the shore half-conscious.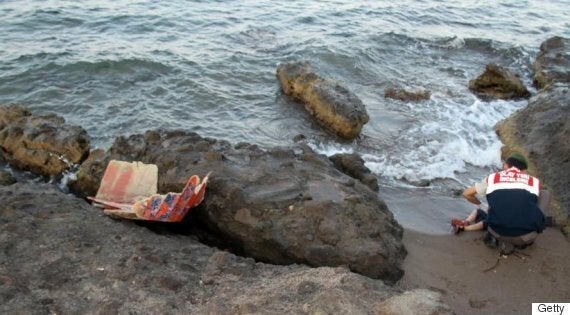 The boat carrying the boy was one of two to sink after leaving the Turkish town of Bodrum on Wednesday
The Turkish Coast Guard rushed to the aid of the two boats, the passengers of which were not wearing life vests, and managed to rescue nine men and four women. The victims, the website reported, were found floating near the boats.
Peter Bouckaert, Emergency Director at Human Rights Watch, was one of the first to share the image of the boy online, writing on Twitter: "Just pause 4 a moment and imagine this was your child, drowned trying to flee Syria war for safety of EU."
BBC presenter Lyse Doucet also tweeted the picture, writing: "The world must find a way to end the suffering of so many in Syrian war."
Bouckaert's post was met with compassionate solidarity.
The drownings come as a petition on Change.org calling for the government to give "immediate sanctuary to refugees fleeing from war and violence" reached more than 100,000 signatures.
The route between Bodrum and Kos is one of the shortest from Turkey to the Greek islands - about 13 miles. Tens of thousands of Syrians fleeing the conflicts in their homeland have descended on Turkey's Aegean coast and risked their lives aboard overcrowded dinghies to make it to Greece, and into the European Union.
We all want peace and stability in Syria, but what about those fleeing for their lives now Prime Minister? The UK must act. @paulwaugh

— Hilary Benn (@hilarybennmp) September 2, 2015
The Hurriyet Daily News reported that Aid agencies estimate that over the past month about 2,000 people a day have been making the short crossing to Greece's eastern islands on rubber dinghies.
The Daily Sabah reports that last year, over 12,000 migrants were intercepted, while this number was 42,126 in the first eight months of 2015. So far this year, it reports, more than 200,000 people have arrived in Greece.
In the last two days alone, according to the Daily Sabah, the Greek Coast Guard has rescued 1,058 people at sea, travelling from Turkey.
The website reports that migrants pay $1,000 to smugglers to arrange a trip that often ends up being intercepted by the Coast Guard, or in fatalities.
Warning: video contains graphic footage
Related