The photo that surfaced on Wednesday of a dead Syrian toddler, drowned and washed ashore yesterday as his family tried to reach Greece from Turkey, has moved the British press to level huge pressure on David Cameron to do more to to help refugees risking death for a better life in Europe.
Almost all of today's newspapers carried the moving image of the child, named in reports as three-year-old Aylan Kurdi, on their front pages, one commenting the picture was a "heartbreaking symbol" of a "crisis engulfing the continent".
Its publication sparked a heated debate over editors' and journalists' judgement for using the photo, but most figures supported its prominent publication, LBC host Iain Dale saying it was "not an easy thing to look at" but adding that he felt printing it was necessary because "it needs to be brought home to use what's happening".
The photo has provoked emotive responses from high-profile politicians and prompted several Tory backbench MPs to insist Cameron shift on his reluctance to accept more refugees fleeing war, destitution and human-rights abusing regimes.
Most widely applauded was The Independent, for its unedited presentation of Aylan's picture on its Thursday front page, captioned: "Somebody's child."
It claimed the Prime Minister was "in denial", the European Union was "in deadlock", and asked readers: "Do we really believe this is not our problem?"
Amol Rajan, the paper's editor, posted a picture of Thursday's splash in a direct address to the Prime Minister, saying: "David Cameron - right now you look heartless and out of touch. Show leadership: say #refugeeswelcome."
Warning: Graphic image displayed below
He spoke out again on Thursday morning, defending the move, after coming under some criticism.
Scottish First Minister Nicola Sturgeon herself tweeted in approval of the way Aylan's photo was carried, heralding the paper's "heartbreaking and powerful" front page.
Stig Abell, managing editor of rival publication The Sun, also posted a comment in support.
The Sun editorialised: "our nation has a proud record of taking in desperate people and we should not flinch from it now if it is beyond doubt that they have fled for their lives."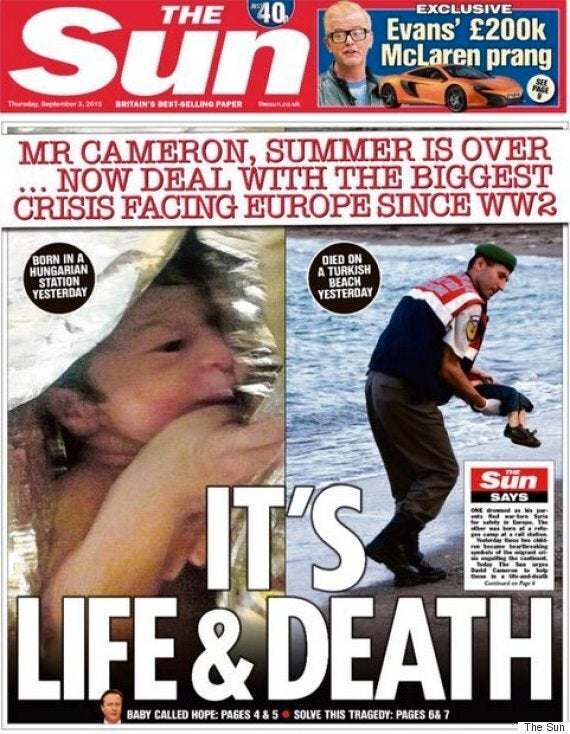 Other newspapers also featured the shocking image, some opting for a separate, less graphic photo, which shows three-year-old Aylan being carried away by a Turkish police officer, his face obscured by the man.
The Metro carried the less graphic photo, captioned "Europe could not save him".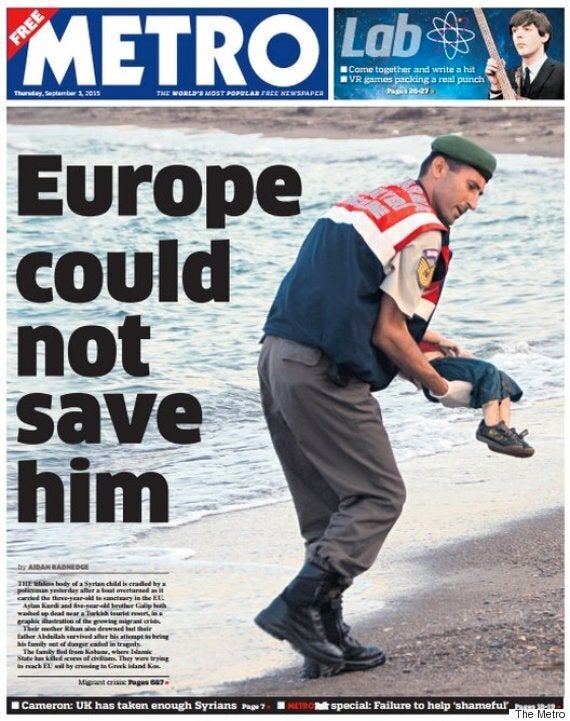 The Mirror decried the picture as "unbearable", commenting that it was "the heartbreaking human face of a tragedy the world can no longer ignore".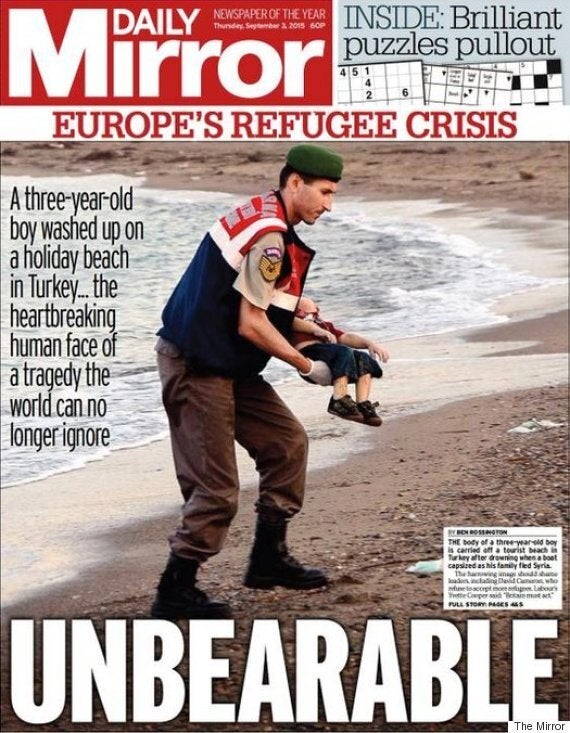 While the Times led on EU leaders who have been left split over how best to tackle the continents migrant and refugee crises, headlining their photo: "Europe divided."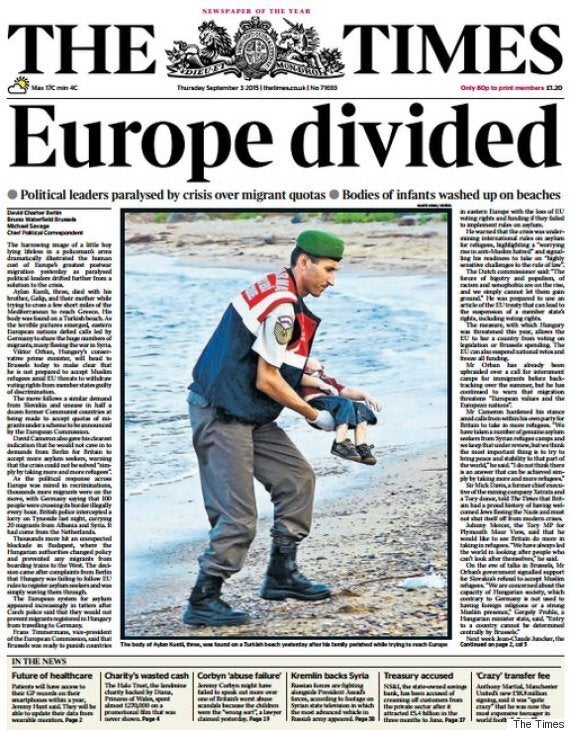 Other newspapers, including the Guardian and the Daily Mail, both carried the more conservative image and urged readers to comprehend the cruel reality of a crisis engulfing Europe.
The Mail, which has often towed a hard-line stance on immigration to the UK in recent years, released a notably sympathetic front page captioned: "Tiny victim of a human catastrophe."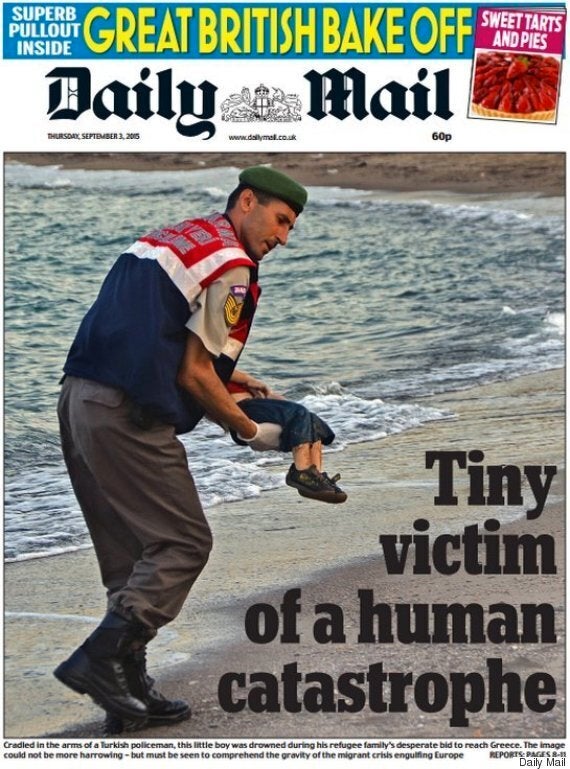 While The Guardian described it as: "The shocking, cruel reality of Europe's refugee crisis."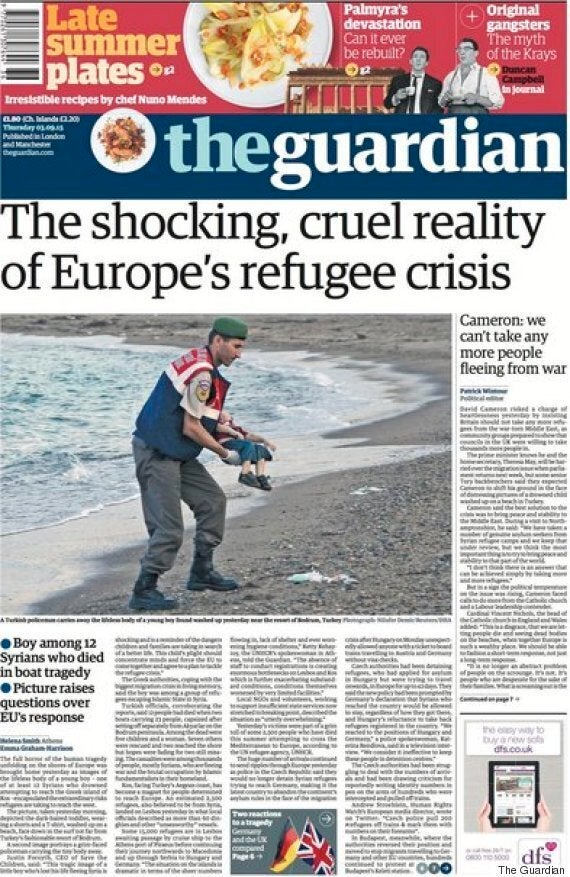 The Daily Telegraph chose not to feature a picture of Aylan, instead opting for a photo of a Mcedonian police officer carrying a crying child, while crowds of refugees wait behind the country's barbed wire border with Greece.
Although the haunting image was featured prominently on Thursday, it was the the less than sympathetic and Ukip-backing Daily Express who ran instead with "EU blamed for migrant chaos", picturing migrants in Southern Europe trecking across a railway line.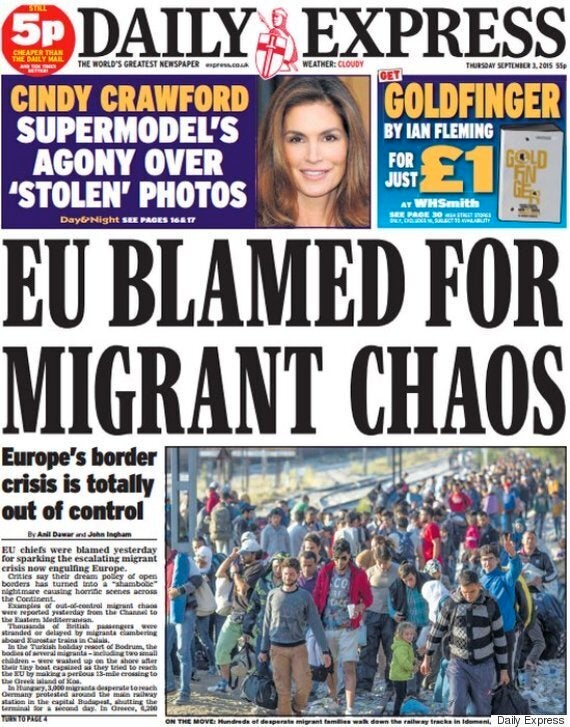 Many veteran politicians united on Thursday, in light of the picture surfacing, calling on the Prime Minister to be "realistic and practical" in the face of a mounting continent-wide crisis.
Baroness Warsi, a Conservative peer and former Foreign Office minister, said Britain should "share the burden" of refugees fleeing Isis held territories in Syria.
She claimed Britain had a long-held history of accepting refugee children, citing the country's welcoming of Jewish infants in the run up to and during World War Two.
She joined two Tory backbench MPs, Jonny Mercer and David Burrows, who called on Cameron to shift his hardline position.
Burrowes said the UK "should accept thousands, not hundreds" of people while Mercer claimed that mothers trying to keep their children afloat on life jackets should not think of the UK as a place that did not welcome them.
Related