A woman who was born with a rare genetic disorder has shared strong messages of self love and body confidence on social media - and it's safe to say, we could all learn a thing or two from her.
Renee DuShane, 21, was born with Pfeiffer syndrome, which affects the growth and formation of her facial bones.
Using the hashtag #IAmMoreThan, DuShane has spread messages of positivity in the first post for Kylie Jenner's Instagram series focusing on anti-bullying and self love.
"I want people to know that, just like you, I'm not perfect," DuShane writes in an Instagram blog post. "And that no one imperfection - like maybe how your face looks or how you talk - makes you any less of a person."
"There are days I feel absolutely sexy and beautiful," says DuShane. "I don't feel bad for myself and neither should anyone. I'd rather be friends with people than have their sympathy. The motto I live by is: stay strong and always love."
She adds: "I wish I could say only positive things go on my Instagram, but that isn't always true. I share happy moments, but sometimes I share moments of fear or vulnerability.
"When I was 18 years old, I posted the first photo of myself without my bangs and with no makeup on Tumblr. I talked about how ridiculous it was that I wasn't considered beautiful by society's standards. It went viral. I have worked hard to encourage others to love themselves through social media ever since."
According to Kylie Jenner, who is spearheading the campaign, the #IAmMoreThan series features the stories of six "incredible people who have become heroes in their own way by taking bullying and turning it into something positive".
After speaking with DuShane on the phone, Jenner said: "[She] is so strong willed and a super intelligent girl who told me that while growing up she never had many issues with bullying."
DuShane told Jenner: "I went to school with all the same kids all the way through high school. Right around senior year, I started getting very anxious about having to explain my condition to all of the new people I would meet in college. I started going on Tumblr and saw lots of profiles of positive, confident people."
This inspired her to start sharing her photos, despite her insecurities.
In their phone chat, DuShane also highlighted the importance of having a close network of friends.
"It's so hard to keep myself from responding to the negative comments," DuShane said. "Even harder is keeping my friends from getting angry."
But she added: "Loving is always going to be a better place than hating."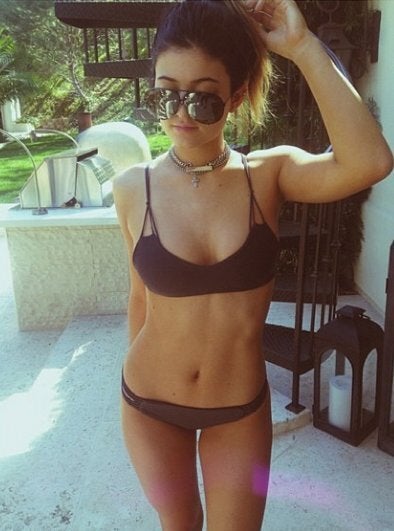 Kylie Jenner's Instagram Photos