The UK should make a "very clear and conspicuous humanitarian gesture" in the face of the increasingly difficult migrant crisis engulfing Europe, similar to the Kindertransport initiative, a former chief rabbi has said.
Speaking on BBC2's Newsnight, Lord Sacks said it was time for human compassion to triumph in the same way it had nine months before the Second World War when Britain helped save thousands of lives.
Kindertransport, German for "children's transport", saw the UK take in nearly 10,000 mainly Jewish children from Germany, Austria, Czechoslovakia, Poland, and the Free City of Danzig. The children were then placed in British foster homes, hostels, schools and on farms.
Lord Sacks said: "Europe is being tested as it has not been tested since the second world war … The European Union was created as a way of saying that we recognise human rights, after the catastrophe of two world wars and the Holocaust, and it's very chilling to see some of these scenarios being re-enacted."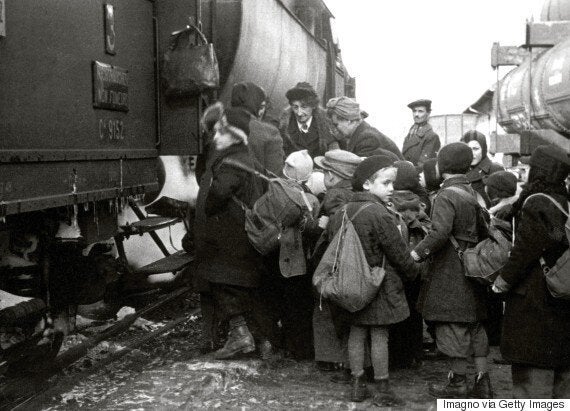 Lord Sacks has suggested the UK launch a humanitarian gesture to help mitigate the migrant crisis similar to Kindertransport which was undertaken before the Second World War
He went on to say he believes the UK could accommodate 10,000 displaced people: "It's a figure to which Britain would respond. The churches, the religious groups, the charities would all join in, and I think we would be better for doing that."
The idea was also made by Baroness Warsi, a Conservative peer and former Foreign Office minister, on Thursday.
She said the UK should "share the burden" of refugees fleeing Isis and cited the UK's long-held history of doing so, such as with Kindertransport.
She joined two Tory backbench MPs, Jonny Mercer and David Burrows, who called on Prime Minister David Cameron to shift his hardline position.
Burrowes said the UK "should accept thousands, not hundreds" of people while Mercer claimed that mothers trying to keep their children afloat on life jackets should not think of the UK as a place that did not welcome them.
Former home secretary David Blunkett said the UK had a moral obligation to take about 25,000 refugees – which was still a fraction of Germany's total. They will take 800,000 this year.
"We should concentrate on those coming through Turkey, who have been persecuted and ejected from Syria, and we should concentrate on women and children," the Guardian quotes him as saying.
Blunkett added: "If we are going to be taken seriously by anybody as a nation in putting that programme together, we are going to have to face the challenge of taking refugees in very large numbers ourselves."
Oxfam chief executive Mark Goldring is quoted by the newspaper as saying: "Offering to resettle 10,000 Syrian refugees would bring the UK in line with other European countries who have already shown leadership in offering a haven to vulnerable refugees."