Ukip leader Nigel Farage has lambasted Europe's response to the migration crisis for being too "compassionate", saying that such a sentiment towards refugees fleeing countries like war-torn Syria could threaten Britain's security.
In an LBC phone-in on Friday, the MEP also added that many refugees escaping to Europe appeared to be carrying mobile phones.
He described as "interesting" comments made by a senior Hungarian Conservative MP, who claimed this week that many refugees entering eastern Europe looked better off than some locals living in rural parts of the region, because they carried a phone.
The comments could be taken as suggesting that a person's right to seek asylum depends on their financial circumstance, but the Oxford English Dictionary defines a refugee instead as: "a person who has been forced to leave their country in order to escape war, persecution, or natural disaster".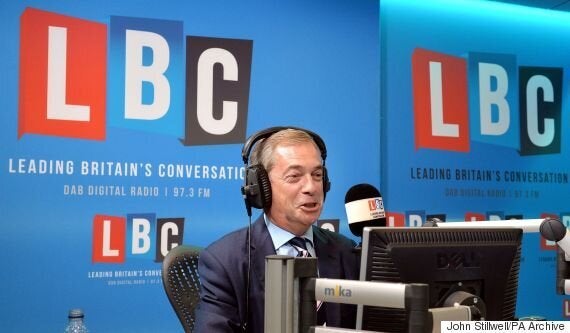 The Ukip leader made his observation on LBC slot 'Phone Farage'
Farage was surprised that many refugees absconding from their developed home nation had basic communication devices, despite well documented reports which reveal many refugees regard their single most precious possesion as a mobile phone.
"Our phones and power banks are more important for our journey than anything, even more important than food," a Syrian fleeing the devastated city of Homs has previously told the Straits Times.
The Ukip leader insisted that his proposed changes to immigration policy would help "genuine" refugees.
One social media user added their thoughts on Farage's comment, writing: "I think Farage's sense of security is a very real threat to his compassion."
Speaking later in the day, Farage added: "I have to say that while we focus today on Syria, most of the people who have come in the course of the last year through the Mediterranean come from countries like Somalia, Mali, Nigeria, Mauritania, and the vast majority of those who have come have been young males.
"Whilst conditions in some of those countries might not be very nice, it is incredibly difficult to see how more than a few of those people would qualify as genuine refugees."
His remarks come a day after Telegraph columnist Fraser Nelson wrote in an article for the paper on Friday that British crews sent to rescue migrants from their capsized vessels in the Mediterranean first expected to find people "hungry, wretched and destitute".
To their amazement, he proclaimed, many were "relatively healthy, well-dressed and carrying mobile phones and credit cards" instead.