Black smoke was billowing from the British Airways jet as flames shot out from under the wing, but listening to the British Airways pilot notify airport officials of the emergency you'd think nothing concerning was happening at all.
An audio recording of the pilot has emerged in video of the fire at the McCarran International Airport in Las Vegas on Tuesday, which occurred shortly before the Boeing 777 was due to leave for London Gatwick.
The pilot can be heard saying "mayday... request fire services" before telling officials "we are evacuating on runway, we have a fire, I repeat, we are evacuating".
The pilot is reassured by officials that the fire service is on its way.
Passengers were accused of slowing the plane's evacuation by grabbing their hand luggage before leaving, media reported.
Guardian sports reporter Jacob Steinberg, who was on board, said: "You could smell the smoke from the outside, you could see it. I heard later that a couple of windows had melted.
"A couple of minutes later the stewards told us to evacuate – that sparked a lot of panic."
Speaking to AP, Reggie Bügmüncher from Philadelphia, saw "bursts of flames coming out of the middle of the plane" while waiting at a gate for her flight.
"Everyone ran to the windows and people were standing on their chairs, looking out, holding their breath with their hands over their mouths," she said.
One runway was shut down due to the incident, however three remained in operation.
British Airways said in a statement that "Safety is always our priority. ​We are looking after customers after a technical issue with the aircraft."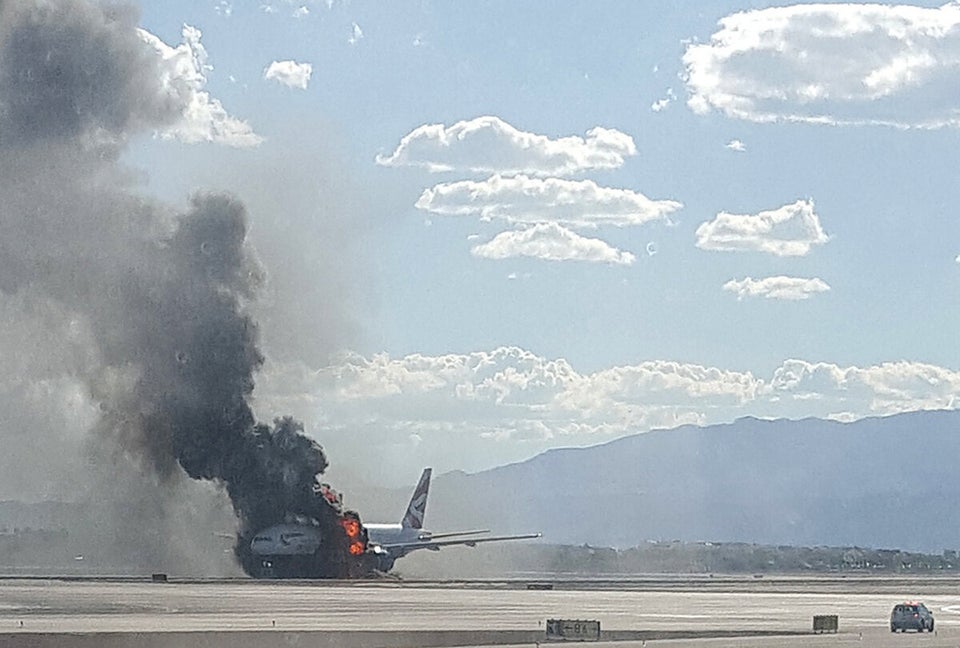 Las Vegas BA Fire