A barrister after the centre of a huge social media sexism row has denied she is "a man-hating feminazi" after calling out a man for complimenting her profile picture on LinkedIn.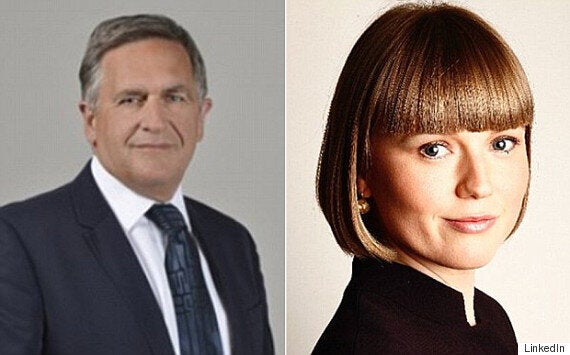 Carter-Silk, 57 and Proudman, 27, pictured on LinkedIn
Proudman spoke out to the Evening Standard today after Daily Mail columnist Sarah Vine has used her latest column to criticise the barrister and to liken her feminist supporters to Nazis.
The barrister responded: "That is an incredibly insulting thing to say and just another mechanism to silence women."
Adding: "This isn't just about me. It is about sexism in our culture and the need for women to feel confident and call people up on it."
Carter-Silk had sent a private message to the Cambridge PhD student with the subject line "RE: PICTURE".
He wrote: "Charlotte, delighted to connect.
"I appreciate that this is probably horrendously politically incorrect but that is a stunning picture!!!
"You definitely win the prize for the best LinkedIn picture I have ever seen.
"Always interest (sic) to understant (sic) people's skills and how we might work together."
While Proudman took offence at Carter-Silk's words, Vine used her column on Thursday to write that most "normal" women would have happily taken the compliment.
"Indeed, many of us would be delighted; compliments are few and far between these days. But not Ms Proudman."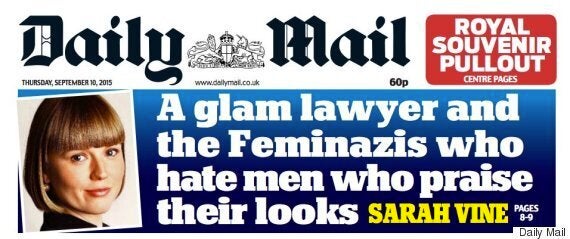 Thursday's Mail front page called Proudman 'glam' and described her supporters as 'feminazis'
Proudman now says she has received numerous messages from people who say she will no longer have a career in law as a result of her outing Carter-Silk publicly.
Yet while Proudman has been trolled on social media since she posted the exchange on Monday, Vine singled out her supporters online as having "pounced" at the "hint of a politically incorrect utterance".
She wrote: "Instantly, the armies of Feminazis, permanently stationed at their computers ready to pounce at the slightest hint of a politically incorrect utterance, mobilised. Righteous indignation and sisterly solidarity streamed forth from their keyboards.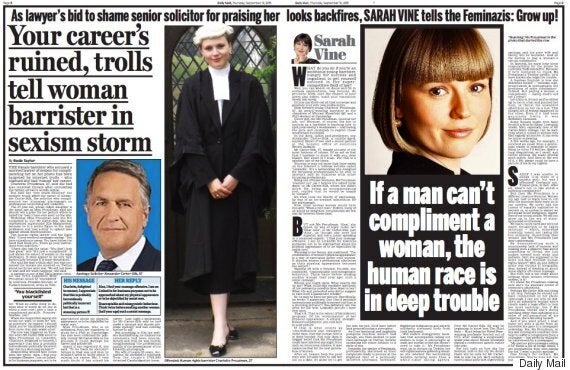 The paper also reported the claims that Proudman's career has been threatened since she posted the messages on Monday
Vine, who is married to Justice Secretary Michael Gove, continued: "As if her hysterical and laughably pompous reaction weren't bad enough, she then decided to post their exchange on Twitter, thereby escalating the entire debacle to a state of war."
Vine's comments have, unsurprisingly, divided opinion.
But opinions are not all negative towards Vine's take on the issue.
However, Mail readers were broadly supportive of Vine's take on the issue.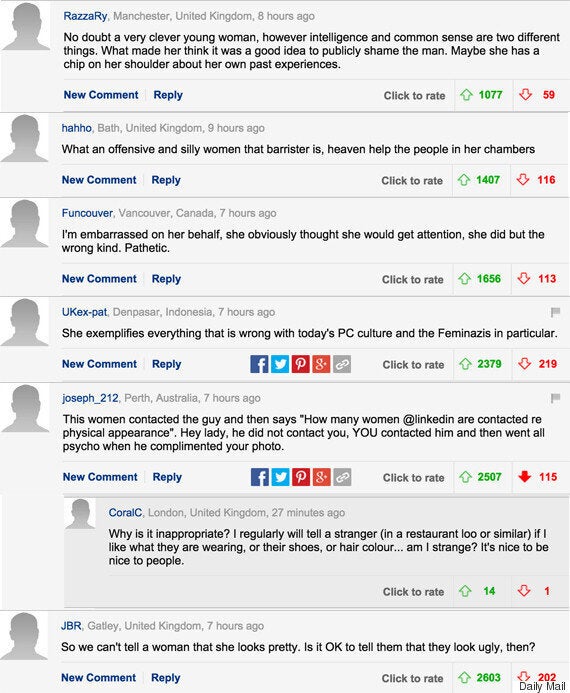 A spokesperson for law firm Brown Rudnick told the Daily Mail: "We are aware of the comments made by a member of the firm on a private social media account.
"We have apologised for the offence caused and have no further comment to make."
Popular in the Community