The country has been told to expect 40,000 people to try to enter by next week and its border police face "an impossible task" of trying to keep people out who are trying to cross over from, the BBC's Anne Holligan said.
"It is our job to make sure Hungary is defended," a general was quoted as saying as the army began an exercise preparing for its move to the border.
A total of 2,700 migrants, many of whom are refugees, were intercepted in Hungary by police on Wednesday, AFP reported.
Hungary is, together with Italy and Greece, one of the major entry points into the EU, from which most seek to travel onwards, particularly to Austria and Germany which have been welcoming large numbers of migrants and refugees.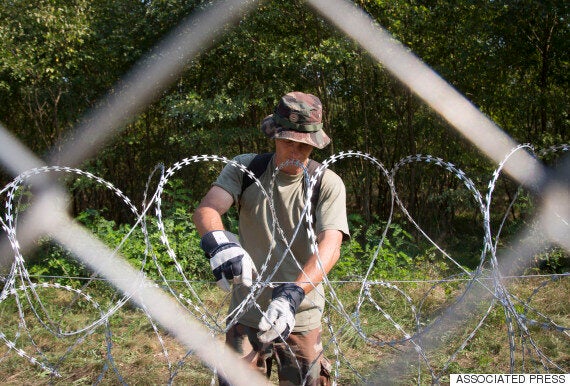 A Hungarian soldier adjusts razor wire on of fence on the border with Serbia
Earlier this week, Hungary's prime minister Viktor Orban, who leads a right-wing Nationalist government, said he wanted to speed up construction of a fence meant to stop migrants on the border with Serbia.
Orban said he felt there needed to be more workers on the fence being built by the army. A four-metre high fence is due to be finished across the 109-mile border with Serbia. Orban had wanted it finished by the end of August but construction continues.