A woman has been taken to hospital after she was "dragged" under a 12-tonne tipper truck in south London, just weeks after new measures were introduced to protect cyclists and pedestrians from heavy goods vehicles.
Firefighters helped to free the pedestrian outside Brixton Underground Station after she became trapped under the lorry around 10.30am, The Evening Standard reported.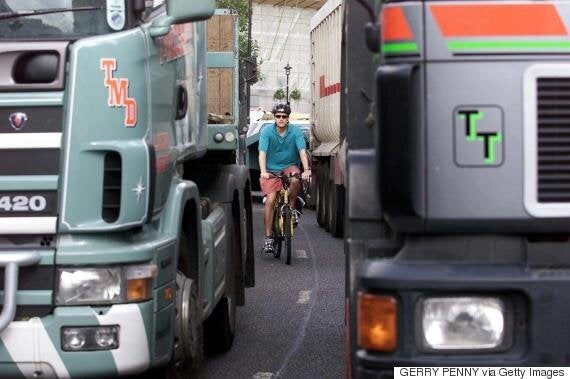 A woman was dragged under a heavy goods truck in Brixton, just weeks after measures were introduced to protest cyclists and pedestrians from the hazardous vehicles (stock image)
Witnesses said the woman, believed to be in her 50s, was dragged under the truck as she attempted to cross the road before the lights changed. It is understood she did not suffer life-threatening injuries.
A spokesman for the London Fire Brigade told the Standard that the vehicle involved "was a 12-tonne tipper truck".
On September 1 London became the first city in the UK to ban lorries that do not have equipment to protect cyclists and pedestrians, as plans were also announced to limit where they can drive.
It is not known what, if any, new safety measures the truck involved in Monday's accident had installed.
All Heavy Goods Vehicles (HGVs) over 3.5 tons must now be fitted with guards at the side to stop cyclists and pedestrians being dragged under their wheels. Of the eight cyclist deaths in London so far this year, seven involved HGVs, and between 2008 and 2012 they were involved in 53 percent of cyclist fatalities.
Lorry drivers are also required to have bigger windows to improve their lines of sight and a special mirror that helps the driver see cyclists and pedestrians.
Drivers will be fined up to £1,000 if they don't have the equipment fitted and if they are repeatedly stopped they risk losing their operating license.
The measures came into force as the Greater London Authority announced plans to limit where HGVs can drive. It will require building firms to bring supplies in and out of their sites through routes that minimise risks to cyclists. The Independent reported lorries will have to travel routes that limit the amount of left turns they take.