Jeremy Corbyn has offered an olive branch to moderate MPs fearing a "purge" in his historic first face-to-face meeting with them.
The newly-elected leader made clear he would not bring back mandatory re-selection, a device that had been outlawed by Neil Kinnock amid fears it was being used by left-wing activists in the 1980s to remove right-leaning MPs.
The Islington North MP was facing his first meeting as leader with MPs and peers that make up the Parliamentary Labour Party (PLP), which will now be a regular fixture in his diary, and has faced with a series of "hostile" questions over appointing women to his Shadow Cabinet and whether he would attend Remembrance Day commemorations at the Cenotaph.
Less than 10% of MPs wanted him elected, underlining the battle he faces to win them around and the tension apparent in the room. He entered the room to near silence, though a Labour Party source said he received a "warm" reception.
Some feared mandatory re-selection was back on the cards under the left-wing leader, but a Labour source said he made clear to MPs this was not being considered.
He said: "He said he sees no need to change the party rules on the selection of candidates."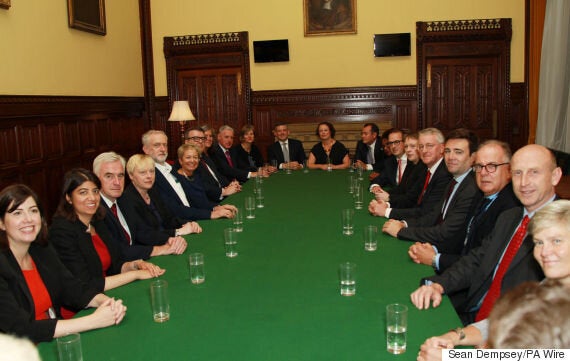 New Labour party leader Jeremy Corbyn chairs his first shadow cabinet meeting in the House of Commons
The meeting, which lasted just over an hour and included questions on Syria and Northern Ireland, was marked by a modest number of rounds of applause, with thanks given the acting leader Harriet Harman and predecessor Ed Miliband.
The under-whelming mood was notable given his thumping victory and in contrast to the celebratory desk banging that heralded David Cameron's first meeting with MPs after the general election.
There was an awkward exchange when Mr Corbyn, a leading voice in the Stop The War coalition, was asked whether he would be wearing a red poppy on Remembrance Sunday, and he pointed to wearing a white poppy being an act of remembrance to the war dead too.
The white poppy is considered a symbol of peace though not typically worn by the leaders of the political parties. "He made the point any colour poppy is act of remembrance," a source said.
A Labour spokesman later clarified that Mr Corbyn would wear a red poppy. It is unclear whether he will appear at the Remembrance Sunday commemoration at the Cenotaph, as is tradition, after telling MPs he was "not sure" if he would do it.
The HuffPost UK revealed today that, contrary to speculation during the leadership race, Mr Corbyn had on Saturday informed David Cameron that he would join the Privy Council, following usual practice of the Leader of the Opposition.
Downing Street tonight confirmed that he had been appointed as a Privy Councillor, a role which bestows on him the title 'Right Honourable' and allows him to be briefed privately by the Prime Minister on matters of national security.
It remains unclear just whether life-long anti-monarchist Mr Corbyn will carry out all of the rituals at the elaborate ceremony for joining the Privy Council including walking backwards and kissing The Queen's hand.
At the PLP meeting, Mr Corbyn made clear his priorities were housing, next year's elections in Scotland and Wales, announcing himself and his deputy Tom Watson would spend one day a month north of the border between now and May's vote, and winning the 2020 general election.
In a nod to Blairites, he said his government would "not be against individual achievement and aspiration", but the party "must take action to support all people including those left out by the policies of the Tories".
He told MPs since he was elected on Saturday 28,000 people have joined the party as full members and 33,000 possible Prime Minister's Questions had been submitted from members of the public after asking for suggestions at the weekend.
Senior Labour MPs have raised concerns about whether Mr Corbyn would campaign to stay in Europe ahead of the referendum, and he appeared not to give an unequivocal assurance.
"He was clear that we need to be asking for a better Europe, and that we can't just give Cameron a blank cheque (on his re-negotiation of the UK's relationship with the EU)," a source said.