A third of Scots would be less likely to vote SNP in next year's Scottish elections if the party promises another independence referendum, a new poll has found.
The Survation poll for the Daily Mail found that a manifesto pledge for a second vote would make 31% more likely to vote for the party while 36% said it would make no difference.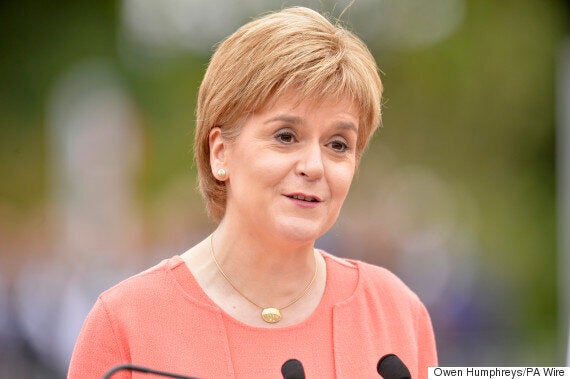 A new poll has found that Nicola Sturgeon's SNP could lose votes if it backs a second independence referendum
Sturgeon confirmed the manifesto will also include more details on the circumstances under which another vote might be ''appropriate''.
The study also found a slim majority of Scots still support the union.
More than half (51%) of those questioned said Scotland should not be an independent country while 49% backed independence, when undecided voters were removed.
The poll of 1,010 Scots, carried out from September 7 to 10, found more than half (51%) supported staying in the European Union.
It also questioned respondents on Holyrood constituency voting intentions and found that 53% planned to vote SNP followed by 22% for Labour.
Meanwhile, 14% said they would vote Conservative, 6% Liberal Democrat and 5% other.
A separate YouGov poll for The Times found that, on Holyrood headline voting intention, 51% would vote SNP, 22% Labour, 18% Conservative, 5% other and 4% Lib Dem. This excluded those who said they did not know or would not vote.
SNP business convener Derek Mackay described the polls as "very encouraging".
He said: "We will be taking absolutely nothing for granted, however, and will be working hard every day from now to next year's election to retain the support of the people of Scotland - just as we have done every day since 2007."
Tory leader Ruth Davidson said Labour was a "declining force" in Scotland while the SNP was preparing for a re-run of the 2014 referendum.
She said: "Scotland's two million No voters need a strong voice at Holyrood and I'm determined to be that voice."
A Scottish Labour spokesman said: "Scottish Labour is changing and politics is changing.
"Under the new leadership of Kezia Dugdale, we are asking people to take another look at the Scottish Labour Party."
Green MSP Alison Johnstone said: "Patrick Harvie and I have worked hard to challenge the Scottish Government on key issues but have also sought to be constructive to take Scotland forward.
"With a bigger Green team at Holyrood we can build on these successes. We must create more and better jobs in our economy, and support Scotland's small businesses."
Related