David Cameron today declared that new Shadow Chancellor John McDonnell should be "ashamed" of himself for his support for IRA terrorism.
In the sharpest words of the 'new' Prime Minister's Questions, he hit out at Mr McDonnell for saying that "bombs and bullets" and forced Britain to undertake the Northern Ireland peace process.
Mr Cameron launched a withering assault on Mr Corbyn's right hand man after Democratic Unionist Party leader Nigel Dodd asked him to "join with all of us on all sides of the House in denouncing that sentiment".
"He has spoken for many, many in this House and many, many, the vast majority of people in this country," the Prime Minister replied.
"I have a simple view, which is the terrorism we faced was wrong, it was unjustifiable...People who seek to justify it should be ashamed of themselves."
Mr Cameron's remarks were interpreted by some Conservatives as an attack on Jeremy Corbyn too, not least after his repeated questioning recently over IRA violence.
Mr McDonnell has long supported Irish Republicanism and told a 2003 commemoration of the death of hunger striker Bobby Sands: "It's about time we started honouring those people involved in the armed struggle.
"It was the bombs and bullets and sacrifice made by the likes of Bobby Sands that brought Britain to the negotiating table."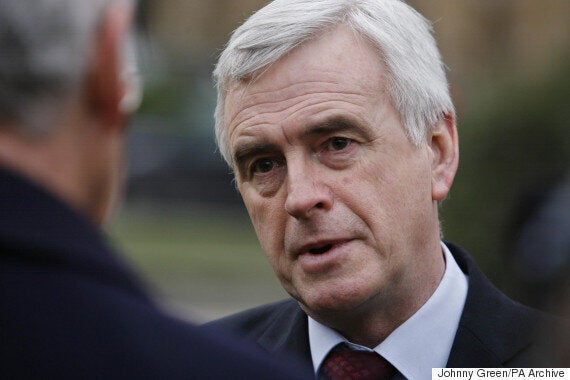 John McDonnell, the new Shadow Chancellor
Two years ago, Mr McDonnell told the Sun: "The deaths of innocent civilians in IRA attacks is a real tragedy, but it was as a result of British occupation in Ireland.
"Because of the bravery of the IRA and people like Bobby Sands we now have a peace process."
Defending his remarks, he later told The Guardian: "Talking in terms republicans would understand, I told the harsh truth that the negotiations on the future of Northern Ireland would not be taking place if it had not been for the military action of the IRA.
"Let me be clear, I abhor the killing of innocent human beings. My argument was that republicans had the right to honour those who had brought about this process of negotiation which had led to peace.
"Having achieved this central objective now it was time to move on."
Opening his question, Mr Dodds mentioned the memorial plaques in the Commons to late Tory MPs Airey Neave, Ian Gow and Anthony Berry, all of whom where murdered by Irish republicans.
Mr Cameron said: "Airey Neave is the first Member of Parliament I can remember, because he was my Member of Parliament.
"Ian Gow was one of the first politicians I ever wrote a speech for. And there had never been kinder, gentler public servant of this House so cruelly murdered, his family having that life taken away."
A Labour party spokeswoman said that the new leader's own emphasis was on peace, not terrorism.
"Jeremy has clearly condemned all violence on all sides in Northern Ireland. It is because he is opposed to human grief and conflict that he worked for peace and talks.
"Northern Ireland has been one of the most difficult but inspiring examples of establishing peace and reconciliation after years of conflict.
"Jeremy Corbyn's approach will be to continue to move forward on that basis. He is opposed to all violence and that is why he backed talks to achieve peace when others refused to."
Labour's Shadow Environment Secretary Kerry McCarthy told BBC Radio 4's World At One programme that she would have used 'other words' to describe the IRA than Mr McDonnell's, but said he had since acknowledged that.
Popular in the Community