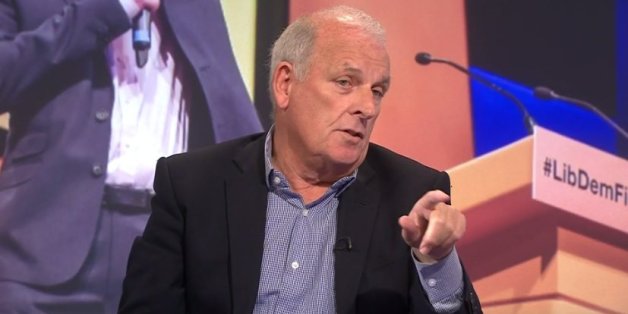 BBC
One of The Sun's most controversial former editors upped his game on Monday by not just offending a whole city, but an entire country.
Kelvin MacKenzie, recently re-hired as a columnist for the Murdoch-owned paper, was behind the infamous 1989 front page story on the Hillsborough disaster, which put the blame for the 96 deaths on Liverpool football fans.
It was described in an editorial published after he left as "the most terrible mistake in our history", and a boycott on The Sun newspaper in Liverpool still remains.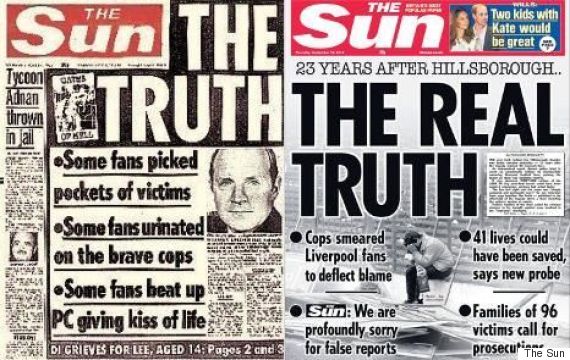 Left, the rubbished '89 front page, right, The Sun's correction in 2012
But the veteran commentator this week caused uproar in Scotland, after referencing a highly contentious phrase considered by some as a slur against Scots.
In an interview with the BBC's Daily Politics, MacKenzie branded First Minister of Scotland Nicola Sturgeon "the lady who runs Jockistan".
Talking about Lib Dem leader Tim Farron on the second day of his party's annual autumn conference, Mackenzie said: "He's got 8 MPs - nobody cares, you know? We care more about the lady who runs Jockistan."
@janinecalikes @_StayYES @daily_politics. Here it ISOn full living colour pic.twitter.com/3iOpvaMRWO

— Towsietyke (@Towsietyke) September 21, 2015
His comment was meant with instant uproar, with some Scots taking Mackenzie to task for the alleged "racist" slur.
''We care more about what the lady from Jockistan says'' Kelvin Mackenzie on @NicolaSturgeon there. #bbcdp

— Kirsty S (@Mrsjackdaniels) September 21, 2015
"Jockistan"

Thanks for the extra SNP votes

Keep the insults coming

We'll be independent in jig time

— Mr Malky (@MrMalky) September 21, 2015
.@daily_politics @Jo_Coburn @stephentall Kelvin Mackenzie? "Jockistan" really? Hang your heads in shame. A vile excuse for a man

— Lord Ranald Lithgow (@PI3GUB) September 21, 2015
Many also piled in to criticise the BBC for not challenging Mackenzie's remark.
Any chance of a challenge to Kelvin MacKenzie's "Jockistan" remark, @Jo_Coburn? Thought not. #bbcdp utter biased rubbish as usual.

— William Duguid (@WilliamDuguid1) September 21, 2015
@daily_politics Why are the BBC paying for a contributor who describes Nicola Sturgeon as " the lady that runs Jockistan!". Standards?

— John Joseph Friary (@JohnFriary) September 21, 2015
Not a flicker from the presenter of #dailypolitics when her guest refers to FM as leader of 'Jockistan' ...shameful bigotry from @BBC

— Gillian Sproule (@GillianSproule) September 21, 2015
@daily_politics Did Kelvin Mackenzie really just call Nicola Sturgeon the leader of 'Jockistan' without comment from Jo Coburn? #jockophobia

— StayYES (@_StayYES) September 21, 2015
@daily_politics @stephentall why was Kelvin Mckenzie not challenged when he referred to Scotland as Jockistan ??!! #bbcdp

— Derek Rossborough (@DRossborough) September 21, 2015
So we are now referred to as Jockistan on #bbcdp and NOONE corrects it or bats an eyelid...really @daily_politics ? https://t.co/8Ta16fYUAV

— Mammyyes (@moragfulton) September 21, 2015
The news comes months after a heckler was forcibly removed from a Tory election campaign event in May this year after he accused David Cameron and his party of stirring up racism against Scots.
Party faithful booed as the heckler spoke and was ejected from the garden centre in Twickenham where the Prime Minister was speaking, decrying comments such as Boris Johnson's warning of an "ajockalypse" if the SNP were to wield influence over a Labour government after the election.
A spokesperon for The Sun told HuffPost UK that Mackenzie was employed as a columnist and "therefore his opinions do not necessarily reflect those of the newspaper".
READ MORE: