A heckler has been forcibly removed from a Tory campaign event after accusing David Cameron and his party of stirring up racism against Scots.
Party faithful booed as the heckler spoke and was ejected from the garden centre in Twickenham where Cameron was speaking, decrying comments such as Boris Johnson's warning of an "ajockalypse" if the SNP wields influence over a Labour government after the election.
The lone man, who has not been named, shouted: "I'm feeling racism from you guys in your party."
Footage broadcast by BBC News showed him being removed from the garden centre.
He said: "Come on SNP. Is there going to be an ajockalypse? I'm from Scotland - the racism I'm getting because of these people and Boris. It's not fair. Come on SNP."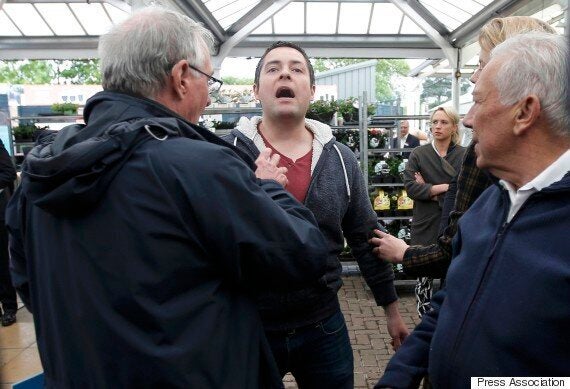 He also said: "This isn't fairer. This is democracy - I'm being pushed out."
Cameron is driving home a message on the campaign trail about "Backroom deals. Bribes. Ransom notes. Chaos. Not just for the week after the election. But for five long years," in his latest attack on the prospect of Labour governing with SNP support.
He said: "It doesn't bear thinking of. Our defences weakened. Our ability to pay our way questioned. Our United Kingdom threatened."
They were forced to flee by the group, who later described themselves as "socialists" and "nationalists" to one reporter and were brandishing SNP leaflets and signs saying 'Red Tories Out!' as they shouted them down.
They shouted that they were "traitors to the working man" and called Murphy a "war mongerer".
The SNP denied to the Telegraph that Campbell Gunn, an advisor to the party, had given the protesters the details of the event.
Blair McDougall, who works for Murphy and led the Better Together campaign against independence last year, said he didn't believe that Sturgeon's office had directed the group but said that their "the 'nothing to do with us' defence doesn't hold water".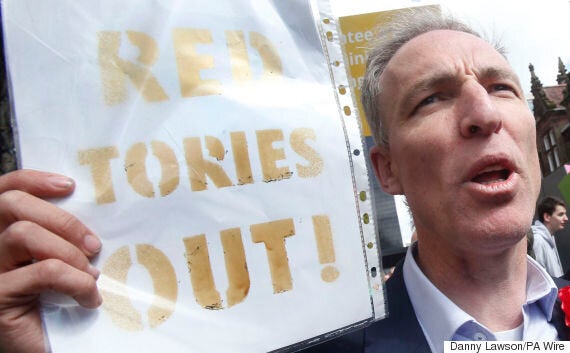 One of the protesters holds a sign by Murphy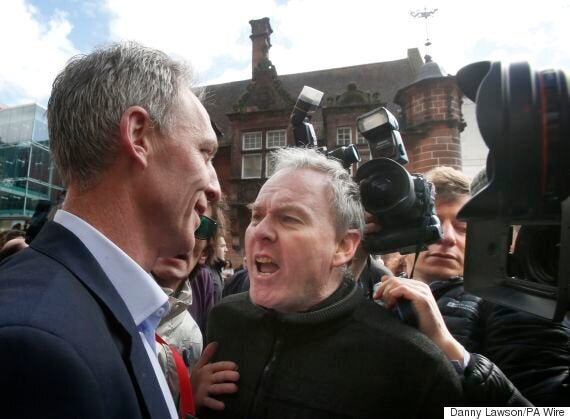 Channel 4 reporter Alex Thomson spoke to the group after Murphy and Izzard fled:
Murphy said of the protesters: "This sort of aggressive nationalism should have no place in our election.
"We've got a few days until we can kick David Cameron out of office, a few days to change our country forever and we won't be silenced by this form of aggressive nationalism, it's anti-democratic."