A French animal rights group has stolen a homeless man's dog in scenes caught on devastating footage.
Both the canine and the man can be heard wailing as they are torn apart by the group, who allegedly later placed the dog for adoption.
The video, which was posted to Facebook on September 20, has sparked debate across the world and has been viewed more than a million times.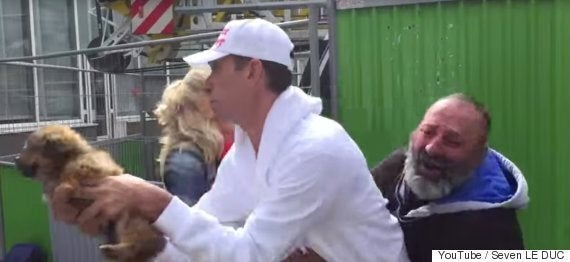 Homeless man's dog is stolen by animal rights activists
Two perpetrators of the theft can be seen walking up to the man, whilst one snatches the small dog from behind his back.
The homeless man desperately tussles - in a bid to get his pet back - but fails and the thief manages to run away.
A female accomplice can be heard shouting at shocked bystanders as the dog's owner chases the mugger down the street.
Witness Nghi Le Duc shared the video on Facebook and has spoken out about the incident:
"Three French who represent of the association 'Cause Animale Nord' and who also represent The Law… took violently, mercilessly, a small dog - a little friend of a homeless person from him.
"Even though this homeless person cried and begged them! I was in shock when I saw this scene in Paris."
Many Facebook users have been appalled at the group's alleged torment of a homeless man and his pet.
One user, Salengret Corrine, commented: "I don't like how you caused this man grief and terrorised the little dog".
According to local reports, Cause Animale Nord responded by explaining its actions, claiming the man was exploiting the dog by using it to help gain more money.