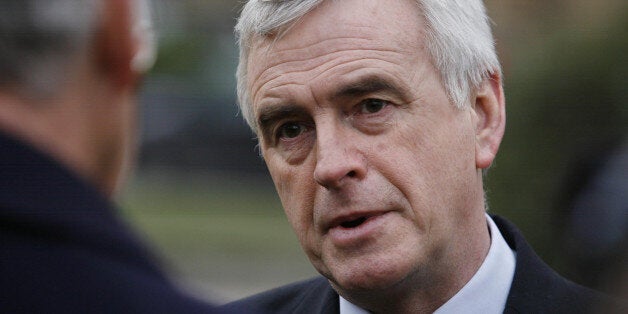 Shadow Chancellor John McDonnell has defended non-violent direct action if politicians "aren't listening", but suggested he wants to cast himself as a "bank manager in the old days" ahead of a "pretty boring" speech.
The left-wing Labour MP will today give his key note speech at the party conference in Brighton where he will say a 'Robin Hood tax' on the City of London could become official Labour policy under Jeremy Corbyn.
In an interview with Radio 4's Today programme, he was pressed on comments he had made in the past that appeared to support a student who admitted throwing a fire extinguisher from the roof of a central London building during the student fees protests.
Mr McDonnell made clear he was only speaking out against the three-year prison sentence handed down, but defended protest.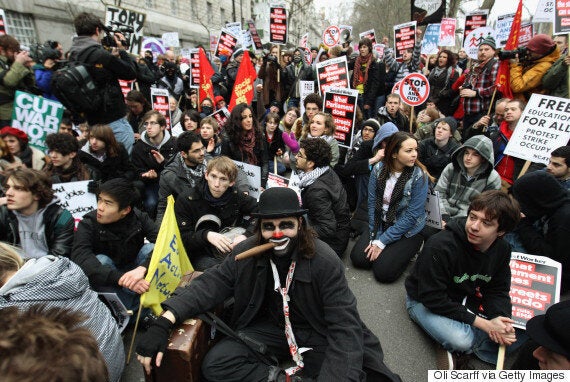 Student demonstrators march to Parliament to protest against the Government's cuts to public services and an increase in tuition fees in 2010
He said: "If politicians aren't listening, we have always retained the right for centuries to get out in the streets and demonstrate. I have advocated at times when politicians are not listening we have the right to get out in the streets. Non-violent action is important in this country."
He praised the UK Uncut street protests for getting banks to pay more tax and campaigners in his own west London constituency who have fought against a third Heathrow runway. "One of them tried to superglue himself to the Prime Minister," he said, chuckling. "What happened: we won the argument: even David Cameron said 'no ifs, no buts, no third runway'."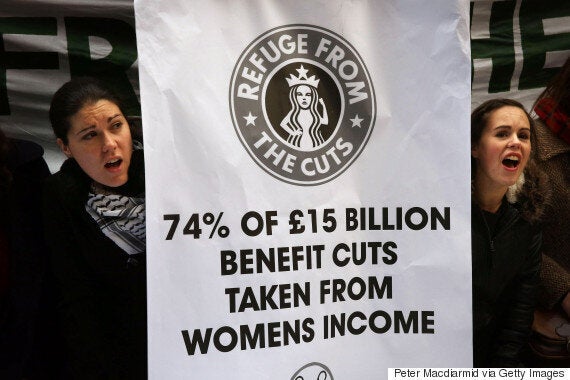 UK Uncut supporters protest outside a Starbucks coffee shop in London in 2012
But despite his many outspoken views, he suggested his lectern address would be a sober affair. "I warn you my speech is going to be pretty boring," he said. "It's going to be like talking to your bank manager in the old days."
In it, the Shadow Chancellor is expected to call for the Bank of England's mandate to be broadened so that it has a wider brief to achieve economic growth, as opposed to keeping inflation under 2% a year.
During the interview he had a dig at Bank of England governor Mark Carney, saying he needed to "have a chat" over the suggestions printing money to boost jobs - or People's QE, which he and Mr Corbyn support - would cause inflation, arguing "we'd only use it at the right time in the economic cycle."
He added: "At the moment its mandate is focussed on inflation. I don't want to be critical of Mr Carney but they're not meeting that mandate at the moment."
The "Robin Hood" levy - on every financial transaction traded on the stock market and foreign exchanges - is set to be included in a party review and a central plank of the 'new economics' unveiled by Mr McDonnell in his conference speech in Brighton.
The so-called Financial Transaction Tax (FTT) has long been proposed by campaigners as a way of channelling a fraction of the huge sums traded every day across the globe and using it for the NHS and other key public services.
But although an online petition for the Robin Hood Tax campaign has more than a million signatures, it has met stubborn opposition from George Osborne and business and until now the Labour Party has ruled out the idea.
Mr McDonnell is expected to confirm the plan as he launches 'a radical review of the national institutions that manage our economy', including both the Treasury and the Bank of England, and demands for access to Office for Budget Responsibility modelling.
He has spent years campaigning for a Financial Transaction Tax and revealed that he had a furious row with his predecessor Ed Balls when he tried to secure a Commons debate on the issue.
Mr McDonnell will also use his speech to call for a review of the Treasury and HM Customs and Revenue's fiscal policy and revenue collection. The HMRC review will look at how "we maximise our tax take and at the same time it is done on a fair and just basis", he told the fringe meeting.
Corporate tax evasion will be targeted and specific firms linked to tax evasion are expected to be named.
The Shadow Chancellor is expected to call for the Bank of England's mandate to be broadened so that it has a wider brief to achieve economic growth, as opposed to keeping inflation under 2% a year.
But aides stressed he is not seeking to interfere with the Bank's independence.
Mr Corbyn told the BBC's Andrew Marr Show that he would like to deliver a tax cut for those paying the lowest rate of income tax.
As part of his "new economics", Mr McDonnell announced this weekend the appointment of six economists to help him write economic policy.
The group, which will meet four times a year and give lectures in Westminster, include Thomas Piketty, 'rock star' economist and author, Joseph Stiglitz, the Nobel prizewinner, and Anastasia Nesvetailova, a professor at City University.