While Barack Obama vented his anger that the US was "the only advanced country on Earth that sees these kinds of mass shootings every few months", Donald Trump took a far more laissez faire approach.
The frontrunner in the GOP presidential candidate race said there would always be people that society can't stop "no matter how strong the laws are".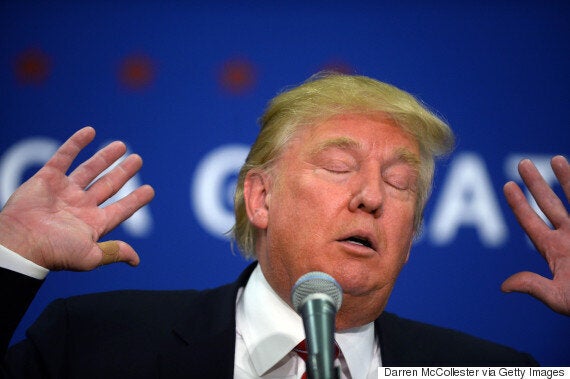 Donald Trump: 'These things happen'
Umpqua Community College was targeted by 20-year-old Chris Harper-Mercer, who was armed with four weapons when he shot at students at the Oregon campus on Thursday morning.
The gunman later died. But the incident, which is reportedly the 45th shooting at a school in the US this year, quickly sparked the usual debate around America's gun laws.
When asked on Friday what he would do as president to prevent shootings such as the one in Oregon, Trump said: "You're going to have these things happen and it's a horrible thing to behold, horrible."
The 69-year-old billionaire told MSNBC's 'Morning Joe': "It's not politically correct to say that, but you're going to have difficulty and that will be for the next million years, there's going to be difficulty and people are going to slip through the cracks."
He added: "What are you going to do, institutionalise everybody?".
The media mogul said there were "millions and millions of sick people all over the world" and said the shooter was likely to have been a "loner" who people would have been suspicious about.
He added: "It's awfully hard to put somebody in an institution for the rest of their lives based on the fact that he looks like he could be a problem."
Trump's comments come after details emerged of Thursday's massacre, with gun advocates and opponents quick to comment on the atrocity.
The American pro-gun faction send a torrent of abuse at the former newspaper editor for commenting on the mass shooting "before the dead are counted".
To his critics, Morgan replied:
The 50-year-old also criticised Obama for "doing absolutely nothing to stop these gun massacres happening".
Shame on you, Mr President @BarackObama - in 6yrs, you've done absolutely nothing to stop these gun massacres happening.

NOTHING. #oregon

— Piers Morgan (@piersmorgan) October 1, 2015
"(But) we are the only advanced country on Earth who sees these kinds of mass shootings every few months."
Related