If you've ever sat on an aircraft and wondered how on Earth they are assembled... Look no further.
British Airways has released a four minute time-lapse video of the building of its new 787-9 Dreamliner plane.
Hundreds of workers can be seen placing each intricate part in place during the construction, in order prepare the aircraft for commercial flight.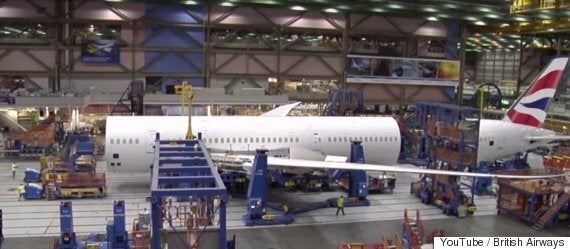 The tail of the plane is connected to the mid-section
The camera parades around on a tour of the craft, even revealing how fitters place the lavatories.
The behind the scenes footage highlights the intensity of working on the most technologically advanced aircraft in British Airways' fleet.
One change from the company's older models, is pressurisation and its internal cabin altitude is now the equivalent of 6,000ft, which is 2,000ft lower than on other aircraft.
It also features a distinctly different First class cabin, with just eight seats compared to the usual 14.
The Heathrow-based carrier is being introduced to its fleet this month.
It has a seating capacity for 216 passengers in four classes and will be used on routes between London and destinations such as Abu Dhabi, Delhi, Kuala Lumpur, Muscat and Austin, Texas.
Related