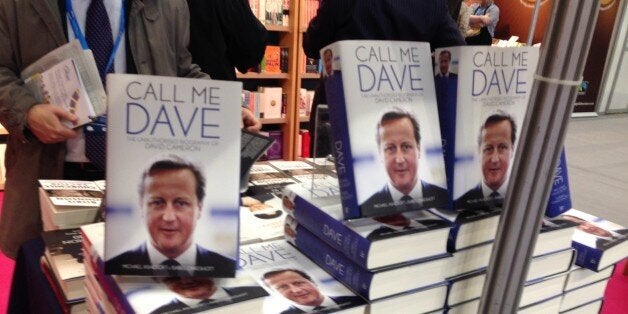 The controversial 'Call Me Dave' biography of the Prime Minister is currently the top selling book at the Tory Party Conference, with the first buyer asking for a brown bag to hide it in.
The book, co-authored by Tory peer Lord Ashcroft and journalist Isabel Oakeshott, is on sale in the Blackwells branch set up in the conference arena in Manchester.
Ian Harrington, who is running the pop-up shop throughout the four day event, told The Huffington Post the book was currently outselling all other titles.
He said: "Our first customer of the whole conference bought it and he asked for a brown paper bag.
"We encouraged him to walk around with it proudly!
"It's popular mainly with people in the media, all the big names have bought a copy.
"At the moment it's the top seller, but there is Charles Moore's second volume of his biography of Margaret Thatcher and Anthony Seldon's Cameron at 10 which I think will outsell it."
Referring to the atmosphere at the first Conservative conference with the party holding a majority in the Commons since 1996, he said: "I know the press are expecting it's going to just be an orgy of backslapping and self-congratulation…we'll leave the orgy bit to the next Ashcroft book!"
The Blackwell's shop had 73 copies of the book on display at lunchtime on Monday, alongside other titles focusing on the Prime Minister, Winston Churchill and Nigel Farage.