Nigel Farage called France "pipsqueak" on Wednesday during an address to the European parliament attended by French President Francois Hollande. The Ukip leader, who is a fierce opponent of the European project, also attacked Germany in a three-minute rant, while German Chancellor Angela Merkel looked on bewildered.
Reacting to the Merkel and Hollande's joint speech on Wednesday, Farage lampooned France as the "severely diminished" partner in the Franco-German relationship, suggesting the country was "trapped inside a currency from which she cannot recover."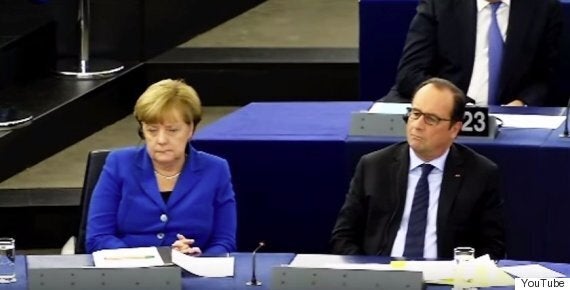 Merkel and Hollande sit uncomfortably during Farage's speech
"This isn't a Europe of peace, it's a Europe of division, it's a Europe of disharmony, it's a Europe that is a recipe for resentment," he said. "And yet, when faced with all this failure, both of you said the same thing today, you said: 'Europe isn't working -- so we must have more Europe,' more of the same failing!"
Farage concluded by noting a "bright star on the horizon, it's called the British referendum... and a Brexit looks more likely than at any point in modern times."
Related