Many of us have placed bets on the off chance of winning a few pounds.
But when Jon Heywood, a 27-year-old soldier from Cheshire, decided to place a 25p punt on betting site Betway.com he thought little of it.
Until he received word he'd won an incredible £13,213,838.68 after a 'Mega Moolah' slot machine game ended in his favour, Sky News reported.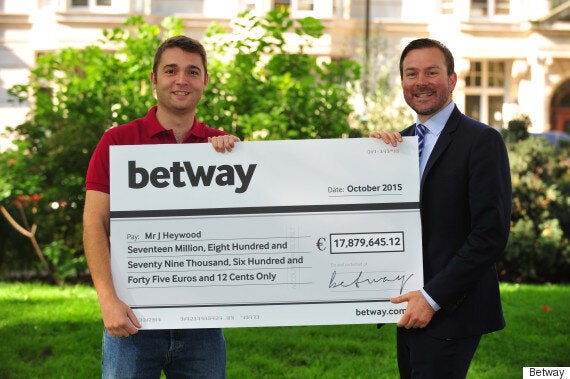 A representative of Betway.com hands Heywood, left, a cheque for his win
Heywood was stunned by the news on the 6 October, and had to keep quiet about the win for three days - even continuing to work in the meantime.
Now he says he'll use the money to support his father - who is waiting for crucial transplant surgery - and to provide him with "the best possible medical treatment".
Heywood told Press Association: "That's more important than anything. Family comes first and I'd give all this money back for him to be healthy again."
But there will be some luxury purchases too, including a flash Bentley sports car and a family cruise in the Mediterranean.
"I'm trying not to get carried away," he said, "I really don't know what else I'm going to buy with the money, apart from a yellow Bentley Continental GT.
"I never even dreamed of driving a Bentley, let alone owning one. I've got a Fiat Punto at the moment."
Heywood, a veteran of the war in Afghanistan, said his mother "cried a little bit" when he told her the news.
The jackpot is also likely to be the largest from an online slot machine game, narrowly beating a win in Finland in 2013.
Popular in the Community