When you hear the words "cancer treatment" you probably think of radiotherapy and chemotherapy. Both can be gruelling.
"As well as hair loss and fatigue, I also struggled with weight gain. I found all my side effects very difficult to deal with, especially as they continued after my treatment ended."
Helping people truly survive cancer has to be about more than providing treatments to beat the disease physically.
Increasingly, wellbeing is becoming a priority when it comes to cancer care, but it's a concept that's been at the heart of Penny Brohn Cancer Care for more than 30 years.
The charity takes a "whole person approach" to helping cancer patients, survivors or carers in "mind, body, spirit and emotions, before, during and after treatment".
"The NHS is brilliant at specifically treating the disease, but cannot care for the whole person," a Penny Brohn spokesperson tells HuffPost UK Lifestyle.
"Our pioneering whole person approach works alongside the NHS and focuses on the other aspects – mind, body spirit and emotions – wherever the patient is on their journey.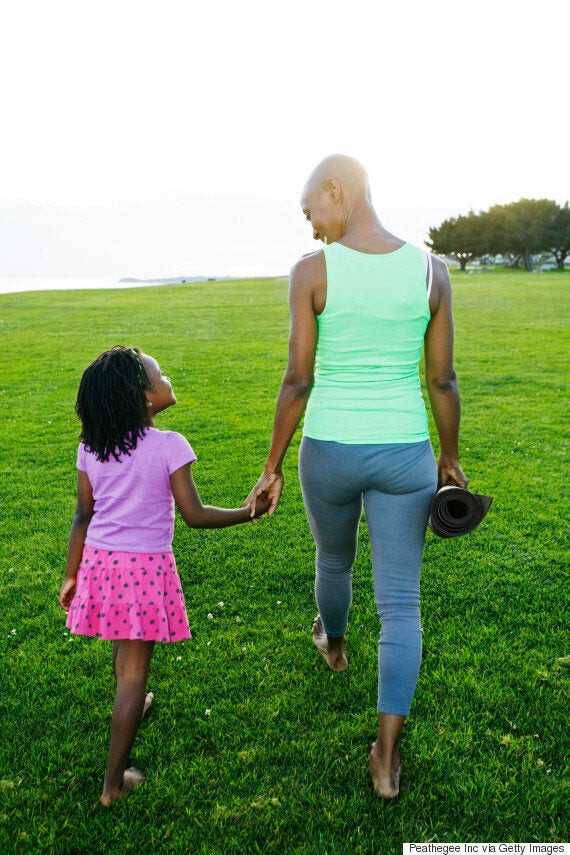 Penny Brohn offers free adult residential and day courses at their centre in Bristol, as well as one-to-one and group therapy sessions nationwide, which focus on areas such as diet, exercise and managing stress.
"Simply, if someone feels in a better, positive place, they are prepared and can live well with cancer," they say.
Other large charities including Macmillan Cancer Support recognise the importance of improving wellbeing alongside physical health.
The charity offers health and wellbeing events that cover topics from how to deal with possible long-term side effects of treatment to how to get back to work after receiving the all clear.
They also organise walks across the UK for anyone affected by cancer, helping individuals extend their social network while upping their physical fitness.
"It is incredibly important that people living with cancer are supported to get their life back after treatment," Juliet Bouverie, director of services and influencing at Macmillan Cancer Support tells HuffPost UK Lifestyle.
"This is not always straightforward as many people live with and struggle to manage debilitating side effects of cancer treatment, such as anxiety, tiredness, eating difficulties and problems with mobility."
Around the country, other smaller organisations are running specialist yoga classes, meditation groups and spa retreats for people who have been affected by cancer.
The Life Centre in London now offers classes that have been specifically created with cancer patients in mind.
The classes are open to people at various stages of cancer diagnosis, from those who have recently had surgery to people currently going through chemotherapy or radiotherapy.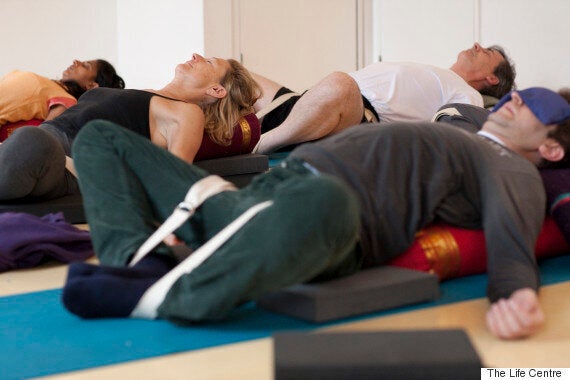 A yoga session at The Life Centre
Cancer survivors also enjoy the classes, as scar tissue can limit their range of motion and make regular yoga classes difficult.
"I work on strengthening exercises so that people can build back the muscle mass they may have lost during surgery or chemotherapy," teacher Vicky Fox tells HuffPost UK Lifestyle.
"People often have balancing problems caused by muscle weakness, neuropathy (where they can't feel their feet) or dizziness, so we use the wall or chairs to help with balance."
As well as helping her clients deal with the physical effects of cancer, Fox is dedicated to improving the wellbeing of those who walk through the door at the Notting Hill studio.
Each class ends with restorative poses and guided relaxation.
"People can feel absolutely exhausted by their treatment, so the classes can help to relieve that feeling of fatigue with postures that are energising such as supta baddhakonasana (lying over a cushion with the soles of your feet touching)," Fox explains.
"Often people tell me the hardest thing (about cancer) is that they can't stop the thoughts that go round and round on a loop. Well for an hour and fifteen minutes they have some tools to give their mind something else to snack on, so to speak."
Fox teaches her pupils breathing techniques to help focus their awareness and help manage stress.
"These are tools they can take away with them and use," she says. "People use breathing techniques while they are waiting for results at the oncologist or while they are having their chemo."
One person who has benefitted from the sessions run by Fox and the team at The Life Centre is 34-year-old Lucy Davis, who is currently receiving chemotherapy for breast cancer.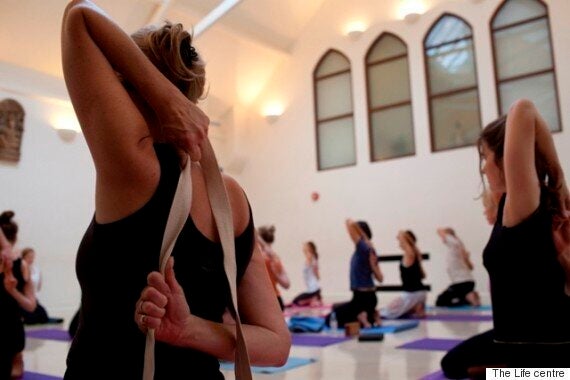 A yoga session at the life centre
"I find yoga a great way to stay active and keep moving to avoid some of the side effects of treatment," she tells us.
"I feel tired but yoga is invigorating and the class that I take feels like a safe and healing environment where I am under no pressure to push myself too hard, but I go at my pace."
Davis had a baby a few months before she was diagnosed with breast cancer and discovered her love of yoga while she was pregnant.
Having the opportunity to practice yoga while receiving treatment is helping her get through this difficult time.
"For my mind, yoga is soothing and a great way to stay balanced and present, and for my body, it feels wonderful to keep things flowing.
"I also find the camaraderie and support of the group, and the wonderful teacher Vicky, very restorative and something to look forward to each week. I have made a great friend - another young mother in my position - through this class also, so lots of good things have come from it."
One of the Penny Brohn sessions that's becoming increasingly popular is the group meditation class.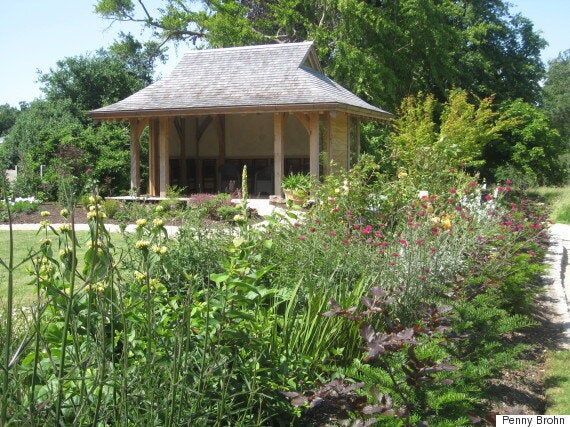 The garden at Penny Brohn, where some sessions are held
Sarah MacDonald, Penny Brohn's services operations manager who runs the charity's meditation sessions, says the sessions can help patients deal with the emotional stress of cancer.
"A cancer diagnosis can be very shocking and confusing. Our clients often struggle with fear and anxiety, or with dark, difficult or repetitive thoughts," she says.
"Meditation is fantastic for bringing this under control and helping people feel calmer, more focused and empowered in the face of illness.
"Mindfulness and meditation are key skills we teach throughout all our services. We use different techniques such as mindful movement, meditation on the breath, or using words and images.
"Different things suit different people and we want everyone to feel they can find a meditation that works for them."
After an afternoon meditation session at Penny Brohn, residents can chose to go for a relaxing massage that's suited to cancer patients - a rarity in the UK.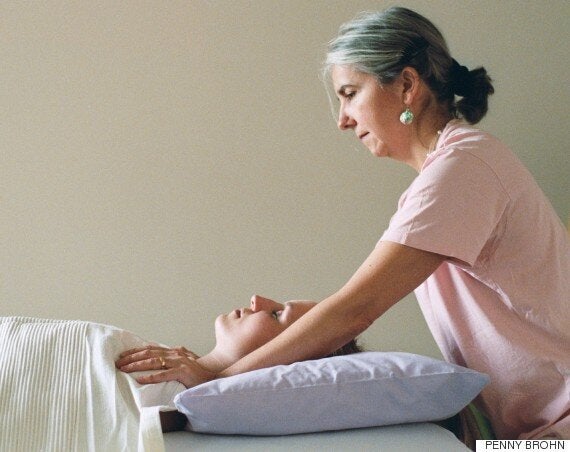 Massage therapy at Penny Brohn
Although some spas do offer cancer care packages - such as Grayshott Spa's four-night retreat - many salons and spas will turn away customers who have recently received cancer treatment.
"Spas are ideal places for people to go when they're going through gruelling cancer treatment or recovering from it, and what the spas need to do is wise up on what's okay and what's not okay."
In November they will officially launch "The Power Of Touch" - a campaign pledging to revolutionise the spa industry for anyone with or recovering from cancer by the end of 2018.
It seems that services dedicated to improving wellbeing for cancer patients and survivors are only going to get stronger.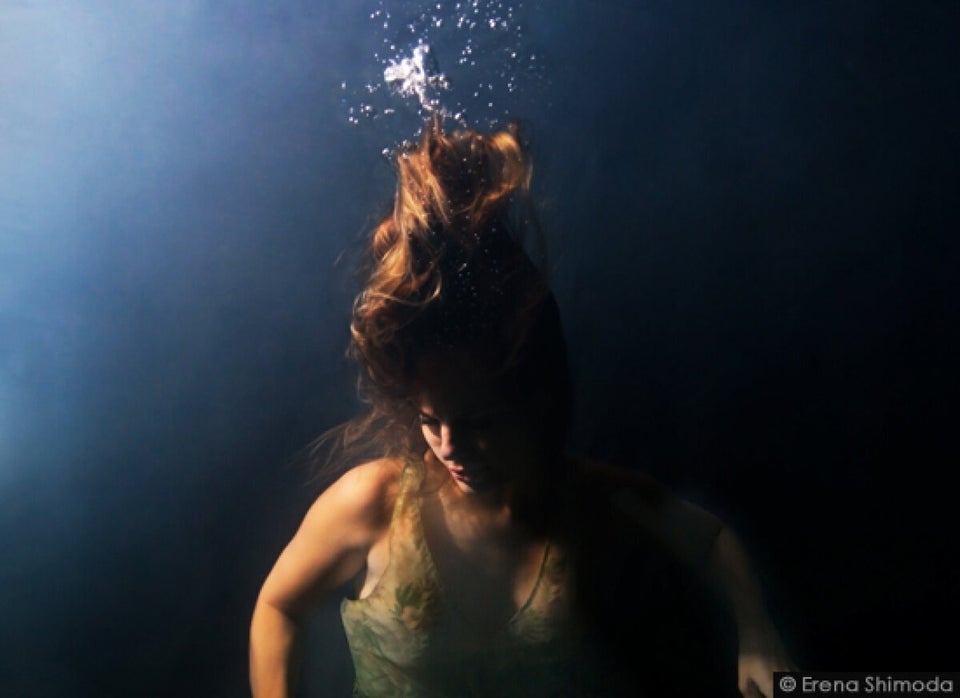 Stunning Underwater Healing Photos of Cancer Survivors
Related