A "resurgent culture" in police racism has been blamed for new figures that show black people are three times more likely to be Tasered than white people.
The statistics, obtained by the BBC, suggested that black people were around three times as likely to have the weapon used on them, triggering a row about whether this was due to racism within the force.
Lee Jasper, a race relations activist, told The Huffington Post UK that the statistics "reflect the growing concern among the black community that as institutionalised racism has fallen off the agenda we have seen a of the police processes of the 70s and 80s that were invariably discriminatory and violent".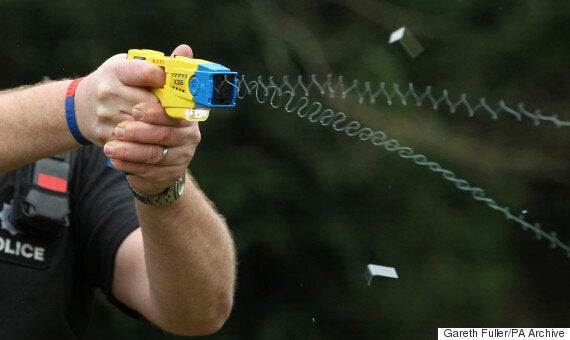 A Sussex Police officer demonstrates the use of a Taser
Police used the weapon more than 38,000 times over the past five years in England and Wales. More than 12% of cases involved a black person, while only 4% of the population is black.
Rick Muir, directive of research think tank the Police Foundation, said the statistics were "extremely worrying" but said they were not proof of institutional racism, an accusation that has haunted British policing since the inquiry into Stephen Lawrence's murder.
He told HuffPost UK: "The disproportionality in a police tactic like Taser is very worrying... It's not possible to tell whether it is because of discrimination of racism of unconscious bias by police officers, or whether it reflects wider social inequality.
"We know that black young people are more likely to come into contact with the criminal justice system than white people.
"That means that there's disproportionality may reflect that. That's what we don't know, whether it's one of those two things."
He is also pointed out the definition of "use" of a Taser included where the the weapon was only drawn and "red dotting", where the weapon is aimed to project a red dot on the suspect.
The weapon is not actually fired in the majority of cases where it is recorded as "used," he said, adding the number of complaints about the weapon remained low given the number of times it is used.
The weapon was not fired in 80% of cases the BBC analysed.
The statistics triggered ferocious argument over whether the statistics showed police officers were racist.
Inspector Gadget, an anonymous serving officer who frequently spars with police critics on Twitter, accused Mr Jasper of racism and called the BBC story a "usual tawdry attempt by establishment to discredit police".
Gadget produced what he claimed was a quote Mr Jasper gave about white people "hunting in packs", prompting Mr Jasper to call him the"ubiquitous quintessential archetypal racist police officer in full technicolour glory".
Inspector Michael Brown, an officer who specialises in the policing of mental health, said the issues Mr Jasper highlighted extended "across all our public services and society as a whole".
When asked what police had to change, Mr Jasper said Theresa May should extend her concern over racial disparity in the use of stop and search, which she mentioned in a speech at a past Conservative Party conference, to other areas of policing.
He told HuffPost UK: "The police and the Home Secretary need to bring the concern they've shown on stop and search disparity to all areas of policing and establish monitoring and scrutiny that will make sure the police are held to account.
The use of the weapon has increased recently, which Mr Muir said could reflect that far more officers are now allowed to carry them.
Deputy Assistant Commissioner Neil Basu, the national lead for Taser use, said in a statement: "Every use of Taser is reported and scrutinised by a supervisor and officers are personally accountable to the law each time their Taser is drawn.
"Officer's receive specialist training that helps them to determine the best course of action in resolving a violent or potentially violent situation.
"Taser is one of many tactical options a police officer can use. In 80% of Taser uses in the UK, the mere presence of the device is enough to resolve the violent or potentially violent situation without any force being used."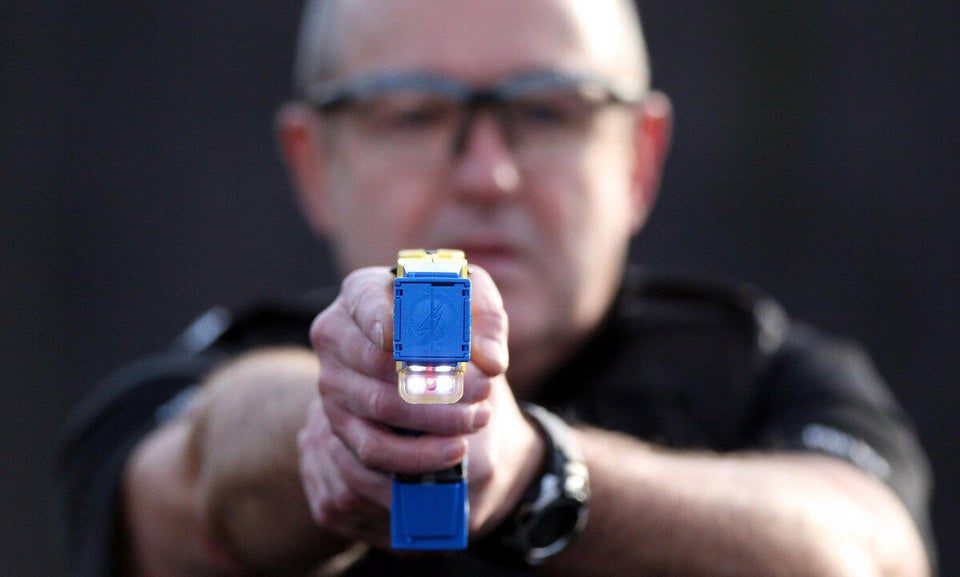 Taser stun gun demonstration
Related