A lion cub was dissected at a Danish zoo in front of horrified children on Thursday. The "macabre spectacle" sparked international outrage as it emerged that the animal was killed because there were too many felines in the group.
The lion was killed at Odense Zoo nine months ago and has been kept in a freezer ever since. Management decided to dissect the animal to coincide with the schools' holiday break this week. Zookeeper Michael Wallberg Soerensen said the dissections are "not for entertainment" but are educational. "We are not chopping up animals for fun. We believe in sharing knowledge," Mr Soerensen said, the Associated Press reports.
Odense Zoo's dissection of the young lion has received international criticism. Humane Society International said the zoo was making a "macabre spectacle out of a much deeper tragedy" as animals were being treated as "disposable assets".
The news prompted outrage and left many people confused at the zoo's tactics.
Executive director of HSI, Joanna Swabe, said: "Regardless of your view on zoos per se, it is both unethical and irresponsible to allow animals to reproduce in the full knowledge that they are genetically superfluous to a conservation programme, and will be killed if no place can be found for them at another zoo.
"Zoos have an ethical responsibility to make prudent decisions about how they manage population control which doesn't rely on animals being routinely killed as disposable assets. A wide range of contraceptive options are available to zoos that enable them to manage reproduction, prevent inbreeding, maintain genetically healthy populations as well as allow animals to live in family groups. This particular young female lion at Odense Zoo was in many ways condemned to die the moment she was born, a birth that should never have been allowed to happen in the first place."
Whereas other have welcomed the zoos decision to dissect the animal in the name of "education".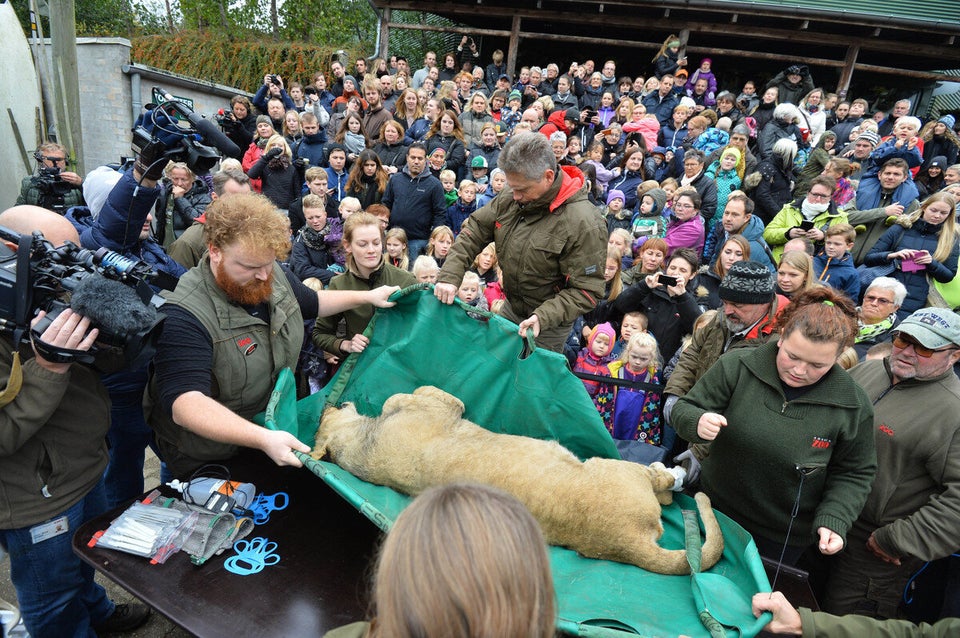 GRAPHIC WARNING: Odense Zoo disect a dead lion
Popular in the Community