The five things you need to know on Thursday October 15, 2015...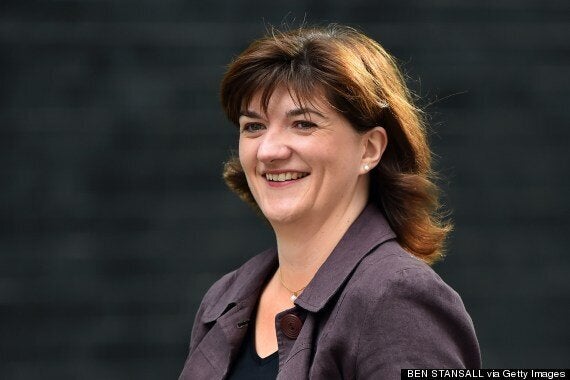 "You think you can do these things NiMo, but you just can't!" The famous line from Finding Nemo may well be cited by allies of the Education Secretary this morning as she defies her critics and approves the first new grammar school in 50 years.
So far this momentous development is marked only by an innocuous sounding Written Ministerial Statement on 'school expansion', on the Order Paper. But given that Nicky Morgan is going to be in the chamber for Equalities Questions at 9.55am, maybe the Speaker will grant an Urgent Question if Labour tables one?
Lucy Powell has been straight out of the blocks after the Times scoop, saying: "Having made social mobility the centre of his conference speech, David Cameron should look at the clear evidence on grammar schools: they do not increase equality of opportunity, they make it worse."
Legal challenges are bound to follow the Sevenoaks decision. As it happens, when I interviewed Morgan for our WaughZoneLive event at Tory conference, she told me "I'm a former lawyer so I know that lawyers will always challenge everything."
Morgan has stuck firmly to the Government line that it prefers to extend opportunity through Free Schools and raising all standards rather than changing the 1998 Blair legislation banning new grammars.
But with other grammar 'annexe' decisions due, not least in Theresa May's constituency, NiMo could build herself even more of a following among the grass roots. No wonder there's gossip that she has 17 (yes 17) constituency association dinners booked in the run up to Christmas...
2) (AB)STAIN ON THEIR CHARACTERS
John McDonnell was hit for six last night by his own frontbench inexperience as his struggle to be heard over the Tory roars led to him repeating five times how 'embarrassing' was his U-turn on the fiscal charter. To some Labour MPs, their Shadow Chancellor's performance was weaker than a county councillor's.
But perhaps that's just the point: the Corbynistas are determined to test to breaking point any idea that politics is about performance, believing that it's all about substance, not style. Delivering speeches, asking pointed questions, planning TV soundbites, consistent Parliamentary tactics, all are seen as secondary to hard policy.
And on policy, even 'moderate' Labour MPs felt it was time to finally refuse to play Osborne's game on the charter and oppose it outright. Both Dan Jarvis and Chuka Umunna, seen as contenders for any future leadership race, voted against the charter.
Yet it's the 21 'rebels' who 'actively abstained' last night who obviously grabbed the headlines. This hardcore certainly wanted to send a signal of their defiance and boy did they reap a Twitter whirlwind afterwards, with many Corbyn supporters demanding their deselection and declaring it was a stain on their very existence as Labour MPs.
I note that three of the 21 had actually nominated Corbyn for leader - Frank Field, Rushanara Ali and, the man who tipped him onto the ballot, Andrew Smith. John McTernan has yet to pronounce on their 'moronic' status, but Field has told the Statesman that any deselected MP should trigger a byelection and fight as 'independent Labour'.
But what of the 16 'authorised absences' last night? Well most were slipped or paired because of prior engagements. But here's a thing: I'm told at least two of them were in the Strangers' Bar within 20 minutes of the vote. Surely that can't be right...?
The Tories are very pleased about last night. And maybe it's because they know that for all the 'style over substance' arguments, gimmicks can work if they connect style with substance. Liam Byrne's infamous letter may have been a private joke, it didn't say there's no money 'left', it may have even been a symbol that New Labour had had to make hard spending choices in the wake of the financial crisis. But flourishing it was a stunt that paid off in spades for the Tories in the election. And the substance was obvious: you can't trust Labour with your money.
McDonnell's new fiscal responsibility principles were not produced last night, but when they are, his MPs want them to have a credible message for the doorstep.
Politics today is in many ways a tale of two Nickys (sorry, couldn't resist), and the SNP conference in Aberdeen will see Nicola Sturgeon try to reassure No voters that she won't re-run the independence referendum without 'strong evidence' they have changed their minds. Sturgeon will focus instead on bread and butter issues and has a big housing announcement lined up.
But you can't get away from talk of when the next referendum will be held. Sturgeon told Newsnight that a 'signficant' shift in public opinion would be needed. The message is she would have to be urged by the people to rerun the poll. I know that the polling companies performed better in predicting Scots' votes in the May general election, but it does seem odd that a party leader can place the very future of her country on the findings of pollsters. Surely, what will really swing any decision is the SNP's view of a major policy event in England?
And sure enough, John Swinney told the Today programme that "a large number of people who voted No..have to change their minds" before another referendum could be held. But he namechecked Brexit, benefit cuts and Trident as among trigger factors.
The Telegraph reports the BBC have a stand at the conference and insiders are worried it may face a backlash from SNP delegates. "We're aware SNP supporters are unhappy with the way they are perceived the referendum to have been reported. Some of them will make their views known at the conference when they are at the stand," one insider said.
The Times reports that EVEL plans to restrict Scots MPs voting rights in the Commons will be reintroduced a week today, part of a 'deliberate provocation' of the SNP, Tory sources admit. Stewart Hosie tells the Telegraph that Mhairi Black could be a future leader.
There are other complications north of the border. Unemployment in Scotland rose yesterday as it fell in the rest of the UK. And the Scottish Secretary's signal of devolution of abortion law has got plenty of Labour people worried, despite SNP reassurances that the rules won't be tightened.
BECAUSE YOU'VE READ THIS FAR...
You know when you've been tangoed, and Jean-Claude Juncker hasn't been so far by David Cameron in the diplomatic dance that is the UK 'renegotiation' of its EU status. The EC President declared yesterday: "I can't say that huge progress has been achieved, I can't say that nothing has been achieved, but to tango it takes two."
It was that tango quote from Juncker that was in fact more englightening than his other line that "personally, I do think Britain needs the European Union, but that's a matter of conviction". (I heard 'do', as do the Times, FT and others, but you can make your own mind up). Juncker, like EU leaders, wants something written down so serious talks can begin.
Yes, the PM has his least favourite foreign destination today, visiting Brussels for yet another summit. A lunchtime session with Juncker beckons, but few expect this to be anything other than a stocktake for the 'technical' phase of the renegotiation.
Juncker has never had a particularly close bond with Cameron, not least given the PM's failed bid to block his candidacy for EC President.
In fact, as the Mail reported yesterday and the FT hints again today, the expectation now is that Cameron won't come up with any final proposals until the EU summit next spring. All the talk is of the December summit (the big ones are every quarter folks) being used to stage manage a row with the French. Senior British officials are pointing to a December blow-up to prove the PM's Eurosceptic credentials.
"There's usually a big row, then everything is settled at another meeting a few months later," one official tells the pink paper. Anndrew Lansley's prediction that Cameron would have "a big row with the French", although everything would be "choreographed" to avoid diplomatic damage, may turn out to be true.
5) COURTING THE MIDDLE GROUND?
Michael Gove's headlong rush from lefty bete noir to becoming the darling of the liberal intelligentsia continues apace. After last night's Government defeat in the House of Lords on a 'regret motion' on court fee charges (132 votes to 100), the Justice Secretary has to give a formal response. And it may be that he heralds yet another move to junk the Grayling era (Grayling introduced the controversial £150, non-means tested 'tax on justice' for those who plead guilty).
The Indy splashes on claims that Gove will oversee a review of how the court charges are operating - with a view to either reforming them or scrapping them entirely. But as the Grayling plans are written into the MoJ budget, no change can occur until after the spending review. Then again, given that Gove (like Sajid Javid) has reportedly come up with very large savings elsewhere, maybe he's got room to make the change.
What Chris Grayling makes of all this is unclear. He has his weekly Business Statement this morning, so maybe his Shadow Chris Bryant will raise it...?
At 9.40am, Kids Company's Camilla Batmanghelidjh and Alan Yentob appear before the Public Admin and Constitutional Affairs Committee. Expect the reporters' seats to be packed. Newsnight/BuzzFeed last night reported that concerns about financial and management problems were raised by other charities 13 years ago.
Energy Secretary Amber Rudd is at the Press Gallery lunch.
If you're reading this on the web, sign-up HERE to get the WaughZone delivered to your inbox.
Got something you want to share? Please send any stories/tips/quotes/pix/plugs/gossip to Paul Waugh (paul.waugh@huffingtonpost.com), Ned Simons (ned.simons@huffingtonpost.com), Graeme Demianyk (graeme.demianyk@huffingtonpost.com) and Owen Bennett (owen.bennett@huffingtonpost.com)
Popular in the Community