Dramatic scenes have unfolded on a London bus after a woman unleashed a five-minute rant towards a group of unsuspecting passengers.
In a seemingly unprovoked attack, the woman shouted: "You come to England and have no fucking manners, go back to your fucking country - where they are bombing every day and go there," before repeatedly labelling them "ISIS bitches".
The infuriated woman - who appeared to be launching her attack at a group of mothers with push chairs - repeatedly claimed that the group were involved with the Islamic State (IS).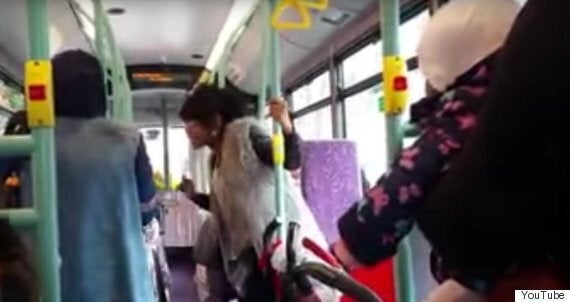 The unknown woman launched a racist attack on a London bus
A video posted on YouTube recorded the incident and called her a "racist woman".
Her abuse was met with nothing more than silence from the onlookers, who looked utterly confused at the woman's approach.
After a couple of minutes the argument appeared to settle, but the woman then returned to continue her tirade.
"Have you both got the same husband? Have you? Are you still sleeping with the same man? Is that how it works?" she shouted, before pointing to another woman at the front of the bus, saying: "Are you sleeping with her husband? Do all your kids live in the same house together?"
Shortly afterward the bus driver stopped the vehicle, although after an unsuccessful intervention, the woman started up her rant again, taking out her phone and recording her targets.
This is when another passenger, who was clearly not happy being filmed, tried to take the phone out of the woman's hand. The woman who had shouted then began to threaten her: "Touch me again, I'll punch you in the head" she said.
The bus driver then got out of his cabin again and repeatedly shouted "relax", as the video recording came to an end.
The conflict comes in the same week that a new report revealed Muslims targeted in Islamophobic attacks are reluctant to report incidents and often receive little support from onlookers.
MAMA (Measuring Anti-Muslim Attacks) commissioned the report, which found that 'trigger' events such as the terrorist attacks in Tunisia and Paris, the murder of Lee Rigby and the Rotherham child sexual exploitation scandal "fuelled the growth of anti-Muslim hostility on social media as well as on the streets of Britain".
Popular in the Community