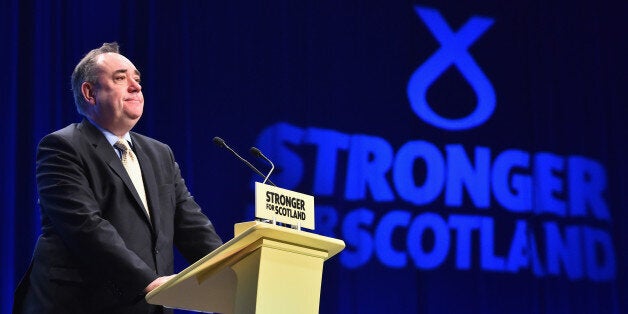 Alex Salmond has accused newspapers of "extraordinary hypocrisy" over condemning abusive online commentary whilst hosting "offensive" comments on their websites.
The former SNP leader told The Huffington Post UK during his party's conference in Aberdeen that anonymous posters fuelling discontent should "cease and desist", but made clear publishers that "dine out on this stuff" are the "most guilty".
A growing number of high-profile politicians have spoken out against trolling, notably of a sexist nature. Some hardline Scottish nationalists online have been dubbed "Cybernats", and some of Jeremy Corbyn's supporters have also been accused of making outrageous comments.
Mr Salmond, now an MP in Westminster, warned social media's positive influence on politics risks being "contaminated by idiots", but urged publishers who "ride on their high horse" to crackdown on the worst below the line comments.
"I condemn sexism, offensive language. It all must be condemned," he said.
"I have to say I read the most vigorous condemnation in the columns of the Daily Telegraph and the Scotsman newspaper, and I have never seen worse stuff below the line on their sites.
"Social media breeds this sort of nonsense. Anonymous people late at night saying unacceptable things. They should cease and desist.
"However, there is an interesting phenomena, is there not, that newspapers that like to dine out on this stuff are the most guilty. Below the line, see what they say about figures in Scottish politics."
He went on: "I don't offend or assault anyone on the internet. I don't sit up middle of the night saying nasty things about people. I think people should stop it.
"The whole social media is a great phenomena in politics. The last thing that is needed is that to be contaminated by idiots.
"But there are newspapers that ride on their high horse that are guilty as sin of allowing it to happen on their sites. Extraordinary hypocrisy. Someone is going to take them to book."
Popular in the Community