"We are racist, we are racist and we love it."
That's the chanting Hira had to listen to a she travelled alone on a train.
The group of men had already asked if she had a "bomb under her scarf", made comments about eating bacon and had alcohol poured on her.
But most shockingly of all, not one of her fellow passengers stepped in, or even asked if she was alright.
She said: "They started chanting. I asked the person abusing me to stop but he wouldn't.
"Then they dropped alcohol on my coat…people were watching but they ignored it. No one wanted to help."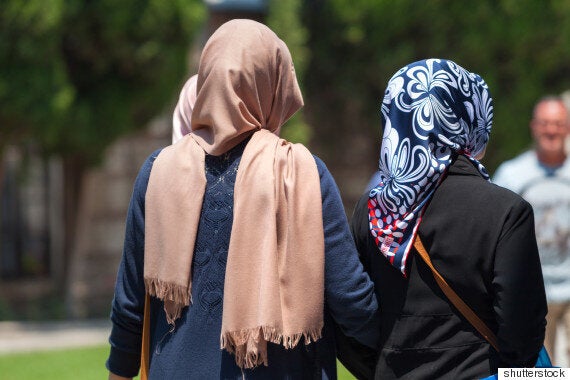 Many people were reluctant to offer help when others faced Islamophobic abuse
Research by the Islamic Human Rights Commission, which found that between 2010 and 2014 the number of people who reported seeing Islamophobia directed at someone else leapt from 50% to 82%.
Tell MAMA (Measuring Anti-Muslim Attacks) has released a series of reports looking at incidents including threats of violence, verbal and physical abuse.
In some cases, Muslim men and women said that they had removed their headscarves or shaved their beards in an attempt to avoid being targeted.
Particularly shocking was the fact that in many cases, no-one who witnessed the abuse offered any form of help or comfort to victims.
Fiyaz Mughal, director of Tell MAMA, says this reluctance of passers-by to get involved was disturbing.
He tells The Huffington Post UK: "A lot of victims - this not just a one-off - are saying no one is helping them when they're in trouble or when they are targeted. That's a concern.
"Victims are saying 'I wish somebody had called the police, I wish somebody had just asked me if I was okay.'
"It doesn't mean getting involved in the fray, just giving that reassurance. But people were just walking past.
"It doubles the impact of alienation and isolation within the community. It's a them and us situation.
"People think 'oh it's just on of those people getting attacked, I don't want to get involved'.
"If they were in [the position of the victim], they would want somebody to at least make a phone call for them, or try to reassure them and whatever they would want for themselves in that situation, I would hope they would do it for an individual from the Muslim community who is suffering.
The research from Tell MAMA detailed a number of disturbing incidents of Islamophobic abuse.
Asma, a midwife, quit her job after being abused by patients she was looking after.
She said: "I was on a maternity ward and one of my patients, during a nightshift, was in labour. When she saw me with my hijab, she swore at me. She shouted, 'I don't want my baby to see your terrorist face. I don't want my child to come to this world and see someone like you, a terrorist. Leave my country! How dare you come to my ward and show your ugly face.'
"I then left my job as a midwife as I felt a lot of people hate me."
"I think it's a basic sense of common humanity that we need to reflect on," says Mughal from Tell MAMA about why onlookers don't step in to help Muslims being abused.
"I'm not talking about heroics here," he adds, "but just a simple phone call to the police really reassures victims and gives all of us a sense of confidence in each other."
Another incident which hit the headlines earlier this week, involved a video showing a woman calling two Muslim ladies "Isis bitches" while on a bus.
The idea of a "them and us" attitude has been worsened by a change in mainstream dialogue surrounding Muslims, Mughal said.
He explained: "The concern is that actually the rhetoric of the Far Right is starting to seep into mainstream dialogue.
"Since the refugee crisis some of that dialogue involves things like 'Muslims are coming as refugees to take over Europe', 'Muslims will consistently lie to take over the state' and 'they're coming and breeding'. This kind of dialogue is dangerous stuff and actually we're seeing it circulated by individuals who have got no link with the Far Right."
Story continues below slideshow...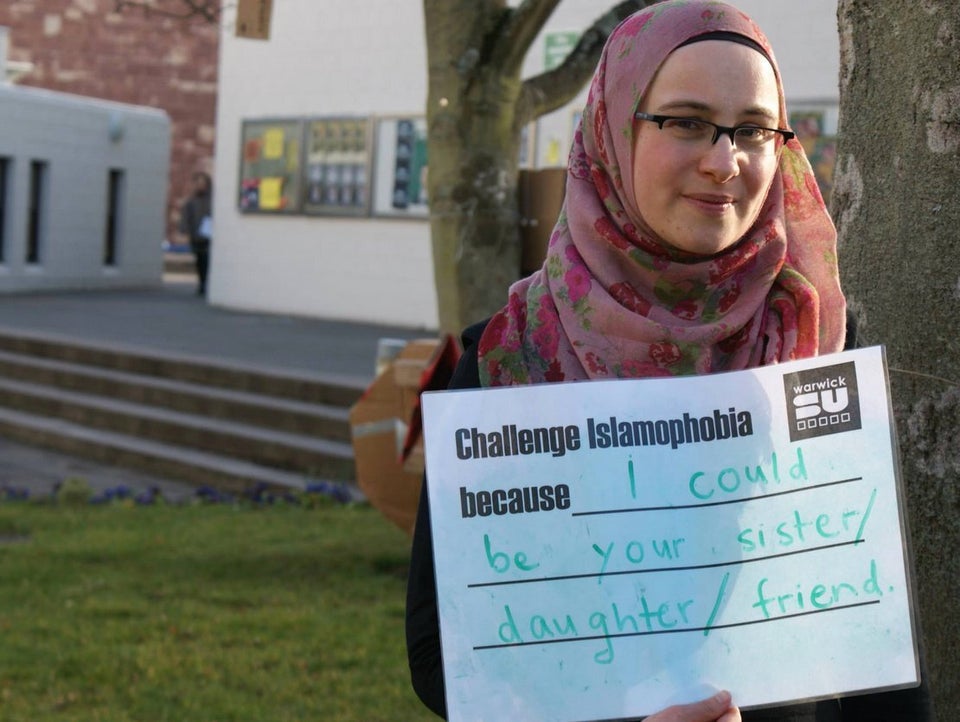 23 Reasons To Challenge Islamophobia
Sarah, who converted to Islam, said she received significant abuse following reporting of incidents involving the self-proclaimed Islamic State terror group.
She said: "When I became identifiably Muslim, I got nasty looks, threats and abuse, and that's an everyday experience, especially because I am a white British Muslim.
"When I suffer abuse in public, people walk off or stare… I was on my way to the shops and people shouted at me, 'why don't we chop your head off?'
"Anti-Muslim hate is normal."
The solution to the problem threefold, according to Mughal. Better education and increased confidence among the Muslim community to report such incidents would be a start, he says.
He said: "Schools and education work is really important. This is a generational change. We need more work within citizenship and PSHE classes, more work which really breaks down the barrier between different communities. We need strong educational work in schools to counter issues like prejudice, it's really important.
Story continues below video...
"The second thing we need is some real positive imagery and good role-modelling around Muslim communities to the wider public. The Great British Bake Off stuff was great [this year's competition was won by Nadiya Hussain, who is a Muslim], we need more of that.
"Thirdly, we need to have some good strong cases that show members of the Muslim community showing that [prosecution] is being done.
"There have been some great cases where the CPS has prosecuted. My call would be that we need to get those promoted more into the community, so part of that responsibility is on us but it's partly on the CPS and other agencies to promote the cases that they prosecute, to show confidence.
"Just yesterday, politicians came out and said this is unacceptable to our values in this country, nobody should be targeted. We need to have more of that talk because there is less money and resources in our country right now. It's quite easy for individuals to start to blame other communities because they can't get a job and can't get housing. It's really easy given the lack of resources right now.
"It really is imperative to constantly reinforce the message of unity rather than division."
On Tuesday, David Cameron used the recent rise in hate crime to declare war on Islamophobia, promising to introduce a separate recording system for religious hate crimes against Muslims, in line with those against Jewish people which have been recorded separately for some time.
Related