Health secretary Jeremy Hunt has been slammed as "patronising" by junior doctors, after he claimed they have been misled by their own union over changes the government wants to make to their contracts.
But Hunt today claimed that the British Medical Association trade union had been misleading junior doctors about the plans. He told the BBC it was "incredibly disappointing, the way that the BMA has misrepresented the government's position."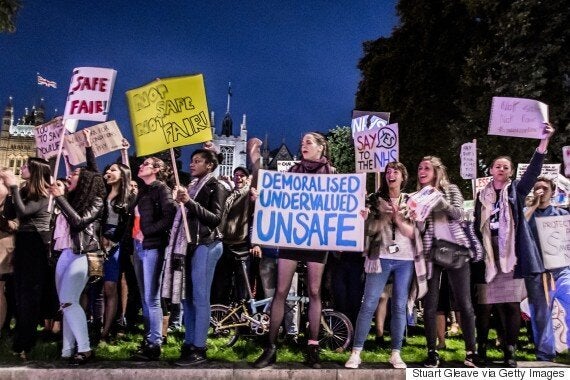 A protest by junior doctors in September
He said the new contract would be a "good deal" because it would also reduce maximum weekly working hours from 91 to 72, adding that the reduction in overtime rates at weekends would be compensated with extra basic pay.
Many doctors and their supporters reacted with disbelief at the suggestion they had been deceived by their own trade union, with many pointing out they are "trained to interpret data".
"Does Mr Hunt think one of the most educated groups of professionals are easy to mislead?" asked doctor Zoe Norris.
"I'd believe a doctor quicker than I'd believe Jeremy Hunt who has a track record of misleading people," said another, while one remarked that Hunt was "misled by his own gross stupidity".
Junior doctors, other medical staff and supporters adopted the hashtag #IStandWithJohann to show their support for the chair of the BMA committee for junior doctors, Dr Johann Malawana.
Jeremy Hunt, Britain's favourite verbal slip-up, has been misled by his own gross stupidity. #juniorcontract

— Jacka Garth (@SocialBeastie) October 17, 2015
If the new contract is imposed, "normal hours" for junior doctors would be redefined as 7am to 10pm, Monday to Saturday. Extra payments for unsociable working will be earned only outside of these times, rather than the current arrangements of 7am to 7pm Monday to Friday.
Hunt has called for the NHS to become a "24/7" service, while junior doctors have pointed out that they often work every day of the week and on weekends under the current contracts.
Jeremy Hunt was called the 'Volkswagen of politicians' at today's rally, after which one spectator said there were "huge cheers".
Among those speaking were veteran and Labour activist Harry Leslie Smith, who told the audience the NHS was "for me, Britain's greatest achievement".
Dr Helgi Johannsson, the clinical director of anaesthesia at Imperial College Hospital, said four consultant anaesthetists were working in St Mary's Hospital in Westminster on to cover junior colleagues who were talking part in the march:
Speaking ahead of the rally in central London, Dr Malawana of the BMA said the protest would be "a wake-up call for ministers".
"The health secretary has accused junior doctors of misleading the public over the impact of his changes, yet at the same time he continues to conflate junior doctors' legitimate concerns and the government's rhetoric on seven-day services," he told the BBC.
"The truth is that the junior doctor contract is in no way a barrier to seven-day services, with the vast majority of junior doctors routinely providing care to patients 24/7."
An ex-Tory health minister released a video earlier today in support of the thousands of junior doctors marching.
Conservative MP Dan Poulter, who is himself a doctor, called junior doctors the "backbone" of the NHS and warned that plans to ask them to work Saturdays and evenings for no extra money would "return to the unsafe hours of the past".